Real Madrid: Eden Hazard - it's now or never for Belgian star
The forward arrived for big money and huge expectations but things haven't worked out as planned. Could the Super Cup be his chance to turn it all around.
Real Madrid signed Eden Hazard to make him the focus of their post-Cristiano Ronaldo project and since then, a year and a half later, the Belgian has not been able to deliver. The club maintains its faith in the player, and Zinedine Zidane continues to protect him given his continuous battle against injury (he's been out eight times in Spain). But all that support has done nothing, thus far, to give us a Hazard that stands out.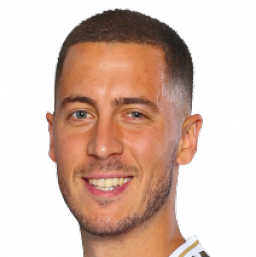 Hazard's time to shine
Madridistas have watched with concern as their new 'galáctico' has failed to provide the attacking threat that was dreamed of when he signed. In the less than 2,000 minutes he's featured, only three goals have come from him. His 1,964 minutes on the pitch are just 31 per cent of what he could have achieved. In Pamplona we saw a laboured Hazard and this while Madrid continue to pay Chelsea variable bonuses (up to a total of 40 million euros) in addition to the fixed 100 million euros. This especially stings as he came on the back of winning the MVP of the Europa League that Chelsea lifted.
Related news:
And so we turn to the Spanish Super Cup, potentially the catalyst that the forward needs. Last year's equivalent mini tournament in Saudi Arabia served Courtois well. Hazard's compatriot chased away the ghosts, held himself well in front of the spotlight, and began to look like the goalkeeper who would go on to win the Zamora Trophy last season. Eden has a chance to follow through Thibaut's sliding door.
A potential first Clásico awaits
This Super Cup offers up a variety of positive opportunities for Hazard. First, as stated, he can get more minutes under his belt, and begin to prove his Spanish doubters wrong. Then there's the obvious silverware awaiting collection for the winner, always a handy boost to confidence.
A third factor is the chance to play in his first Clásico. Injury has deprived him of starring in previous clashes with eternal rivals Barcelona - arguably the biggest club game in the world - and if both sides can make it past their semi-final opponents, Hazard vs Messi could be on show.
Whatever happens, time is running out for the man brought to sparkle in white. Some are suggesting it's now or never for Eden Hazard.