Covid-19 didn't deprive Denmark and Brazil of a good start to the Handball World championship
Despite having positive cases among their squads the Danish team claimed a thrilling victory over Bahrain while Brazil drew with Spain in their opening games.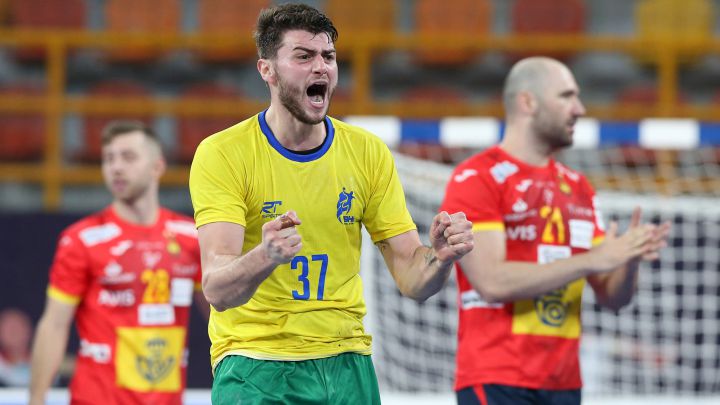 The Danish handball national team achieved an important first win over Bahrain with a score of 3-:20 in their opening group stage game of the 2021 Handball World Championship (WCH) despite the absence of their player  Emil Jakobsen who had returned a positive Covid-19 test result earlier.
The player and his roommate have immediately gone into self-isolation while the rest of the squad had to undergo other tests before their game against Bahrain and will have to take other tests the day after the game.
Denmark sports director commented on Jakobsen's test result by saying "We are very prepared for this situation and we follow our own and the IHF protocols."
Brazil and Spain draw in their opening game
Despite missing the effort of their player Felipe Borges Brazil snatched a 29-29 draw with the Spanish team in the first game of their campaign as both teams are competing in Group B along with Tunisia and Poland.
.@CBHb1 🇧🇷 and @JHA_handball 🇯🇵 snatched a point each against the two current top-ranked sides in Europe, Spain and Croatia, to open their Egypt 2021 campaigns in style 💪 Enjoy the highlights of these nail-biting encounters 🤯 pic.twitter.com/MfG9Aev0Ih

— International Handball Federation (@ihf_info) January 15, 2021
The Brazilian squad has called up the left-wing Guillermo Toriano to replace their infected player starting their second game of the tournament as he took off from Brazil on Friday and was expected to arrive in Cairo the next day.
Following the game, Spain's Head coach Jordi Ribera congratulated Brazil for the result wishing the best for his team in the next two encounters.
"The Brazilians used our lack of focus and succeeded in reaching a draw, in addition to us losing so many chances to score. It is still the beginning. We still have two more games to play against Poland and Tunisia and we will play to win and restore our balance." Ribera said.
 Brazil are set to face Tunisia on Sunday while Spain take on Poland in their next game.