Ødegaard's loan to Arsenal damages Real Madrid's project
With the Norwegian midfielder going out on loan to Arsenal, Madrid will be taking another step backwards in their project to rebuild the team.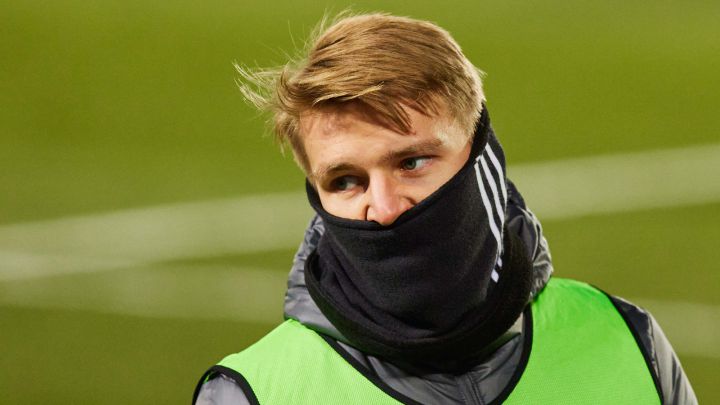 Martin Ødegaard's loan move to Arsenal, signals something coming full circle at Real Madrid. Firstly, there now seems to be a lot of players who don'y want to be part of the project - other players who were tipped for a bright future such as Dani Ceballos, Luka Jovic and even Isco have either already gone somewhere else or will leave in the summer. All of them were important figures in the project which Real Madrid were constructing for the short-term future. There were also high hopes for Ødegaard, who was hailed as the star signing of last summer when he returned early from his loan at Real Sociedad. That he has asked to go back out on loan is a step back, and detrimental to the club's idea of rejuvenating the side.
Attacking midfield role
Ødegaard's case is especially worrying because it concerns a high-profile player who has not fulfilled expectations - at least at Real Madrid because at Arsenal, he hopes to rekindle the kind of form he showed on a regular basis with Real Sociedad. In London, he will play in the same position which he occupied at La Real, just behind the strikers and supported by the midfield. That is a system which doesn't exists in Zidane's Madrid.
On 23 May 2015, Real Madrid proudly announced on their official web page: "Ødegaard, the youngest player to make their league debut with Real Madrid". He replaced Cristiano Ronaldo in minute 57 of the meeting with Getafe. The midfielder set a new club record aged 16 years and 157 days. Since then, Ødegaard has been the eternal promise.The club believe he will be Luka Modric's natural successor.
Madrid signed Ødegaard from Strømsgodset in January 2015 for 2.3 million euros, which could eventually rise to 3.4 million if he completes a set of conditions. But five and a half years on, he has played just 11 games for Madrid and has yet to score his first goal for the club. In the meantime, there have been loan spells in the Netherlands - two seasons at Heerenveen (43 games and three goals) and a year at Vitesse (39 games and 11 goals) did not serve him to earn a place under Zidane in the coach's first stint in charge. He has only really shone at Real Sociedad where he scored seven goals in 36 games. But even that wasn't enough to convince Zidane. Now, under Mikel Arteta, the Norwegian hopes his luck will change for the better, allowing him to continue his development before he returns for next season.