Palmeiras 1-0 Santos: Copa Libertadores - result, goals, summary
Palmeiras vs Santos: Copa Libertadores as it happened
It's Palmeiras' first Copa Libertadores trophy in 21 years. The Brazilian club won it for the first time back in 1999.
Palmeiras win it thanks to super-sub Breno - an outstanding header from a Rony cross just as we thought it was heading for extra-time. A 99th minute winner!
BRENO will never have to buy another beer in Sao Paulo for the rest of his life.
COPA LIBERTADORES CHAMPIONS 2020/21
Palmeiras are seconds away!
Santos captain Alison receives a yellow.
Incredible ending to the final - an awful final
We're into the 12th minute of what was EIGHT added minutes.
And they continue making changes. Alan comes on too!
Felipe Melo enters for Palmeiras!
PALMEIRAS SCORE THE WINNER AT THE COPA LIBERTADORES!!!
Rony whips it into the back post and it's a superb header from BRENO
With the last kick of the game!!
PALMEIRAS HAVE DONE IT!!!
Cuca has been shown a red!
The ref is standing back while Santos coach Cuca speaks to Palmeiras players - probably the most enjoyable part of a dreadful match.
The ref is trying to break up both sides.
It's all kicking off now with Cuca
OFF Jonatan & Jorge
ON Wellington & Madson
Two changes for Santos now
There will be EIGHT additional minutes after the 90.
Jorge goes for the overhead kick but it's an easy catch for Weverton.
Both teams are now reluctant to try and win the game - opting instead to play it safe.
Verissimo clears with a thumping header and Santos are safe.
Palmeiras change
OFF Menino
ON Breno
Santos keeper John is rolling around on the ground but it didn't look like there was much contract. The start of the clock running down.
We're only 10 minutes away from full-time and there is no sign of a goal from either side. Both coaches are holding off on making a couple of changes - realising that this is more than likely heading for extra-time.
Still no imagination or tactical plays as we near full-time.
This has extra-time written all over it!
Santos make the first change of the game.
SANTOS change
OFF Sandry
ON Braga
Lucas Braga is about to enter the fray for Santos.
The defender took what appeared to be an accidental elbow to the head from Danilo.
Santos defender Jonatan is taken off on a stretcher and they're down to 10 men for now.
Great hit from Veiga from from the free. 0-0
Palmeiras are just inches away from taking the lead. Free-kick is hit really well and just over the bar!
Palmeiras have a chance now with a fre-kick.
Santos have produced some excellent players down through the years. Pelé, Neymar and Rodrygo come to mind. Jorge is the next highly-rated forward at the club and is getting attention from clubs in Europe.
Verissimo is off to join Benfica in Portugal after the final.
Verissimo, in his last game for Santos, goes so close to opening the scoring. Header goes wide.
If the game is still 0-0 in 35 minutes' time, we'll be heading for extra-time.
If Santos win tonight they become the first Brazilian club to win the Libertadores four times.
Santos clear at the near post!
In Brazil's Serie A, Santos are currently 10th. Neither side came into tonight's final in good form.
Santos free-kick - Pituca is down after a challenge from behind from Ze Rafael.
Even though they are just fifth in the Brazilian league, Palmeiras sealed the Paulistão in August and made it to the Copa do Brasil final, where they will play Grêmio next month.
Santos coach Cuca is up against one of his old clubs tonight as he was the Palmeiras manager when they won the Brasileirao title back in 2016.
Yeferson Soteldo is just five foot two but he's lightening quick.
We're underway for the second half!
Palmeiras are playing from left to right as we watch this second half. If you're just joining us, the first half didn't produce many chances. Palmeiras' Veiga drove wide in the best chance of the game. It remains 0-0 in Rio.
The teams are in the tunnel now on their way back out for the second 45.
The sun is starting to set over Rio de Janeiro. Such a beautiful sight.
We have two minutes of added-on time!
And it's buried into touch - that sums up the first half.
Santos win a free-kick right on half-time. Let's see if they can conjure up something.
Tancredi sums this first half up pretty nicely. It's certainly not been a classic... but we've got plenty more time for that to change
Santos clear it through Para but he gives it straight back to the Palmeiras defence.
Sadly, both sides have spent the majority of this half kicking one another. We're hoping for some more football in the second half.
Five minutes before the break and it remains goalless in Rio de Janeiro.
Superb cross into the Santos box, but Jorge fails to connect with it.
Palmeiras chance!
Veiga sends it wide of the Santos goal - good chance - he should have hit the target!
Palmeiras captain Gómez receives a booking for a nasty challenge on Marinho.
It remains 0-0 at the Maracana. We're still waiting for the keepers to be tested.
This evening's game is a closed-doors affair but over 5,000 dignitaries and selected guests are in attendance.
Santos come from a city with a population of less than 500,000 people - and have consistently outperformed as a club. It comes as a major surprise to see them in this year's final with all the off-field issues at the club.
Palmeiras coach Abel Ferreira isn't happy with a decision against his side and shows his frustration in the dugout.
Para looks to spark some life into the game for Santos. Earns a throw-in for his side. Palmeiras manage to clear.
Really slow start to this year's Copa Libertadores in Rio - 33 degrees celsius hasn't helped either team get off to a flying start.
Santos' corner comes to nothing. 0-0
Soteldo again! this time he wins a corner.
The ball falls to winger Soteldo but he smashes it high and wide. Palmeiras goal kick
Marinho wins a corner for Santos with some nice skill down the wing.
Santos coach Cuca gives his side instructions. The coach is looking very casual in his t-shirt. No-one could blame him though with temperatures of 34 degrees celsius. Fortunately 90% of the pitch is in the shade thanks to the huge Maracana stands.
With a quarter of an hour gone in Rio - neither side has really threatened or has showed any signs of breaking the deadlock.
Santos defend the corner and it's a free-kick after another tough challenge from Palmeiras. Plenty of challenges in early stages of this final.
This time Santos' Marinho is rolling around on the ground. Waiting for confirmation on a free-kick.
Santos break through with Soteldo but it's broken down by Palmeiras.
Santos players surround the referee after a tough challenge on Rony. Yellow card for Verissimo.
It has been a scrappy opening five minutes between the Sao Paulo sides. Neither team has really found any rhythm as of yet.
Santos apply the early pressure in the Maracana, a stadium they often used as their home ground in the days of Pelé.
Santos have won the competition three times. Palmeiras have won it once, in 1999.
Santos are playing from left to right as we watch it.
And we're underway in Rio for the Copa Libertadores final between Santos and Palmeiras.
This evening's referee and fourth officials are from Argentina.
It's scorching this evening in Rio - with temperatures of between 34 and 36 degrees celsius.
And now for the Brazilian national anthem
2020 Winners
Tonight's winners will celebrate continental glory and also a place at the forthcoming FIFA Club World Cup in Qatar.
We're just over 10 minutes away from kick-off in Rio!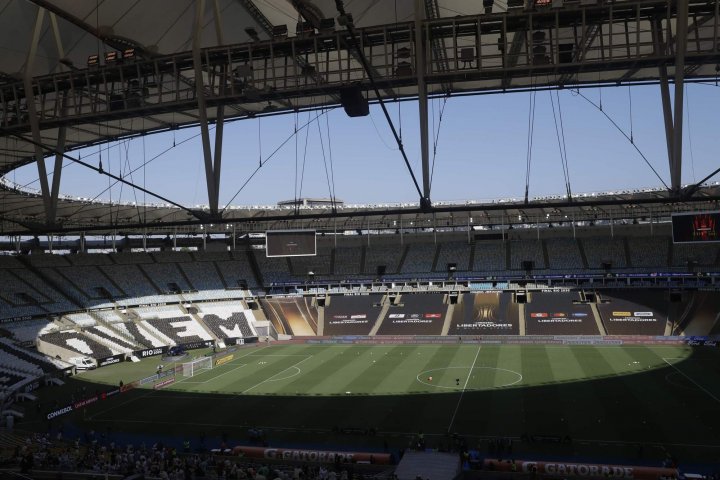 Maracanã
The Maracanã Stadium with empty stands this evening due to restrictions against the spread of the novel coronavirus, covid-19, before the all-Brazilian Copa Libertadores final football match between Palmeiras and Santos, in Rio de Janeiro, Brazil. (Photo: AFP)
Santos on the verge of becoming the most decorated Brazilian club in the competition
A victory for Santos would make them the most successful Brazilian club in the history of the competition with four wins.
Palmeiras, on the other hand, are hoping to win their second title since they first won the competition in 1999, when they beat Deportivo Cali on penalties. If they lose to Santos, it will be the fourth defeat in a final, which would also be a Brazilian record.
The Santos starting XI
Jorge and Soteldo are definitely two players to look out for. Tonight's final features a healthy mix of veterans such as Palmeiras striker Luiz Adriano and wonderkids destined for Europe in the near future, such as Santos striker Kaio Jorge.
Jorge is the latest talent to emerge from the academy that produced Pelé, Neymar and Real Madrid's Rodrygo.
Alison starts for Santos
There were doubts over Santos captain Alison playing in the final, due to testing positive for covid-19. Good news for Santos and a much-needed presence with his leadership qualities.
The teams are in!
Lucas Verissimo starts at centre-back for Santos and will leave for Benfica after the final. Teenage striker Kaio Jorge is attracting attention from Europe, and 1.60-metre tall Venezuelan Yeferson Soteldo is capable of winning any game with moments of unpredictability.
For Palmeiras, the versatile Gabriel Menino, who is being groomed as an heir to Dani Alves at right-back for the national team, starts for the Brazilian giants.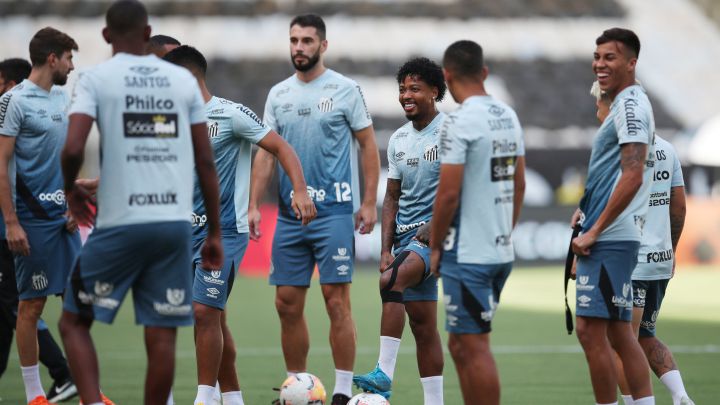 Santos aim to cap turbulent year with Copa Libertadores win
Santos aim to cap turbulent year with Copa Libertadores win
The club famous for fielding Pele and Neymar are instead preparing for glory in Saturday's Copa Libertadores final against Palmeiras.
As in most places, the covid-19 pandemic has played havoc with football in South America, with the Sao Paulo state championship halted for four months and the Libertadores, South America's equivalent of Europe's Champions League, stopped for six. But things were even more turbulent for Santos.
Club president Jose Carlos Peres was impeached and removed from office in November, hiring a foreign coach - Portuguese Jesualdo Ferreira - proved a failure and there were financial difficulties that are all too common in Brazilian football.
There was also outrage from sponsors and fans at the signing of Santos' former player Robinho, who had been found guilty of rape in Italy. He is appealing and the case is still open.
Full story:
Yeferson Soteldo: the winger that could carry Santos to Copa Libertadores glory
All eyes are on Santos winger Yeferson Soteldo tonight.
He grew up in the underprivileged neighbourhood of El Muertico in the city of Acarigua, where he claims an early grave was the likely alternative to a career in professional football, and although he gained a spot in the academy of Caracas – Venezuela's most successful club – he was thrown out aged 14 for "indiscipline".
Furthermore, there were huge question marks over his physical capability to make it as a pro – now 23, he only stands at five feet and two inches tall.
But Venezuela's most-decorated coach Noel Sanvicente gave him a second chance at Zamora and put him on the path to Saturday's Copa Libertadores final between Santos and Palmeiras at the iconic Maracana in Rio de Janeiro.
"Everyone was talking about my height, that I was not going to be able to play football because of my size, because I was very small. Now I'm here, I got over it," Soteldo told the official Libertadores website.
No fans in Maracanã
With no fans in the Maracanã due to the coronavirus pandemic, Santos and Palmeiras supporters will be watching from home.
The game in theory is a closed-doors affair at the iconic Rio stadium but over 5,000 dignitaries and selected guests have been invited to attend, sparking fears that anxious fans may show up too.
What time does the Copa Libertadores final start?
The Copa Libertadores final between Palmeiras and Santos will be played at the Maracana stadium (Rio de Janeiro) and will kick off at 21:00 CET on Saturday 30 January 2021.
That's 20:00 in the UK, 15:00 ET and 12:00 PT.
Find out what time the Copa Libertadores final gets underway where you are in the world.
Hot Brazilian Summer
According to the weather forecast in Rio this evening, temperatures will be as high as 34 degrees celsius, which could affect play at times, although many players will be used to playing in extreme heat.
Third Copa Libertadores final featuring two Brazilian sides
Barriers will be erected around the famous old Maracana stadium in Rio and the team buses will be escorted into the stadium and police want to avoid a repeat of recent incidents where fans at Palmeiras gathered outside the ground to welcome the team ahead of their semi-final against River Plate with Santos fans also gathered outside their Vila Belmiro stadium for their semi-final victory over Boca Juniors.
This will be the third Copa Libertadores final facing two teams from Brazil (2005 Sao Paulo v Athletico Paranaense and 2006 with Internacional v Sao Paulo). The infamous "Super SuperClasico" River Plate v Boca Juniors in 2018 which was completed in Madrid is the only other final between teams from the same country.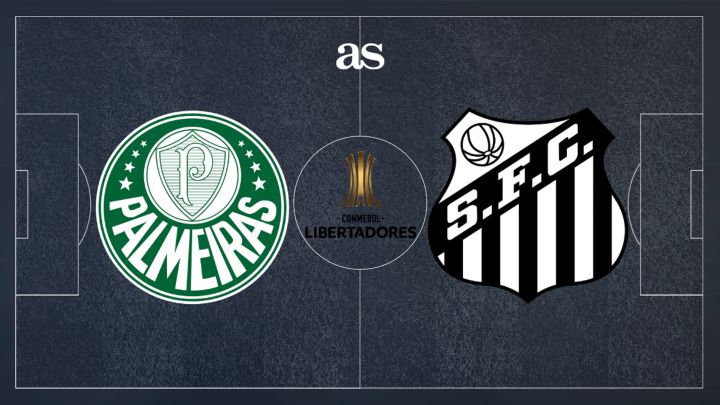 Palmeiras-Santos: Copa Libertadores 2020 final: how and where to watch, times, TV, online
Palmeiras-Santos: Copa Libertadores 2020 final: how and where to watch
All the information on how and where to watch the 2020 Copa Libertadores final as Brazilian sides Palmeiras and Santos face off in Rio on 30 January with a 21:00 CET start.
You can also follow our live text commentary, with all the key statistics, here on AS English. Kieran will be building up to the match throughout the evening before giving you a minute-by-minute account as it unfolds.
Santos and Palmeiras meet in Rio de Janeiro for an all-Brazilian Copa Libertadores final
This year's final is a one-off game in a neutral ground. Previously the Libertadores was played over two legs. Flamengo beat River Plate 2-1 in the 2019 final.
Palmeiras vs Santos: Copa Libertadores 2020 final: welcome
Hello and welcome to AS English's live coverage of the 2020 Copa Libertadores final between Palmeiras and Santos. Kick-off is at 21:00 CEST.