Super Bowl LV 2021: what's the Tampa weather forecast for 7 February?
Super Bowl LV 2021 will take place on 7 February with the Buccaneers set to face reining champions KC Chiefs in Tampa (Florida).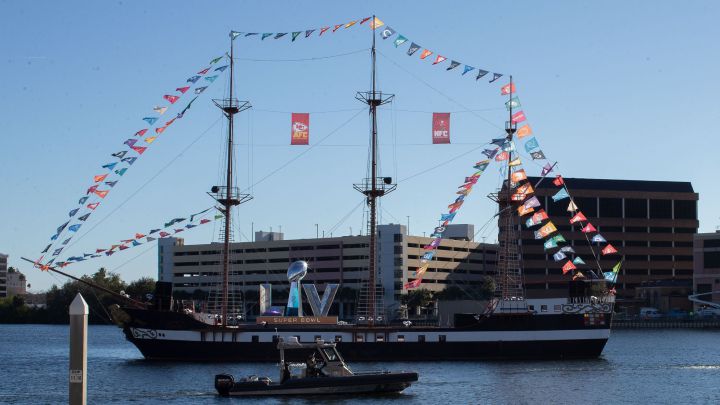 Sunday night's Super Bowl LV brings together a potential classic! Reigning champions the Kansas City Chiefs and the Tampa Bay Buccaneers sealed their places at the 2021 NFL finale with wins over Buffalo Bills and Green Bay Packers respectively.
The Buccaneers will have something going for them no other team has had in 54 previous Super Bowls, home field advantage at the Raymond James Stadium when they take on the Chiefs in the NFL championship game on 7 February.
"We're coming home, and we're coming home to win," said Bucs head coach Bruce Arians.
Given the ongoing restrictions in place as a consequence of the covid-19 pandemic, the home field advantage will be tempered with only 22,000 fans expected at the 65,000 capacity 'Ray Jay' stadium.
Super Bowl weather
Looking forward to the weather on the day of the final, AccuWeather are predicting an overcast evening with 96% cloud cover and a cool temperature of 15C/59F. The high during the day is likely to be a wet 23C/73F.

They also forewarn of the possibility of showers, and potential thunderstorms earlier in the day.
"In lieu of a storm forming on an advancing cold front, dry air would likely sweep in during the afternoon hours in Tampa on Sunday. However, there is likely to be a storm that forms along the front, which will not only slow its forward progress, but could keep rain in the Tampa area well into the evening hours," AccuWeather Senior Meteorologist Alex Sosnowski said.
"There is still a chance that even with a storm along the front, that storm moves along fast enough to allow the weather to clear in the Tampa area in time for the game Sunday evening," Sosnowski continued.
For anyone heading to Tampa, Florida a few days early in advance of this Sunday's Super Bowl, their wardrobe may need to include clothing that is not typically necessary in the Sunshine State. https://t.co/iNe5TGJFuN

— AccuWeather (@accuweather) February 4, 2021
On the same day last year (2020), the maximum temperature in Tampa was 19C/63F.
Dry and warm Super Bowl coverage
Of course, with only around a fraction of the stadium being filled, the majority of fans will be tuning in to the action from afar.
For the most up-to-date Super Bowl LV news, including all the event information, download and register for the NFL OnePass app at NFL.com/OnePass. Here at AS English we'll continue to bring you all the latest news, opinion and points of interest in our daily live blog as we build up to the big day. On the day itself, our build-up will feed directly into live coverage of the game, including the half-time show.