Cristiano Ronaldo and Neymar celebrate joint birthday in full Covid-19 pandemic
The Juventus star celebrates his 36th birthday on the same day that PSG's Neymar turns 29. Because of Covid-19 restrictions, it will be an atypical day for both of them.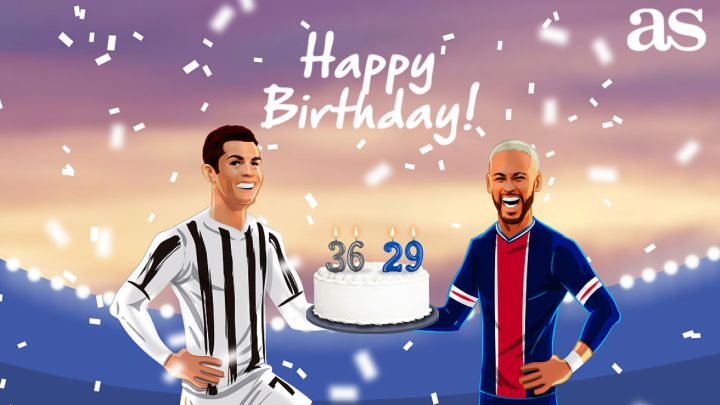 Long gone are the days when footballers' birthday celebrations consisted of a couple of pints with the lads. Later today, two of the biggest names in world football, Cristiano Ronaldo and Neymar, will be blowing out the candles on their big day – which curiously, they both share, 5 February. The Juventus star turns 36 while Neymar, seven years his junior, will enter the final year of his 20s, he's 29 today and at an age when footballers are considered in their prime.
Discreet birthdays for Cristiano and Neymar
Restrictions in place because of the coronavirus pandemic will prevent them from toasting their big day in style as they both like to do. This time last year, Neymar invited all of his team mates, family and friends to an extravagant all-white-themed bash at a Paris nightclub. That didn't go down too well with coach Thomas Tüchel – not because he wasn't invited but because it was two days before PSG were due to play Nantes. Tüchel has since swapped PSG for Chelsea and so it will be Mauricio Pochettino who will be hoping Neymar and his pals don't overdo it as they have an important game against Olympique Marseille on Sunday with the team three points off the top of the table.
This year, his birthday will be a more low-key affair – he recently denied allegations made by Brazilian newspaper Extra that he is planning another knees-up in the French capital: "There will be no party!" he tweeted. There is unlikely to be any get-togethers anywhere in Paris, where there is a 12-hour curfew in place from 6 p.m. to 6 a.m.
For Cristiano too, celebrations will be toned down and very different from last year's when his significant other Georgina Rodríguez surprised him before they had dinner at one of Turin's finest establishments by leaving his present, an 180,100 euro-priced Mercedes AMG G 63, gift-wrapped with a giant red bow, parked outside the restaurant.
Covid-19 restrictions in Italy and France
In Italy, gatherings of people in public places or places open to the public is forbidden. The country was one of the first to detect cases of coronavirus – almost exactly one year ago. It is almost among the countries who have suffered most from the pandemic – 90,241 have died from Covid-19 in Italy and the total number of confirmed cases stands at 2,597,446. Cristiano himself has had the virus, he tested positive in October but was asymptomatic.
Apart from the pandemic, the past 12 months haven't been so bad for Cristiano or Neymar, both individually and with their respective clubs. Just a couple of weeks ago, Cristiano brought up his 760th career goal which took his past Austrian-Czech legend Josef Bican to become the most prolific scorer in football history. He also added the Serie A and Supercoppa Italiana trophies to his vast honours list and also featured in both the FIFPro and UEFA teams of the year.
2020 was also productive for Neymar who won four trophies with PSG (Ligue 1, Coupe de France, Coupe de la Ligue and Trophée des Champions) but was missed out on the big one - the Champions League, after losing the final to Bayern. Nevertheless, he is in his prime and is believed to have agreed a new, four-year contract extension with PSG. So it will be an atypical birthday for both Cristiano and Neymar in unprecedented times, but both will looking for more success on the pitch this year and hoping that the situation will get better for all of us sometime soon.