What is Tom Brady's famous diet at 43 years old?
Tom Brady's diet allows him to stay in shape at 43 years old. Find out all about the eating habits of one of the best football players in NFL history.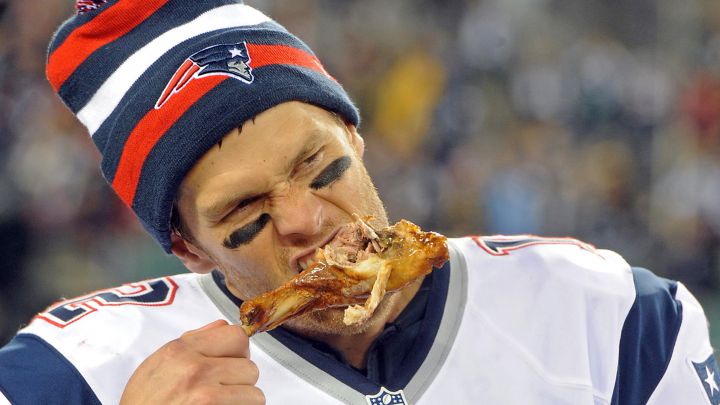 Tom Brady, the famous Buccaneers quarterback, has won six Super Bowls and five MVPs in his career. On Sunday he will try to add another one to his incredible collection. He is currently one of the fittest elite athletes at 43 years old and much of it is due to the strict diet that helps him stay at an optimal level. So what is that diet?
Brady's TB12 diet
Brady published his book three years ago and he talks about his eating habits. The book is called 'The TB12 Method' and in it he says that the most important thing is keeping a balanced diet. At 6 am he gets up and starts the day by drinking a pint of water with electrolytes. These electrolytes are used in all of his drinks, which are essentially water, tea, or lemonade. He highlights how important it is to always drink up to 25 glasses of water per day to keep hydrated all the time.
After this, he drinks a seed and fruit smoothie including things like bananas, blueberries, and walnuts. This drink is high in fat and protein, which an athlete of his level needs. After this, he usually heads off to train.
20 minutes after training Brady drinks a protein shake with powders of his own brand and also adds electrolytes to this. This shake must be drunk after training when the body can absorb the drink's nutrients quickly.
Brady usually has several snacks and claims that he doesn't go long without eating, which keeps his metabolism active.
For lunch, Brady eats an alkaline meal that contains plants to help the muscles recover. In his book, 'The Quarterback', he says: "I make sure that most of my diet is alkaline" and teaches us how to make high-protein dishes like chicken or salmon burgers. He tries to cut down on foods like rice, pineapple, cold cuts, bread and yoghurt. All the foods in his diet are natural and can sometimes be very expensive products.
Between 2 pm and 5 pm, if he is hungry, he has another protein shake, high protein snacks, or fruits such as grapes, bananas or apples. It is important not to eat fruit with other foods at the same time because digestion is heavier.
Around 6 pm, he eats a nutrient-dense dinner that usually includes lots of vegetables. He never has dessert and doesn't usually drink alcohol because it is not beneficial for the body and health.
The famous player's diet is very strict and that is one of the keys to his success. An athlete must always take care of himself and if he is 43 years old he must do it even more, to prolong his career for more years.