PSG's Mbappé joins select 10-man club with hat-trick at Barcelona
Kylian Mbappé's hat-trick against Barça on Tuesday is the first by a visiting player at the Camp Nou since 2005, and the 10th of all time.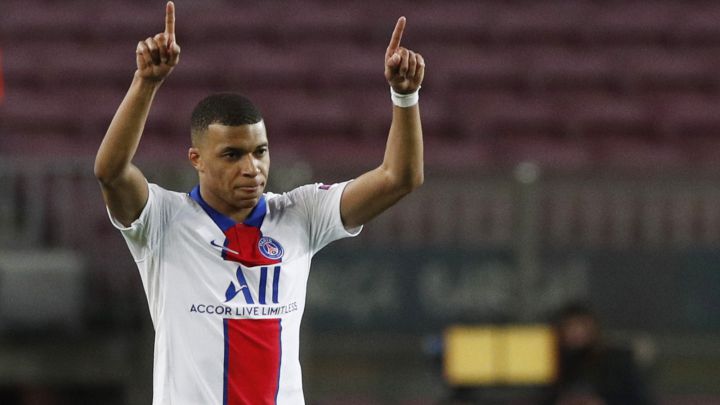 Paris Saint-Germain star Kylian Mbappé became only the 10th player ever to score a competitive hat-trick away to Barcelona on Tuesday night.
Mbappé scores three as PSG thump Barcelona in Champions League
The World Cup winner netted a sensational treble as PSG took command of their Champions League last-16 tie with a 4-1 away win in the first leg.
Mbappé's smart close-range finish cancelled out Lionel Messi's penalty opener, before he tapped in after half-time to give PSG the lead for the first time.
Moise Kean added to that advantage before a sublime breakaway fourth saw Mbappé sweep a stunning finish into the top-right corner.
First Camp Nou treble by visiting player since Forlán
The France forward is the first visiting player to score three times at the Camp Nou since Diego Forlán's hat-trick for Villarreal in 2005.
That Forlán effort was the first of the 21st century, the previous being the only other Champions League treble besides Mbappé's, when Andriy Shevchenko led a remarkable 4-0 away win for Dynamo Kiev in 1997.
Not all hat-tricks for away sides at Barça have resulted in such dominant displays, however. Forlán could only secure a 3-3 draw, with three of the 10 trebles coming in matches that ended all square.
And two three-goal stars actually finished on the losing side, including poor Milinko Pantic in a Copa del Rey epic months before Shevchenko stole the show.
Pantic scored four times for Atlético Madrid, yet they improbably went down 5-4 to Bobby Robson's Blaugrana.
The only other instance of a visiting player netting four came at Barça's previous Les Corts home when Julián Arcas did so in a draw with rivals Espanyol in 1956.
Two of the 10 hat-tricks came at Les Corts - the other eight were all at Camp Nou - as Barça also beat Valencia 4-3 in 1948 despite Vicente Segui's treble.
See also:
Full list of away hat-tricks against Barcelona:
Vicente Segui (Valencia) - 4-3 defeat at Les Corts in 1948
Julián Arcas (Espanyol) - 4-4 draw at Les Corts in 1956
Tony Kurbos (Metz) - 4-1 win at the Camp Nou in 1984
Manuel Pena (Valladolid) - 4-2 win at the Camp Nou in 1987
Baltazar de Morais (Atletico Madrid) - 3-3 draw at the Camp Nou in 1989
Francisco Higuera (Zaragoza) - 5-4 win at the Camp Nou in 1994
Milinko Pantic (Atlético Madrid) - 5-4 defeat at the Camp Nou in 1997
Andriy Shevchenko (Dynamo Kiev) - 4-0 win at the Camp Nou in 1997
Diego Forlán (Villarreal) - 3-3 draw at the Camp Nou in 2005
Kylian Mbappé (Paris Saint-Germain) - 4-1 win at the Camp Nou in 2021