Juventus 3-2 (4-4) Porto - result, goals, summary: Champions League last 16
Juventus 3-2 Porto (4-4 agg) - Porto win on away goals: Champions League last-16 second leg as it happened
Porto are through on away goals, having played with 10 men for nearly 70 minutes! Heroic stuff from Sérgio Conceição's men. Juventus are out of the Champions League at the last-16 stage for the second year in a row.
Having had Mehdi Taremi stupidly sent off in between two Federico Chiesa goals early in the second half, Porto's impressive attacking display in the first 45 suddenly felt like a very long time ago, and they looked certain to be overpowered by Juve.
However, with Pepe immense at the heart of the defence, the visitors steadied the ship, clung on, and grabbed a tie-winning goal at the end of extra time through Sérgio Oliveira's fine free-kick.
Porto are into the quarter-finals for the second time in three years; as for Juve, they signed Cristiano Ronaldo to get them over that final hump in the Champions League... and instead they've gone backwards in Europe's premier club competition.
Add Champions League elimination to the fact that Juve are 10 points off the top in Serie A, and it's fair to say Andrea Pirlo's first season in charge hasn't gone even remotely to plan, potential Coppa Italia success notwithstanding.
Porto will be joined in Friday week's quarter-final draw by Borussia Dortmund, who completed a 5-4 aggregate win over Sevilla tonight, striker Erling Braut Haaland bagging another two goals for the Germans.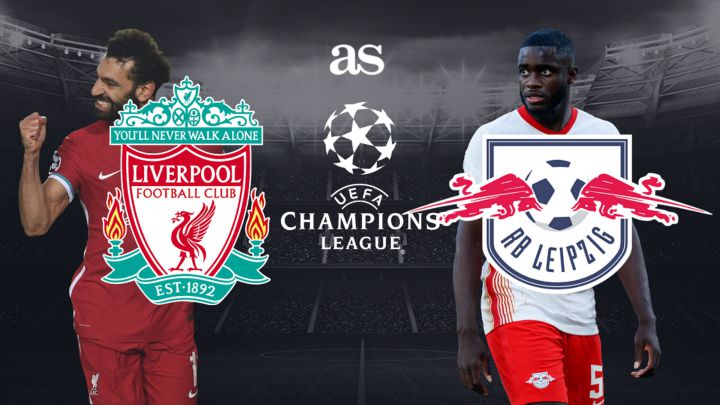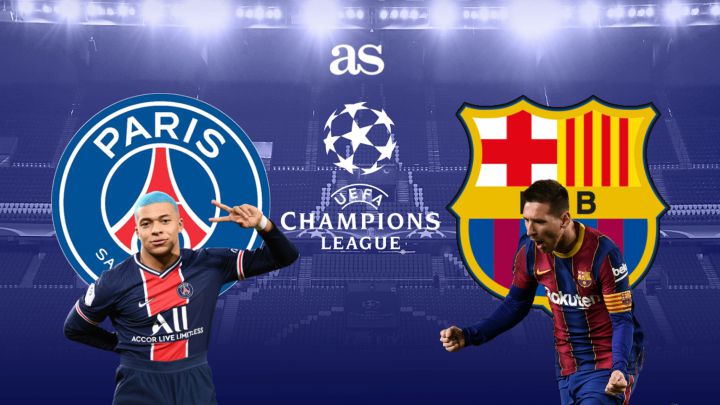 Porto have brought on Loum for Oliveira.
Cuadrado wins a free-kick on the right, and Juve have a final chance to get it into the box. It's sent into the middle and, after a frantic spot of head tennis... it's all over!
De Ligt tumbles under Leite's challenge and Juventus are screaming for a penalty, but both Kuipers and VAR say: nothing doing.
Juventus will have to settle for a corner, which then becomes a second. De Ligt rises highest to meet Rabiot's delivery, but it's blocked.
Juve come right back at Porto... until Rabiot tries to score with a 30-yard howitzer, and sends his effort into row Z.
We're in three minutes of time added on, by the way.
And Juve get one of them right away! Marchesín parries Ronaldo's near-post effort behind, but from the resulting corner Rabiot sends a header into the top corner!
Oh my! Oliveira has surely won the tie for Porto! What an immense effort from the 10 men.
Porto win a free-kick 35 yards or so out from goal, and the midfielder fizzes a low strike into the corner that Szczesny gets his hand to, but he can't keep it out!
Juve need two.
Morata's shot is saved by Marchesín, before Rabiot is booked for a foul on Díaz.
Now Kulusevksi breaks into the Porto box, but he's denied by a last-ditch Mbemba block.
At the other end, Luis Díaz beats Cuadrado with a trick on the left-hand byline, before cutting it back to meet Grujic's late run. Can the substitute grab the headlines?
No. He dalllies, then dallies a little bit more, before seeing a weak shot deflected into Szczesny's arms.
Kulusevski scurries forward and feeds Ronaldo on the left-hand corner of the box. He hasn't had many chances to pick the ball up and run at the Porto defence tonight, but he can't make the most of this one. He cuts inside and shoots, but has his effort blocked by a gaggle of Porto defenders.
Juventus immediately pin Porto back, Cuadrado whipping in a cross that Pepe - yet again - is ideally positioned to head clear. He's been immense tonight.
Peeep! We're back underway. 15 minutes separate us from penalties.
Peeep peeep peeep! Fair play to Porto; they've been a man down for getting on for an hour now, and Juve didn't create a whole lot in that first half of extra time.
Two additional minutes at the end of the first half of extra time.
Bernardeschi immediately gets himself booked for a foul on Grujic.
Ronaldo wants a penalty when Marchesín tears out of his goal and, at best, gets to Sandro's through ball only a split-second before the Portuguese. We're given a few replays of the incident, and it's certainly a robust challenge from the goalkeeper. No spot-kick given, however.
Juve make a double substitution, Chiesa and Arthur making way for Kulusevski and Bernardeschi.
Well, Porto's eyes may be on penalties, but they almost create a goal there! Corona produces an absolute peach of a turn when a corner is taken short, before lofting a ball into the middle for Marega to head at goal - but it's straight at Szczesny! That Corona turn was a thing of beauty.
Oliveira is shown a yellow card for a little bit of backchat to Kuipers after Porto themselves are awarded a free-kick.
Porto are taking as much time as possible whenever there's a stoppage in play. Their eyes are on that penalty shoot-out.
Cuadrado does the old grab-the-ball-after-flopping-to-the-turf-in-search-of-a-foul routine, and not only does he not get said foul, but he is booked for handball and concedes a free-kick. It's an enticing opportunity for Porto to swing one into the Juve box.
Oliveira delivers, but the hosts clear.
Peeeep! Extra time is up and running in Turin.
Chiesa follows in Inzaghi footsteps
Federico Chiesa has been Juventus' best player in this tie by a couple of dozen country miles, and is the first Italian to score a UCL knockout brace for the club since Pippo Inzaghi 22 years ago.
Peeep peeep peeep! Into extra time we go!
Chiesa is booked for a foul on susbtitute Grujic.
Juventus are after a last-ditch winner... and Cuadrado crashes a shot off the crossbar! The Colombian cuts inside from the right and curls an effort high towards Marchesín's top corner. It has the Porto keeper completely beaten, but it bounces back off the woodwork!
Morata has the ball in the net after collecting De Ligt's lofted pass and finishing low past Marchesín... but the flag is up! A VAR check confirms that the former Real Madrid man was offside.
Porto make another change, Grujic replacing Uribe.
Five minutes of time added on.
Twice Pepe clears, but Juventus come right back at Porto, Rabiot lobbing a neat ball over the top for Chiesa to pull down inside the box. He's muscled off the ball, however, and the visitors survive.
We're seeing a few signs of life from Porto in attack now. Sarr brings the ball forward and fizzes in a shot from range, forcing Szczesny to scramble across his goal to block.
Moments later, Marega dribbles back from the byline and into a yard of shooting space in the box, but pulls a near-post shot into the side-netting.
Chiesa really is on top of his game tonight. The Italian bursts past Manafá, into the box and into shooting space on the left... but Marchesín parries!
Corona sends a right-wing cross into the box to Oliveira, who nods a cushioned header down to... no-one. It's a space Taremi might just have taken up had he not got himself sent off in such schoolboy fashion.
The freshly-introduced McKennie can't quite get his head on a left-wing cross from Sandro, before Cuadrado delivers right onto Ronaldo's head from the right.
This lad's half decent in the air, I'm told - but on this occasion he plants his header well, well wide.
Juventus make a second substitution, replacing Bonucci and Ramsey with De Ligt and McKennie.
Moments earlier, by the way, Marega was inches away from collecting Uribe's pass into the box. We've seen nigh-on zip from Porto in attack since that Taremi red card, but despite the catastrophic second half they've endured so far, they'll leave Juve needing another two to qualify if they can find just one goal themselves.
Oh, that's filth from Chiesa. He brings down a long, looping ball forward with an impudent piece of control with the outside of his boot, and only just overruns it when he looks set to scamper in on Marchesín.
Porto make a second substitution, bringing on Luis Díaz for Zaidu. It looks like the three-man defence is being hastily ditched - Sarr shuffles across to fill the gap at left-back left by Zaidu.
Rabiot shoots from the right, and Marchesín has to get down quickly to parry!
As it stands, we're heading into extra time - but, having been so impressive in the first 45, Porto are really struggling with one man fewer and are hanging on now.
Pepe brings down Morata 40 yards or so out from goal, and Cuadrado has a chance to swing it into the box. Sarr, who has come into the Porto backline to form a three-man central defence, heads clear.
Bonucci then wins Juve a corner, which is cleared - but Juve are coming back at Porto again and again. It's one-way traffic.
Chiesa's there again! Cuadrado hangs over a cross to the far post, where the forward powers a header in past Marchesín!
You really couldn't have seen this coming after that first half. 3-3 on aggregate!
Porto make their first change, introducing Malang Sarr for Otávio.
Alex Sandro whips in an inviting cross from the left wing, but Pepe is in position to clear. He's earning his corn at the moment.
Chiesa lifts the ball over the top for Ronaldo to chase, but Marchesín is out quickly to clear.
Porto boss Conceiçao is preparing a substitution.
Chiesa is so close to a second! Corona is utterly sleeping and allows the Juventus forward to nip in ahead of him and carry the ball into the box, before rounding Marchesín.
Just as Chiesa looks set to turn the ball into an empty net, though, Pepe is there to put him off sufficiently to prevent him from finding the target. The ball bounces off the post and dribbles out.
Taremi is off! Having just been booked a few moments earlier, the Iranian boots the ball away in frustration when Björn Kuipers gives a foul in Juve's favour - and he's given his second yellow and his marching orders!
Utter stupidity. He can have few complaints.
10 minutes into the second half, and we're looking at a completely different tie.
Juventus have their tails up now, and immediately win a corner, which finally falls to Arthur to shoot - but it's blocked.
Back come the Bianconeri, though, Cuadrado crossing from the right for Ramsey, who's in acres of heading space in the area. The Welshman directs the ball straight at Marchesín, however, and he looks to have been offside anyway.
They've found a way through now, though! Chiesa fires into the top corner! He got their goal in the first leg and he's on the scoresheet tonight, too!
Ronaldo peels off towards the left-hand side of the box to collect a lofted ball into the area, before touching it back to Chiesa to produce a fine finish.
What a second half we now have in prospect!
Juventus plop it about from side to side in front of Porto's back six, but thus far we're following the script of the first half. No way through for the hosts.
Peeeep! We're back up and running at the Allianz Stadium. Can Juventus finally turn up to this Champions League tie in its fourth quarter? They've been really pretty bad in the first three.
Peeep peeep peeeep! Porto lead 1-0 on the night and 3-1 on aggregate, and Juventus simply have no answer to the visitors' game plan. The hosts have had the odd chance here and there - most notably an early Álvaro Morata header - but, in general, Sérgio Conceiçao's men are soaking up pass after pass of innocuous Juve possession before breaking dangerously again and again. They could easily have scored a tie-ending second by now.
Otávio is booked for a foul on Cuadrado.
There's a very decent chance for Oliveira! His free-kick from the right is initially dealt with by the Juventus defence, before Rabiot is pressured into playing a loose pass out from his own byline. It's straight at Oliveira, who advances into the box from the right and shoots - but it's too close to Szcesny! Juve really need half time.
Four minutes of time added on in Turin.
Porto always look like they're about to do damage when they win it back and break. Just as I write that, Otávio dallies on the ball just inside the Juve half and is dispossessed, but the point still stands. Pirlo has a big half-time break ahead of him.
That's a better Juventus cross from the left, delivered at pace into the Porto box, and a back-pedalling Mbemba is forced to head it behind for a corner.
It's worked to Arthur to shoot from range, his effort deflecting wide for another corner.
Said corner is headed down by Morata to Bonucci in the six-yard box, but Marchesín is out quickly to grab hold of the ball ahead of the Juve captain, who was offside anyway.
Porto have their two wide midfielders tucking in to make what is effectively a back six when Juventus are in possession, and right now the hosts are really struggling to do more than pass it about in front of the wall of dark blue shirts.
Ronaldo controls and shoots on the edge of the box, but Mbemba blocks.
Juve then keep it for a good couple of minutes without really getting anywhere, before Chiesa finally crosses from the left - and sends his delivery right down Marchesín's throat.
Pepe is down with a bloodied eyebrow after a clash of heads with Demiral, and is in need of more than just the magic sponge. Demiral has certainly thrown his weight around so far tonight, but not exactly successfully.
Rabiot shoots from range, but Marchesín gets down to grab hold with relative ease.
There's a chance for Morata - but Marchesín saves! Cuadrado crosses from the right to the back post, where Mbemba misjudges the flight off the ball and allows it to drift over his head to the Spaniard.
Morata chests it down and shoots from an acute angle, but is denied by Porto's keeper. Ronaldo was screaming for the pass in the middle, and doesn't look too chuffed not to get it - but Morata had every right to shoot.
Now Otávio takes a touch and lets fly from 25 yards - but again Szczesny gets down to grab hold! "Porto smell blood", says Miguel Ángel Román on comms on Spanish TV, and he's not wrong.
The way things are going, Juve are going to struggle to keep Porto to one goal tonight - and if the Portuguese get another way goal, the Bianconeri will be left needing FOUR.
First Otávio robs Cuadrado and leads a quick break that finally comes to nought, but moments later, back come Porto. They work it to Taremi to advance into the right-hand side of the box and shoot... but Szczesny blocks!
Sérgio Oliveira sends Szczesny the wrong way, and Porto lead 1-0 on the night and 3-1 on aggregate!
Penalty to Porto! Demiral brings down Uribe in the box, and the guests have the chance to re-establish a two-goal lead in the tie!
Demiral pumps it forward towards Morata, but it's loo long and Marchesín scoops the ball up.
Moments later, Zaidu gets himself in a muddle and Ramsey slips it forward to Morata, who'll have space to shoot if his control is on the money... but it is not. He tries to incorporate a stepover into his first touch, and his control is heavy.
They're trading chances in these opening stages. Ramsey heads Cuadrado's free-kick just over Marchesín's top corner, before Otávio flashes a volley a yard or two wide of Szczesny's far post up the other end.
Double chance for Taremi! We could have had a couple of goals already.
Zaidu does excellently to carve out space to cut the ball back from the byline, fizzing a low pass to Taremi to shoot from the penalty spot. His first-time effort is blocked on the line, before the Iranian heads the loose ball just, just over the Juventus bar.
Porto are already looking dangerous on the break. Having snuffed out a Juventus attack, the visitors work it quickly forward to Marega, who outmucles Bonucci - and does so too easily - before knocking the ball past the out-rushing Szczesny... but his touch is too heavy and the ball drifts out harmlessly for a goal-kick.
First chance for Juve, and it's a fine save by Marchesín! Having flirted with (once again) conceding an early opener, the hosts mount their first attack of substance, feeding the ball to Cuadrado on the right.
His whipped cross is right onto the forehead of Morata, who powers an effort towards goal - but Marchesín beats it out!
There's a very, very decent early shooting chance for Porto. The visitors work it to Marega on the right wing, where his cross into the box deflects off Bonucci. The loose ball finally falls to Uribe, who's in space on the edge of the box - too much space - but he drags his low effort wide of the near post.
Peeeeep! Dutch referee Björn Kuipers gets us underway in Turin!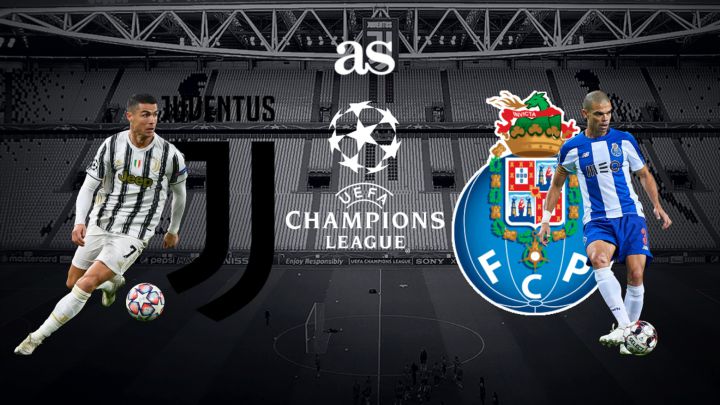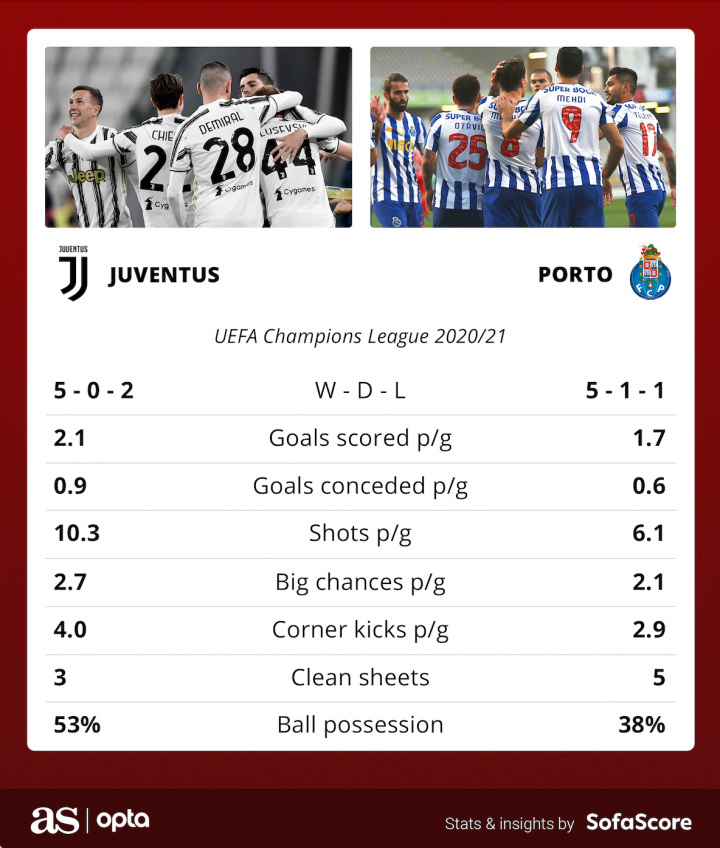 Juventus vs Porto: UCL campaigns compared
Here, courtesy of our friends at SofaScore, is an at-a-glance comparison of Juventus and Porto's Champions League stats so far in the 2020/21 campaign.
However...
Porto may have an iffy recent record when it comes to defending a first-leg lead, but they are up against a side who are proving no great shakes at overturning deficits in the return.
As football stats specialists Opta point out, Juventus have lost five of their last six Champions League knockout ties after losing the first leg.
Porto struggling to make first-leg leads count
Porto, beware: the last three times the Dragões have won the first leg of a Champions League knockout tie, they have ended up exiting Europe's premier club competition.
They failed to press home their first-leg advantages against Arsenal in the 2009/10 campaign, Málaga in 2012/13 and Bayern Munich in 2014/15.
It's also worth noting that Porto's results against Juve on the two previous occasions they have come to Turin in the Champion League would not be enough to send them through.
They went down 1-0 at the Allianz Stadium in 2016/17, and 3-1 at the Stadio delle Alpi back in 2001/02.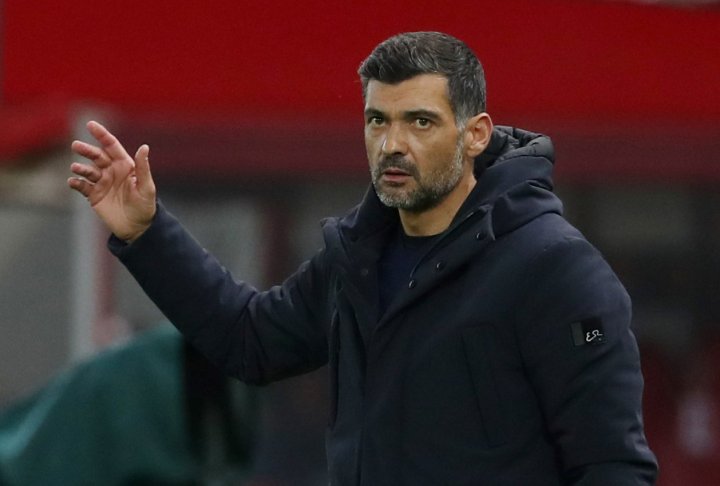 What the coaches said: Sérgio Conceição, Porto
No plans to play for a draw:
"Our history in this competition is very rich. We've prepared in the best way to get a positive result that, in a club like FC Porto, can only be the victory. We're going to play in the image of who we are as a team and try to win it."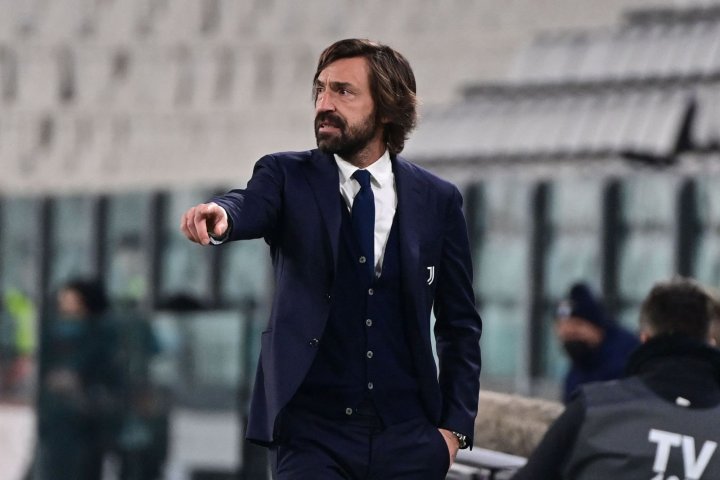 What the coaches said: Andrea Pirlo, Juventus
Juve boss urges patience:
"The result is open, we will have to be clever in knowing how to manage the match to obtain qualification. It is a decisive match for our Champions League campaign.
"We will have to play a very technical game, because we will face a very compact team, with two very narrow lines and with little space and little time to think. It will take technique and patience."
Pirlo's pre-match comments in full
(Photo: MIGUEL MEDINA / AFP)
Porto repeat first-leg XI, six changes for Juventus
Not altogether surprisingly, Porto start with the same XI that did so well in the first leg, while Juventus make several changes from the opener - albeit some are enforced.
Juan Cuadrado comes in for the suspended Danilo at right-back, while Leanordo Bonucci and Merih Demiral replace Giorgio Chiellini and Matthijs de Ligt at centre-back, the latter ruled out with a minor muscle injury.
In midfield, Arthur Melo and Aaron Ramsey are in for Rodrigo Bentancur, who has covid-19, and Weston McKennie.
Álvaro Morata partners Cristiano Ronaldo up top, Dejan Kulusevski making way for the Spaniard.
Juventus team news
Starting line-up: Szczesny, Cuadrado, Bonucci, Demiral, Sandro, Chiesa, Arthur, Rabiot, Ramsey, Morata, Ronaldo
Substitutes: Buffon, Pinsoglio, Chiellini, de Ligt, Di Pardo, Dragusin, Frabotta, McKennie, Bernardeschi, Fagioli, Kulusevski
Porto team news
Starting line-up: Marchesín, Manafá, Mbemba, Pepe, Zaidu, Corona, Uribe, Oliveira, Otávio, Marega, Taremi
Substitutes: Costa, Loum, Díaz, Grujic, Anderson, Martínez, Evanilson, Sarr, Leite, Vieira, Nanu, Conceição
Juventus vs Porto: Champions League preamble
Good evening and welcome to our live coverage of Juventus and Porto's Champions League last-16 second leg, as the Italians aim to overturn a 2-1 deficit from last month's opener in Portugal.
If they are to progress to the quarter-finals, Andrea Pirlo's men will need to play a hell of a lot better than they did at the Estádio do Dragão, though. They were caught utterly snoozing as Porto scored right at the start of each half, and can consider themselves very fortunate to have got away with such a narrow defeat.
But escape with a narrow defeat they did, and that precious away goal, scored by Federico Chiesa with just eight minutes remaining, changes the entire complexion of the task facing the Bianconeri tonight.
As for Porto, quarter-final qualification for the second time in three seasons beckons if they can avoid defeat at the Allianz Stadium - but head coach Sérgio Conceição says his side have no intention of sitting back and protecting their first-leg advantage.