Can I get the third stimulus money if I got the first and the second payments?
The IRS is currently distributing the third round of stimulus checks but many will miss out due to the new eligibility requirements and income thresholds.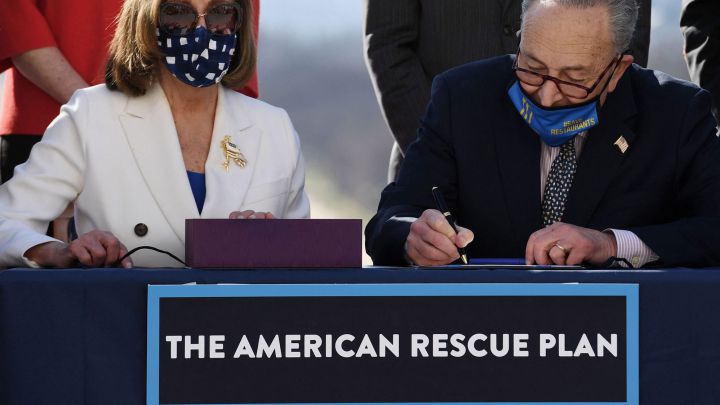 The $1.9 trillion stimulus bill signed into law earlier this month includes a new round of Economic Impact Payments as President Joe Biden looks to get direct relief to those in need.
These will be the third stimulus checks provided by the federal government since the start of the pandemic and are the largest to date. The first, coming nearly exactly a year ago, were worth $1,200 while a second round worth $600 was included in December's emergency relief bill.
Crucially, there is nothing that prevents those who received either or both of the previous payments from getting the third stimulus check, although there have been some crucial changes to the eligibility requirements.
New eligibility requirements will see millions miss out on stimulus checks
Although Biden managed to get his American Rescue Plan through Congress largely unscathed, he was forced to make some concessions to his Party's moderate wing. Key amongst them was some changes to the eligibility requirements for the new stimulus checks which were intended to make the support more targeted.
The original bill had contained the same income thresholds as previous rounds of direct payment, but some in Congress felt that too many high-earners were receiving stimulus checks. During the first reading in the Senate, Democratic Senator Joe Manchin and Republican Senator Susan Collins co-signed a non-binding amendment with which called for "upper-income taxpayers" to be excluded from the $1,400 payments.
The IRS says nearly 7M tax returns have not been processed, which is 3 times the total from last year. @NBCNews' @SRuhle breaks down reasons why many eligible Americans have not received their IRS tax refunds or third round of stimulus checks - @NBCNewsNow https://t.co/IFADUWCmlN

— NBC News (@NBCNews) March 17, 2021
When the final bill was passed, the income threshold to receive a proportion of the stimulus check entitlement was lowered to $80,000 for individuals and $160,000 for couples who file jointly. Estimates suggest that this means that around 12 million Americans who had received payments in the past will miss out on the third stimulus checks.
Adult dependents will receive stimulus checks for the first time
The eligibility requirements have been lowered to reduce the number of higher earners who will receive a stimulus check, but there is one group who will be getting the direct payment for the first time.
Those claimed as adult dependents on tax returns are eligible for a stimulus check for the first time, a group which could cover as many as 27.4 million, according to Kyle Pomerleau, a fellow at the American Enterprise Institute.
The American Rescue Plan means a $7,000 check for a single mom of four. It means more support to safely and quickly reopen schools. It means setting up additional vaccination sites to help America get back to normal.

What does the American Rescue Plan mean to you?

— Joe Biden (@JoeBiden) March 13, 2021
Pomerlau said recently: "In the last two rounds of checks, dependents were defined as children who are eligible for the child tax credit. This only included children under the age of 17. Under that definition of dependents, there were 70.1 [million] dependents eligible."
The majority of those within this group are college students, elderly relatives and disabled Americans, all of whom are likely to rely on others within the household financially. By widening eligibility to include this group who have not previously received stimulus checks, Biden hopes to reduce the pandemic's economic burden on working families.