Christian Pulisic would like to play for US U23 in Olympics
The Chelsea winger expressed his wish to be part of the United States youth national team that is currently battling for a ticket to the 2021 Tokyo Olympics.
The last time Christian Pulisic played with the United States men's national team was in October 2019 during the CONCACAF Nations League against Canada and Cuba. After over a year of being absent due to the coronavirus pandemic and several injuries, the 22-year-old is happy to return during this FIFA international break.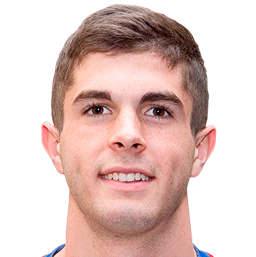 The USMNT is holding camp in Austria where they will play Jamaica on 25 March and then Northern Ireland three days later. This is going to be a busy year for the USMNT and the youth team, the latter currently playing in the CONCACAF Olympic qualifying tournament to book their ticket to Tokyo.
Related news:
Pulisic keen on Olympics
Pulisic is one of the top soccer players in the United States and if the US youth national team is able to qualify to the 2021 Olympics, then he would like to be included in the roster. But it could be complicated. The US failed to qualify for the Olympics in 2012 and 2016, so they are determined to return this summer.
"The Olympics is of course a massive honor to play in, and to represent your country in an Olympics would be amazing," Pulisic said, according to ProSoccerTalk. "I am fully supporting the guys in qualifying now. It is something I've thought about and that I've wanted to play in. Obviously I can't control exactly what goes on and what is best for me at the time and the team at the time, I can't say. But it is something that I would like to play in."
The United States will play on Sunday to book their ticket to Tokyo against Canada or Honduras in a crucial match. During the group stage they have won their first two games and on Wednesday will play Mexico, but both teams have already secured a spot to the semi-finals.
Pulisic is 22-years-old and is eligible for the U23 United States team, but clubs are not obligated to release their players because the Olympics is not a FIFA tournament. So he is aware that it would be complicated for Chelsea to release him, because they will be in mid-season.