Manchester United ready to pay €80M for Atlético's Marcos Llorente
Atlético Madrid know about United's offer for Marcos Llorente but the midfielder plans to stay in the Spanish capital with Simeone's side.
Manchester United are eager to sign Marcos Llorente. The Premier League club has contacted Atlético Madrid to place an offer for the Spain international - they are willing to pay 80 million euros.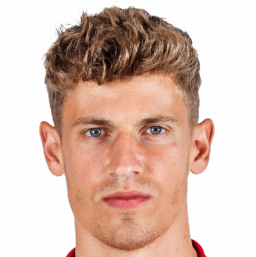 Selling Llorente is not in Atlético's plans, but United's proposal is attractive enough that club directors are prepared to weigh up the pros and cons. A transfer fee of that amount would ease some of the losses the club has suffered as a result of the pandemic, and make up for being knocked out of the Champions League at the Last 16 stage.
Marcos Llorente however, has no intention of moving elsewhere. He is happy and settled at Atlético and does not want to leave Madrid, his hometown. He is currently having a new house built in the Spanish capital and his medium-term plan, both professionally and personally, is to remain with Atlético Madrid. Marcos is aware of the financial difficulties the club is facing and has had no problem in accepting a reduction in pay when the club has had to cut costs. His performances have meant that he has moved into a new salary bracket, bringing him alongside Koke and Saúl, but the last thing he want to do at the moment is start making demands for a pay rise when Atlético, along with the majority of clubs, are struggling to cope with the economic fallout of the Covid-19 crisis.


Llorente in the best form of his career
For the past year, Marcos Llorente has been one of the most in-form players in his position in Europe. He complements his extraordinary physical strength and fitness with scientifically-designed sleeping products (Hogo System 07) and working with a top level personal trainer (Adolfo Madrid). His progression hasn't gone unnoticed in Europe and apart from United, PSG have also been following him with interest.
United attempted to sign Llorente during the January 2020 transfer window. Negotiations continued up until deadline but the player had no intention of leaving Atlético, even though he had hardly figured under Simeone at that stage of the season; 40 days later, on 11 March 2020 he finally got his big chance, coming on as a late sub against Liverpool to turn the Champions League Last 16 return leg on its head. He was the hero that night in Anfield, an unforgettable moment for Atleti fans, who suddenly had a new idol.
United's offer is on the table and Atlético are deliberating whether to accept it. Marcos Llorente would also have to agree to be sold. In England he would double the salary he currently earns with Atlético. Llorente however, may not be swayed by the offer while he is so settled at the Wanda Metropolitano.