Georgia 1-2 Spain result, summary, goals: 2022 World Cup qualifying Group B
Georgia 1-2 Spain: World Cup qualifying as it happened
Peeep peeep peeep!
It has been a real struggle for Spain in Tbilisi, but they have snatched a truly vital three points thanks to that last-gasp Dani Olmo strike.
Georgia's intense pressing and quick breaks made life very difficult for Spain for a large chunk of today's game, and it was hard to begrudge the hosts their half-time lead, courtesy of a composed finish by the mightily impressive Kvicha Kvaratskhelia at the end of the first 45.
As Georgia tired, however, they could not maintain the ferocity of their off-the-ball harrying or offer the same kind of counter-attacking threat, and they succumbed first to Ferran Torres' equaliser, then Olmo's late strike.
For Spain, the outlook in Group B suddenly looks rather better. Luis Enrique's men move provisionally top, one point ahead of Sweden, who take on Kosovo tonight.
The Swedes will reclaim first place with victory in Pristina, but had it not been for the Spaniards' stoppage-time winner, the Scandinavians would have had the chance to establish a four-point lead over La Roja.
Spain now go to Seville, where they will face Kosovo themselves on Wednesday.
That's all from me. Thanks for reading!
Oh dear, that's a very nasty challenge indeed. Substitute Shengalia gets his marching orders after flying in on Pedri with poor, poor studs-up tackle. He could have done the Barcelona midfielder some real damage.
Goal! Olmo has won it for Spain! Stunned silence in Tbilisi.
What a huge goal that is. Had it remained 1-1, Sweden would have had the chance to go four points clear at the top of Group B when they face Kosovo later this evening.
Alba feeds a neat little ball into Olmo 35 yards or so out. He turns, advances towards the box and strikes from range - and, though Loria gets a hand to it, he can only push it into the top corner.
A number of Georgia players slump to the floor in anguish.
Georgia win it back on the edge of their box and break, but Beridze is quckly run off it, much to Willy Sagnol's annoyance. Back come Spain, Alba crossing into the area... but his ball is dealt with.
Four minutes of time added on in the Georgian capital.
Spain are really knocking on the door now. Llorente gets to the byline and cuts the ball across the face of goal, but no-one in a red shirt can get on the end of it.
Alba turns it back to the top of the box to Pedri, but his shot is blocked!
Spain win another corner, which Thiago will again deliver. His ball is right to Morata, but the striker doesn't seem properly set for the header. It bounces off the side of his head and well wide.
Just as I say that, Beridze gets the volume rising in the Boris Paichadze Dinamo Arena by running menacingly at Llorente, but the Atlético Madrid man does well to win the ball back and snuff out the momentary danger.
Torres is struggling after finding himself on the wrong end of a robust challenge by Chabradze. Spain have used all their subs, so they'll be down to 10 men if he can't continue. It looks like he should be alright, though.
Thiago swings in a corner for Spain, but Loria claims. The keeper looks to launch a quick break, but Gvilia loses it. It's all Spain ball, and the home team aren't posing the same kind of counter-attacking threat as they were before.
Georgia make their final two substitutions, replacing Kvaratskhelia and Kakabadze with Chabradze and Kvekveskiri. Kvaratskhelia gets a huge ovation as he leaves the field. He looks like a real talent.
Olmo shoots wide! Thiago feeds Alba, who plays it on to Olmo on the edge of the box. He turns and shoots in one movement, but he sends his strike a yard or two past Loria's left-hand post.
Oh, that's a shame. Pedri slips Alba into space to cross on the left, but, uncharacteristically for the Barça full-back, his ball into the box is mishit and flies straight into Loria's arms.
Georgia are looking increasingly tired and Spain are starting to turn the screw. 15 minutes for them to find a winner.
The substitutions continue: Spain throw on Mikel Oyarzabal for Busquets.
Olmo almost has a shooting chance when Spain play the ball into the RB Leipzig man in the Georgia penalty box, but he twists and turns and just can't shake of three or four white shirts.
Two changes for Georgia: Lobzhanidze and Kiteishvili make way for Shengalia and Beridze.
Kiteishvili receives on the right and strokes a lovely low ball into the box to meet the run of Lobzhanidze, but García is there just in time to take the ball off the Georgian's toes. A crucial interception.
Spain make another change, introducing Marcos Llorente for Porro.
Olmo tries to barrel his way into the penalty box from the left, but is muscled off the ball. Moments later, though, the substitute has it in a better position, close to the penalty spot, after Alba cuts it back from the byline. Olmo takes a touch but, just as he's preparing to pull the trigger, he's dispossessed.
Georgia make their first substitution, bringing on Kvilitaia for Zivzivadze.
At the other end, Kvaratskhelia jinks his way along the left-hand byline and into the box, but he's run finally off it and concedes a Spain goal-kick. He's so, so dangerous, though.
That's Ferrán Torres' fifth goal for Spain, and it's a very important one.
Right away, Spain push for a second. Alba wants a penalty for handball when his cross into the box hits a Georgia defender, before Porro swings in a ball from the other flank that Morata can't get hold of.
Equaliser for Spain! Ferrán Torres with it!
It's the first time I can remember the Spaniards getting a really quality ball into the box, and they draw level. Alba curls a low delivery from the left across the face of goal, and though Morata can't connect, it runs through to Torres, who sweeps it home from point-blank range!
On comes Thiago, replacing Fabián.
There's a good ball from Busquets to Porro in space on the right-hand side of the box. He has Morata waiting in the middle, but his cross is deflected behind.
From the corner, Martínez has an opportunity to head on goal, but sends his effort wide of the post.
Olmo feeds the ball left for Morata, who looks to drive at pace towards the byline, but is well tackled by Kashia. The home crowd roar in approval.
Thiago Alcántara is preparing to come on for Spain.
García has to look alive to cut out Kankava's angled pass to Lobzhanidze, who would have been in if the defender hadn't got there.
Spain win a corner, which Porro delivers - but sends in too close to Loria. Again Georgia look to break at speed, but Alba is across quickly to mop up before Kvaratskhelia can pick up the ball forward. The goalscorer puts Alba under some pressure... illegally so, says the referee. Free-kick to Spain.
Peeeep! We're back up and running in Tbilisi.
Unsurprisingly, Luis Enrique has opted to make half-time substitutions. There are two Spain changes, Dani Olmo and Íñigo Martínez replacing Bryan Gil and Diego Llorente.
And that's half time!
As thing stand, Spain are going to take just one point from their first two World Cup qualifiers. The visitors have had most of the ball (when don't they?) but they've looked really rather rattled by Georgia's in-your-face intensity.
Luis Enrique's men have carved out the odd half-chance or two, but in the main they've been distinctly uninspiring in attack. It's a big half-time break ahead for the Spain boss.
Georgia have stuck to a clear game plan of harrying the Spaniards to within an inch of their lives and taking every opportunity that comes their way to counter at pace. They've looked really dangerous on the break, and you can't begrudge them their lead.
Goal! Kvaratskhelia gives Georgia the lead with a fine finish!
He's looked very, very good in this first half, and he makes no mistake when Georgia work the ball from right to left via Kiteishvili, who rolls it into the winger's run into the box.
Kvaratskhelia takes a touch, advances into the 18-yard area and slides the ball into Simón's far corner!
Chance for Torres! Alba cuts it back to Pedri, who can't quite reach his Barcelona club-mate's pass. However, it runs through to Torres, who has space to shoot with his left from the top of the box - but blazes high, wide and handsome.
Porro crosses from the right to Morata, whose control lets him down. Georgia clear. Spain are starting to gain a greater measure of control over the proceedings, though.
Torres receives the ball on the right-hand side of the box and cuts it back to Fabián at the top of the 'D', but again the Georgians are instantly on top of the visitors, and Fabián is dispossessed before he can wriggle himself into space to shoot.
Spain are struggling to cope with the intensity of Georgia's pressing. First Busquets fails to buy a free-kick as he is robbed of the ball, before Pedri is dispossessed out on the right flank.
That said, they're keeping the play in the hosts' half at the moment.
Llorente steps out of defence and looks to release Porro into crossing space on the right-hand edge of the penalty box, but his pass is overhit and the chance is lost.
Fabián crosses from the right towards Gil's run to the back post, but the youngster can't quite get there in time. The ball runs to Alba on the other flank, but his ball back into the area is dealt with.
Torres wins a free-kick 35 yards or so out. It's played low into the City winger's run towards the right-hand post, but he's forced out wide before losing it.
Georgia are really rattling Spain. The hosts win another corner, which finally falls to Lobzhanidze on the penalty spot. He turns and shoots - but his effort is blocked.
Up the other end, Morata receives the ball on the edge of the box and backheels it to... no-one.
The Georgia players are absolutely haring after the Spaniards when the visitors have the ball. Lobzhanidze is very, very close to picking García's pocket inside the Spain area, before the defender just manages to swivel away from the forward and get it it Porro, who also comes under asphyxiating pressure, but wins a free-kick.
Alba's long pass from the left almost find Torres in acres of space at the back of the box, but the Manchester City winger allows the ball to squirm under his boot and away for a goal-kick.
Zivzivadze is the first Georgia player into the book, earning himself a richly-deserved yellow for a foul that brings a halt to a Spain counter-attack.
Gvilia feeds Kakabadze, who gets the byline and fires a cross into the area, forcing García to knock it behind for a corner.
It really has been a very lively start from the hosts - spurred on by the fans in the stands - and they almost take the lead from the corner!
Kankava meets the delivery at the near post and heads low towards the far corner, and is only denied the opener by a fine, fine save from Simón!
Kvaratskhelia is causing Spain's defenders a headache or two whenever he picks up the ball and runs at the visiting backline. He scuttles down the left wing and lulls Porro into a foul that will cost the debutant a yellow card. That's two of the Spanish back four booked already, both for fouls on the Rubin Kazan youngster.
The free-kick is whipped into the box, but it's too close to Simón and the goalkeeper punches clear.
Great save by Loria! Georgia have had an eminently encouraging couple of minutes, but they almost go behind there. Gil skips into the home box and, despite being run off it by a gaggle of white shirts, the loose ball falls to Torres - who fires low towards the near post, but is denied by a smart top from the keeper!
The home fans are again up on their feet when Kvaratskhelia scampers forward over the halfway line and is brought down by Llorente, who is booked.
Moments later, Georgia think they've got Kiteishivili in behind the Spain defence and into a shooting position in the box, but the flag is up.
The decibels momentarily rise inside the Boris Paichadze Dinamo Arena when Llorente's pass out from the back is cut out by Lobzhanidze, who has a great chance to run at a back-pedalling Spanish defence if he can bring it under control.
He can't, however; it trickles out for a Spain throw-in.
It's all been in the Georgia half so far. Ferrán Torres gets the first sight of goal for Spain, letting fly from range - but his strike is deflected behind for a corner, which comes to nought.
This is Jordi Alba's first international appearance for 18 months, by the way. He last played for Spain in a Euro 2020 qualifier against Romania in September 2019.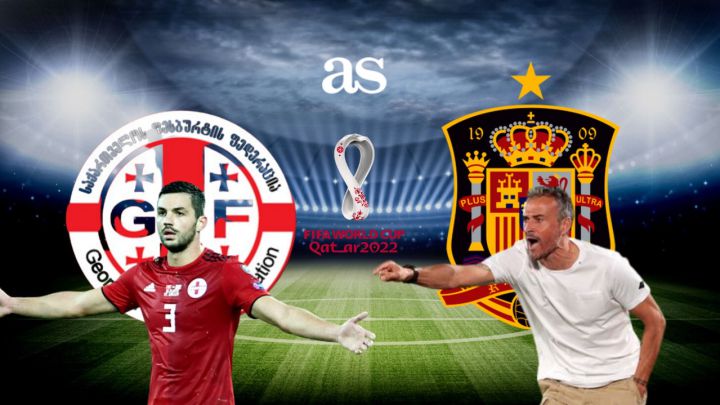 15,000 fans in the stands in Tbilisi
There are 15,000 supporters in the stands at the Boris Paichadze Dinamo Arena - around a third of the stadium's total capacity. It's great to see. They make themselves heard as the teams come out onto the pitch in the Georgian capital.
Time for the anthems. Spain first.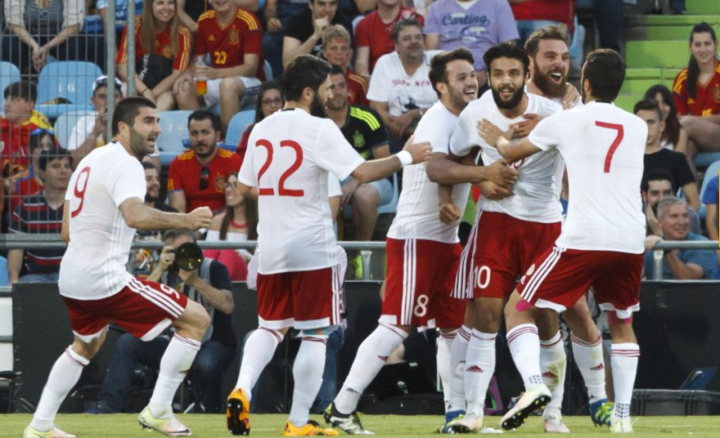 Georgia vs Spain: previous meetings
Georgia and Spain were also drawn together in qualifying for the 2014 World Cup, the then-world and European champions coming out on top both home and away as they topped Group I ahead of France.
A late Roberto Soldado strike saw La Roja edge Georgia out 1-0 in Tbilisi in September 2012, before Álvaro Negredo and Juan Mata were on target in a 2-0 victory in Albacete in October 2013.
However, it was Georgia who were the winners in the teams' most recent meeting, Tornike Okriashvili's first-half goal earning them a surprise 1-0 triumph in a June 2016 friendly at Getafe's Colisuem Alfonso Pérez.
(Photo: Felipe Sevillano/Diario AS)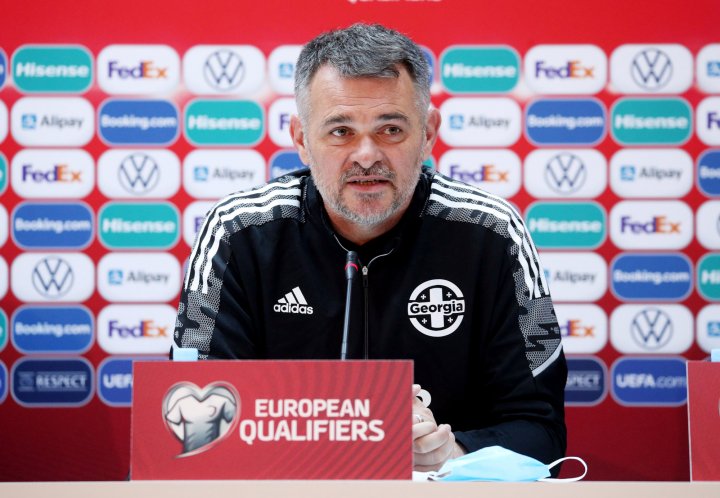 What the coaches said: Willy Sagnol, Georgia
Challenge of facing Spain:
"Spain have some fantastic players. It'll be a difficult game […]. They did everything they could to beat Greece, but the Greeks defended well."
Khvicha Kvaratskhelia:
"He's fine. His head was hurting [when he was substituted at half time against Sweden], but he's OK now. He'll play against Spain."
(Photo: REUTERS/Irakli Gedenidze)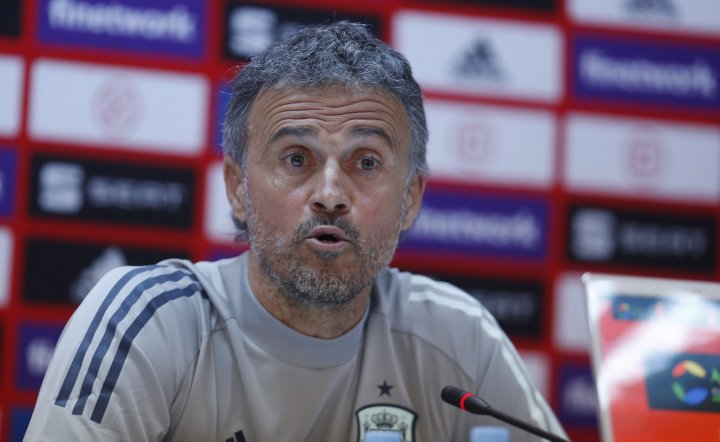 What the coaches said: Luis Enrique, Spain
Lack of creativity against Greece:
"You depend on the quality of the players and we have a lot of that, so I am calm. There are no bottles of pills for inspiration; if you find them in a pharmacy, buy me two bottles!"
Impressed with Georgia display against Sweden:
"I don't know what Georgia will do against us, but against Sweden they generated a lot of scoring chances. I think Georgia deserved to draw that game […]. It won't be easy."
Read more: Luis Enrique's pre-match comments
(Photo: Miguel Morenatti/Diario AS)
Spain debut for Porro as Luis Enrique makes several changes
Spain boss Luis Enrique makes no fewer than seven changes to the team that began Thursday's draw with Greece, as Pedro Porro, Diego Llorente, Jordi Alba, Sergio Busquets, Fabián Ruiz, Pedri and Bryan Gil all come into the XI.
Captain Sergio Ramos, who is now just five short of the men's international caps record of 184, is among the players who drop to the bench.
The Spaniards had hoped to bring forward Gerard Moreno back into the fold after he missed the Greece game with a hamstring problem, but the Villarreal man isn't involved today, either.
Sporting CP defender Porro is handed his debut for Spain, while Gil and Pedri make their first starts for their country.
Meanwhile, Willy Sagnol makes four changes to the Georgia side that lost to Sweden, bringing Otar Kakabadze, Valerian Gvilia, Otar Kiteishvili and Budu Zivzivadze into the line-up.
Georgia team news
Starting line-up: Loria, Giorbelidze, Kashia, Dvali, Kakabadze, Kankava, Gvilia, Lobzhanidze, Kiteishivili, Kvaratskhelia, Zivzivadze
Substitutes: Mamardashvili, Aburjania, Kupatadze, Shengelia, Kvilitaia, Grigalava, Kobakhidze, Chabradze, Beridze, Kvekveskiri, Parunashvili, Jighauri
Spain team news
Starting line-up: Simón, Porro, García, D. Llorente, Alba, Busquets, Fabián, Pedri, Torres, Morata, Gil
Substitutes: De Gea, Sánchez, Martínez, Canales, Koke, Thiago, Gayà, Ramos, Rodri, Olmo, Oyarzabal, M. Llorente

Georgia vs Spain: preamble
Good afternoon, buenas tardes, შუაღდე მშვიდობისა!
We're about an hour away from kick-off as Spain prepare to face Georgia in a game Luis Enrique's men really rather need to win if they're to kickstart their 2022 World Cup qualifying campaign.
That's because La Roja began Group B with a disappointing 1-1 home draw with Greece on Thursday, Anastosios Bakasetas' penalty cancelling out Álvaro Morata's opener at Granada's Estadio Nuevo Los Cármenes.
It's the first time Spain have failed to begin a qualifying campaign with a win since September 2004.
Meanwhile, hosts Georgia were beaten 1-0 by Sweden in their first qualifier in midweek, in what was former Bayern Munich and France defender Willy Sagnol's opening game as the eastern Europeans' head coach.
(Image: UEFA.com)