Augusta Masters 2021 Day 1 | Results and leaderboard, Justin Rose -7 leader
Augusta Masters 2021 Day 1 Summary: Rose in charge at -7
Masters 2021 Day 1: headlines
- Justin Rose roars ahead of the pack with a sensational 65 in the first round (watch)
- A day of Master-ful shots (watch a selection of the best)
- Reigning Masters champ Dustin Johnson doubles 18, ends first round at +2
- Hole in one: Tommy Fleetwood aces No. 16 (watch)
- First time father Rahm finishes first round at E
- Bubba Watson pops in stylish birdie at par-5 13th (watch)
- Dustin Johnson pitches in for birdie at the challenging No. 11 (watch)
- Emotional morning as Lee Elder joins Jack Nicklaus and Gary Player as a new honorary starter (watch)
Scroll through our Masters articles between plays:
Round 1 of The Masters has wrapped up and Justin Rose made headlines by shooting his best round ever at Augusta National. It was a day marked swirling winds and especially firm green for this early in the tournament.
Incredible stretch give Rose a commanding lead
Rose was two over through seven holes, but an eagle on the par 5 eight sparked one of the greatest runs we have ever seen in Masters history, Rose went -9 in the final 11 holes, to soar to a 4 shot lead over Hideki Matsuayama and Brian Harman.
In a day where everyone struggled with conditions, JR was zoned in with his irons. Even when he seemed in trouble like on the par five 15th when his approach shot found the bunker, he went up and down to make birdie.
Conditions made a tough Augusta even tougher
The elements kept almost everyone in check to open the tournament. Matsuyama and Harman teed off in the morning before the winds picked up and the greens tightened. Matsuyama went with out a bogey until the 17th, while Harman caught fire in the final six holes where he went from even to -3.
Marc Leishman had the hottest start of anyone with four birdies through the first six holes, but three straight bogeys set the Australian back.
Jordan Spieth avoided disaster after a triple bogey on 9. An eagle on the par 5 15th brought him back in red numbers, and one of the favorites coming into the tournament finished the day at -1.
Jon Rahm had a relatively calm day after a chaotic week in which he became a first time father, The Spaniard. A bogey on 18 sent him back to even par.
Last years Master's champ Dustin Johnson was even through 17, but a drive in the pines and and overshot approach led to a three putt double on 18.
The chase is on
Tomorrow everyone will be chasing Rose, while trying to stay above the cut line. With just 12 players under par, there is a lot of room to move up or down the leaderboard. The wind should die down tomorrow, and there is a chance of light rain in the afternoon, which could give those who teed off early today may enjoy some softer greens.
Spieth misses a ten foot birdie try on 18. He end's a round that had potential for diaster at -1 and still in contention, given that Justin Rose slows down.
Morikawa finishes +1 after a round that never saw him drift a shot away from even, a solid round for last years PGA Champion
A 9 on 15 for Im Sung-jae after finding the water twice. A quadruple that erases a day he saw his name on the leaderboard at -2. He winds up at +5 and a disa
DeChambeau finishes his day +5. There was a lot of talk about Bryson coming in to this tournament but Augusta has silienced that talk for a night
Only a few groups remain on the final two holes. Only Spieth and Morikawa are even or better
DeChambeau is long again on his approach on 18. He has been abour 15 yards long all day. He'll have to make adjustments overnight if he wants to reach the weekend.
Spieth just misses a birdie putt on 16 after a perfect tee shot. All three Spieth, Morikawa, Smith the group tucked it snug to the pin. Spieth is -1 through 16
Rose: "I knew if I could keep it around even par for the day... decent day's work."
Well it was just very mildly better than that in the end...
Justin Thomas almost had his second career ace on 16 after landing his tee shot in a perfect polstion to roll down the hill and missed by a matter of inches. Thomas is +1 heading to the 17th
Spieth chips in for eagle with a delicate dink over the ridge and lets it trickle to the bottom of the cup. He's at -1 through 15.
Phil knocks down a birdie on 18 to end his day at +3. He hasn't had the greatest round, but he's not out of it by any means
Tyrell Hatton finishes -1 after a 3 under stretch on 12, 13 and 14. Good day for the Englishman
DeChambeau birdies the par five 15. That is his first birdie all day long
Shane Lowry had an eventful day, he was two under at one time on the front nine, but a double on 10 could have derailed him. But the Irishman kept his composure and finished birdie par birdie to finish -1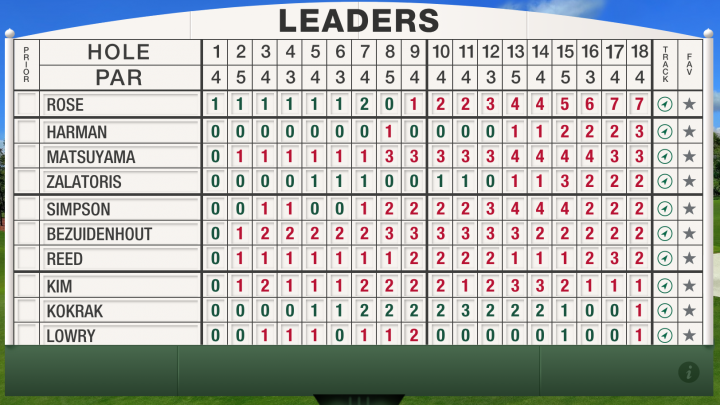 Updated look at the leaderboard as the first round is coming to a close (6:19 ET)
Rose finshed nine under in the last eleven holes
Justin Rose will end his incredible first round at -7 after tapping in a par putt, and holds a four stroke lead over Harman and Matsuyama.
Bryson DeChambeau is still searching for his first birdie of the day. He is five over through 14
Tommy Fleetwood with AN ACE ON 16!!!! The 23rd hole-in-one on the 16th in istory of the Masters. A three hopper to the bottom of the cup and Fleetwood is +2 through 16
Rose with his third birdie in his last three holes!!! Is this the greatest stretch of golf we have ever seen at The Masters? He's -7 and -9 since the eighth hole
My word Rose!!!! He leave his approach on the par four 17th four feet from the hole. He's got a chance for birdie and a chance for -7.
Tyrell Hatton sinks three birdies on holes 13,14, and 15and he in -1. There are only 10 scores under par on the day
Justin Rose is eight under in his last nine holes!!! A birdie at the par three 16 puts Rose at -6 through 17.
What an approach shot for Jason Kokrak on 18! He almost holed it to finish his round, but settles for the birdie to end the day at -1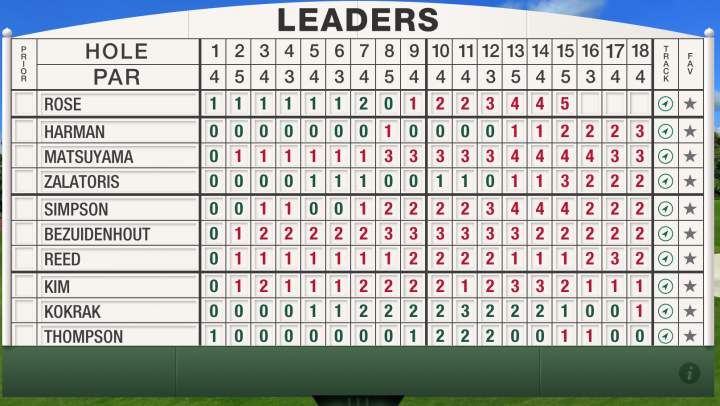 Here's an updated look at the leader board (5:36 ET)
Even when Rose is off he's on, he let out a groan after the tee shot on the par 3 16. He ends up in the middle of the green with a chance for birdie
What an up and down from Justin Rose who was in the sand right off the green on the 15th, chipped it snug and sunk the putt for birdie. He's at -5 and leads by two strokes
Shane Lowery so unlucky to see his chip roll past the hole on the par 5 15th. It slowly trickled tantaliziingly into the pond. Lowry was one at - 2, he is now at +1 after the bogey on 15
DeChambeau bogeys after the par 3 tee shot on the overshoots the green. He left the chip from behind the green short and two putted to go +5 in to the 13th
Just 8 players are under par at the moment, Conditions have been challenging to say the least in Augusta today
DeChambeau seems long on everything. He just can 't get in tune with this wind, and this course
Spieth bounces back after the triple at nine with a birdieon 10. He's back to -1
Rose saving par on 14 after a dicfficult chip up the slope that rolled 8 feet afrom the hole. He leads by one with four holes to go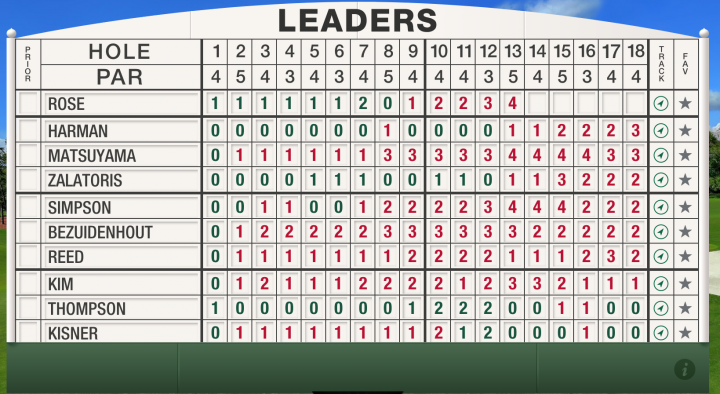 Take a look at Justin Rose's last 5 holes. Here's an update of the leader board (5 ET)
Spieth makes a triple on 9.. Really got himself in to trouble with his drive and his short game let him down after a decent second shot from the pines
Rose is now our sole leader after a birdie on the par five 13. He is now - 5 his last 5 holes
Im Sung-Jae closed out his front nine bogey-bogey and is now back at even par. Im was just a storke back, but now finds himself three behind the leaders
Spieth's punch out clips a branch and he will have to play out of the pines again, as Jim Nantz reminds viewers "You cant win the Masters on Thursday, but you can lose it"
Spieth is in a perculiar situation off the tee at 9. After yanking a drive into the pine, he hit a provisional, but ended up finding his first drive, but he has work to do to stay at -1
Rose with a birdie on 12!!! he's -5 in his last six holes. He's at -3 and has a share of the lead
Phil lips out a birdie. MIckelson has had a quiet day, but sits at +1 and still could make a run on the last eight holes
Keep an eye on Justin Rose, who is - 4 in his last 4 holes. He had a stretch of eagle-birdie-birdie on holes 8-10. He sits at -2, just one back
Patrick Reed picks up a bogey on 18 by missing a 5 footer, he will start tomorrow at -2
Paul Casey was -3 at one time today, is going into the 18th at four over on the back nine (+1 through 17)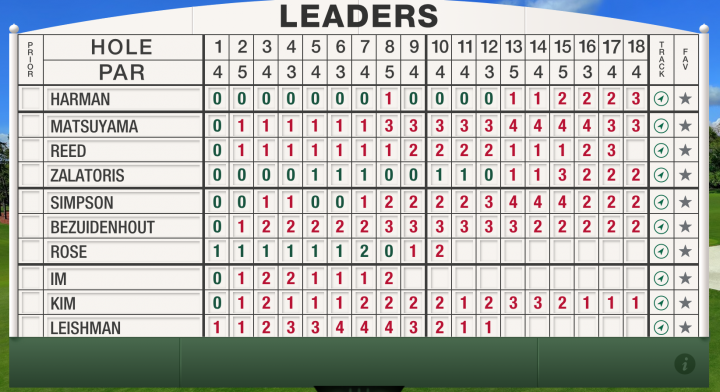 An updated look at the leaderboard (4:06 ET)
Lowry was making noise at -2, but a double on 10 drops him back to even
Leishman has bogeyed his last 3, and goes into 12 at -1. The one time leader of the tournmanet is now two shots back
Rahm finishes his first round in a crazy week at E
Patrick Reed with consecutive birdies on 16 on 17. He is now tied for the lead with Harman and Matsuyama
Dustin Johnson drove it in to the trees and sprayed his approach well wide of the green. A three putt double bogey will put him at +2 going into tomorrow. Dustin had 11 staright sub par rounds in Augusta coming into tody
Justin Thomas couldn't hit the putt after the near ace, and he will remain at +2
Shane Lowry finishes his front nine with a birdie, and the Irishman is -2 headed to the back nine
Simpson and Bezuidenhout close out their rounds with pars on the 18th and finish -,2 a storke behind the leaders Matsuyama and Leishman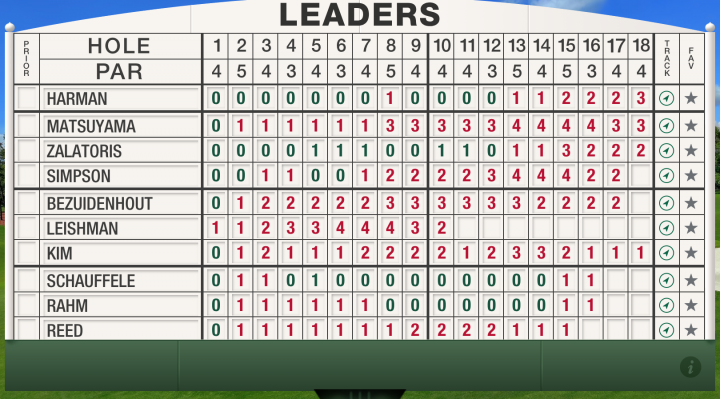 The updated Masters leaderboard (3:30 ET)
Justin Thomas almost had the first ace of the day on the par three six, rolling it just inches for the pin
After going -4 though the first six holes, Leishman finishes his front nine with a bogey He remains tied for the lead at -3
Spieth with a three putt at four drops him back to even par headed to the fifth.
DeChambeau with a double and then a bogey after failing to find the fairway off the tee at four and five. He's +3 through 5
Webb Simpson with a double on 16 that drops him out of the lead and to -2. Harman and Matsuyama are leaders in the house at -3 after Matsuyama responds to his bogey at 17 with a par to close out his round.
Matsuyama bogeys the par four 17th, that was Hideki's first bogey of the round
One of the pre-tournament favorites Jordan Spieth birdies number two, The Texas Open winner is off to a good start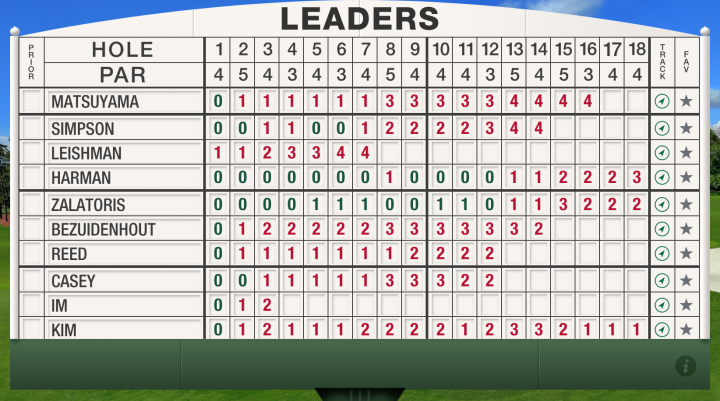 Updated look at the leaderboard (2.30 ET)
Si Woo Kim, who was at one time tied for the lead, went bogey bogey on the 15th and 16th to finish his round at -1. A good first round, but a disappointing finish.
Interesting stat: Patrick Reed has the most birdies over the last three years in The Masters with 63
The par five 15 is looking very inviting to go at the green. But the water to the left of the green can create trouble, like it did for Bubba Watson who put his approach in the pond with his second shot.
Brian Harman is now our leader in the house finishing his round at - 3
DJ had a chance for eagle on the par five 13, missed the putt but will take a birdie to move to -1
Big names struggling in the first round of The Masters:
Sergio Garcia +4
Jason Day +4
Rory McIlroy +4
Lee Westwood +6
Marc Leishman could not have asked for a better start. He's four under through six holes!!
Webb Simpson with two straight birdies puts him at -4 and sharing the top of the leaderboard with Matsuyama and Leishman.
John Rahm is having an uneventful first round after a very eventful week leading up to The Masters. The Spaniard sits at even par through 11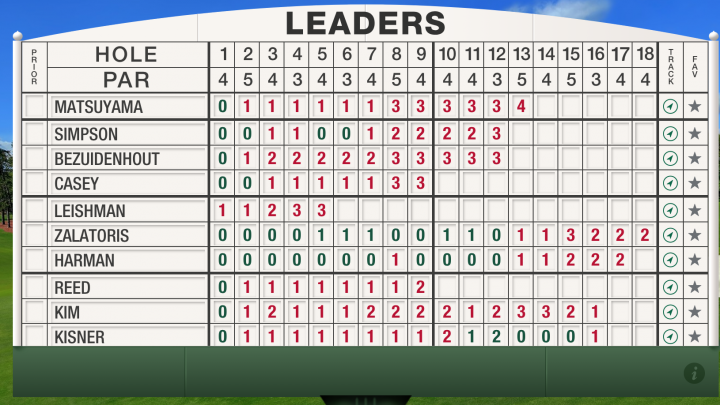 A look at the top ten on the leaderboard: (updated 1:50 ET)
Lee Westwood who is having his difficulties, already +5, scorches a chip across the green, and into the bushes on 12
Bubba Watson is now in red after a birdie on the par five 13. Watson trails Matsuyama by three strokes
The par three 16 is just screaming for a hole in one. The hole placement at the bottom of a hill that allows tee shots to trickle down to the hole. Who will be the first to sink one from the tee box?
Webb Simpson with a birdie on 12 brings him to -3 joining a pack that are one behind Matsuyama
Matsuyama is locked in, he birdied the par five 13, and he is now leading the tournament at -4
Dustin Johnson with a perfectly weighted chip in on 11! The world #! is back to even par
Rory with another bogey after his birdie on nine. McIlroy three putted after reaching the ninth green, he's back to +3
What a start for Marc Leishman who started The Masters -3 through his first four holes! A birdie at one, par at two, and birdies on three and four has him looking good in the first few holes of his opening round.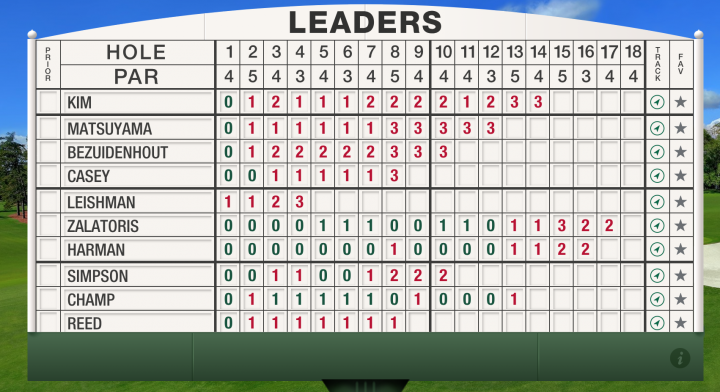 Here's an updated look at the leaderboard (1:23 ET)
Casey eagled the par five eight, to bring him to the top of the leaderboard.
Paul Casey and Marc Leishman are now at -3, joining Kim, Matsuyama and Bezuidenhout
Rory McIlroy responds after bogeying three straight with a birdie on number eight. He's back to +2
Zalatoris follows his eagle 15 with a bogey on 16, and drops one back from the leaders.
The greens are extremely quick for a Thurday at Augusta. Tyler Strafici is having a problems on the par four ninth. His putt went sailing past the cup, and rolled all the way to the fringe
Zalatoris eagled the par 5 15 to join at the top of the leader board
Zalatoris is on 16, of the four at -3 he is the deepest into his round
There are 4 players at -3 at the moment, topping the leader board, Will Zalatoris, Hideki Matsuyama, Si Woo Kim and Christiaan Bezuidenhout
Si Woo Kim joins Matsuyama at -3 after a birdie on the par 5 13
Reigning champion Dustin Johnson is +1 through 8 after Bogeying the 1st, then birding the 2nd, but has been stuck at +1 since his bogey on 5
Robert Streb put his tee shot on the par 3 16, and puts his third shot with in 15 feet, Streb is at +1
Those who teed of early are closing out their round, MIchael Thompson continues to lead those in the club house at even par for the day (E)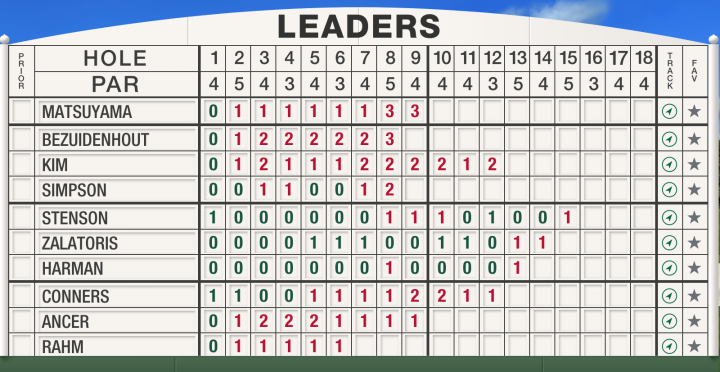 Here's a look at the up to date leader board, Matsuyama still in the lead through nine holes
Notable still waiting to tee off:
Phil Mickelson 1:12 ET
Adam Scott 1:36 ET
Bryson DeChambeau 2:00 ET
Jordan Spieth 2:00 ET
Brand new dad John Rahm is -1 through 6 holes. Rahm coming in as the sentimental favorite this weekend
Through this stage, the leader in the clubhouse is American Michale Thompson who shot even par in his opening round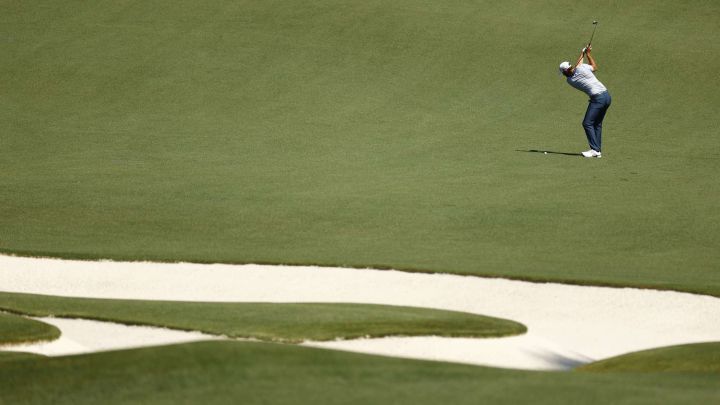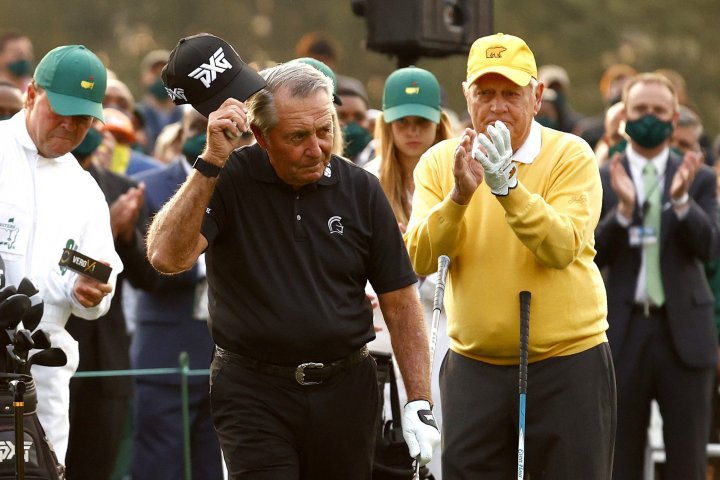 Masters starting honorably
A clearly moved Lee Elder was warmly welcomed at the Masters when he joined Jack Nicklaus and Gary Player as a new honorary starter for the 2021 tournament at Augusta National on Thursday.
A brilliant sun had barely risen over the clubhouse when 86-year-old Elder, the first Black man to compete in the Masters in 1975, was driven to the first tee in a golf cart as a new major season dawned.
"I think it was one of the most emotional experiences that I have ever witnessed or been involved in," Elder said.
"It is certainly something that I will cherish for the rest of my life because I have loved coming to Augusta National and playing here.
"My heart is very soft this morning, not heavy, soft, soft because of the wonderful things that I have encountered since arriving here on Monday."
Elder has limited mobility and did not hit a tee shot.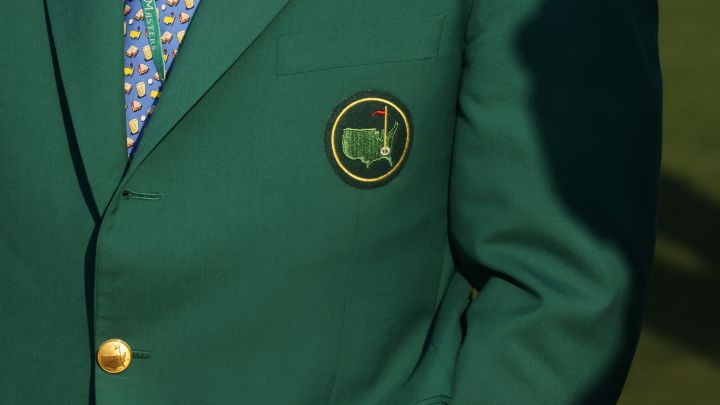 2021 Masters at Augusta National: tee times, pairings, groups, schedule
Dustin Johnson began his title defense at 10:30 a.m. EDT (14:30 GMT) in a group with former runner-up Lee Westwood and amateur Tyler Strafaci.
Following Johnson's threesome was Xander Schauffele, world No. 3 Jon Rahm and Northern Irishman Rory McIlroy, who with a win this week would complete the career Grand Slam of golf's four majors.
Former champion Jordan Spieth, who rocketed into this year's Masters conversation after last week's Texas Open triumph, will go out in the last group at 2:00 p.m. EDT with Australian Cameron Smith and former PGA Championship winner Collin Morikawa.
Check out the rest of the tee-off times.
Augusta's dawn course
There may not have been a ball to be seen, but there were some stunning photos being taken first thing this morning.
Expect plenty more across the next four days and if you love this sort of thing then check out the official Masters gallery.
Augusta Masters 2021: welcome
Hello and welcome to our live coverage of the first day of the Augusta Masters 2021. The action is already underway at the famous Augusta National Golf Club and we'll be bringing you bang up to speed on everything that has already happened, while keeping you right up to date with all the action as it continues into the evening.
Whether you've already place a bet on a winner, are looking to check out the early form first, or are just an avid follower of the professional game, stay with us until all the players are back in the clubhouse and you'll not miss a thing.