Augusta Masters 2021 Day 2 | Results and leaderboard, Justin Rose -7 leader
Augusta Masters 2021 Day 2: live updates
Masters Day 2: headlines
- Rose shoots 72, and still leads after a stumble at the start
- Rory, Koepka, and Defending champion Dustin Johnson miss
- Spieth and Leishman charge up the leaderboard, finish at -5
- Wiesberger surges up the board with a 66
- Finau and Thomas enter Saturday at -4 after shooting over par Thursday
Check out our Masters articles between plays:
Much has changed, but one thing remains the same after Day 2 of The Masters. The gap has closed as names like Spieth, Zalatoris and Harman have inched towards the leader Justin Rose who remains at -7 going into the weekend. Defending champion Dustin Johnson is one of many headline names to miss the cut.
Rose remains leader after a busy 72
Rose had a tumultuous day. After starting that morning at -7 he made bogey on one, and dropped back to -4 through the front nine. Despite the set back, the two time runner up never relinquished his lead. He bounced back on the final nine, shot 72 and leads through 36 holes.
Zalatoris and Harman among the contenders right being Rose
Zalatoris and Harman had solid first rounds, and followed them up with a Friday that puts them in contention heading into the weekend. Harman played steady golf through 16 holes then birdied 17 and 18 to finish at -6. Meanwhile Zalatoris entered the back nine at -1, but birdies on the last three holes propelled him into a tie for second with Harman.
Texas Open winner and one of the favorites coming into the week Jordan Spieth ascended up the leaderboard, shooting 68 and conceding just one bogey. He is looking like he is back the kind of golf that won him The Masters in 2015.
It was Bernd Wiesberger who had the greatest leap up the leaderboard, after staring the day at +2, the Austrian birdied four of the first five holes, and didn't look back. A day two 66 has him in prime position going into the weekend.
Big names miss The Masters Cut
Defending champion Dustin Johnson was on the shortlist of big names to fail to reach the weekend at Augusta National. Johnson finished his round with three bogeys in his final four holes, and missed the cut by two strokes. Rory McIlroy never seemed in tune with a course he knows so well, and finished +6. Brooks Koepka took a chance by playing this week. He had been battling a knee injury for the last few months and never seemed comfortable on the course. Despite the sometime visible pain, Koepka finshed at +5.
They call Saturday moving day for a reason, and with things as tight as they are on the leaderboard this is really anyones tournament going into the weekend. Will Rose be able to keep his grip on the lead through Saturday? Will Spieth slowly but steadily keep rising up the board? There are 12 players with in four shots of Rose. All of them will think they have a decent shot at closing or overtaking the lead on tomorrow.
Matthew Wolfe was disqualified after turning in a scorecared with a score that was lower than what he actually scored on the 17th hole according to Rule 3.3b (3)
Casey and Reed finish Day 2 with putts that secure their place in field on Saturday and Sunday. Casey survives despite bogeys on 17 and 18 and Reed ended with a par to stay at +1
A great effort from Berger, but his bunker shot lands two feet past the cup and he will mis the cut after the bogey on 16
Casey and Berger are part of the last group, borh with a chance for the wekend on 18. Casey can bogey and still qualify. Berger needs a birdie, but will need a miracle after finding the sand with his appraoach
Rahm hits the rim of the cup with a birdie effort on 18. He enters the weekend at even par. Excpect him to make some noise tomorrow. The new daddy survived and emotional rollercoaster in the last week, and Saturday could be his moving day.
Dustin Johnson will not be around for the weekend in Augusta. A wayward drive on 18 found the sand, which left his second short of the green. A difficult chip over the greenfront bunker and on to the green flew past the flag and the defending champion's chances for the weekend flew out the window.
Jon Rham with a birdie on 17 and he;s back to even par with a hole to go
Daniel Berger with a gorgeous right to left birdie putt on 16. He is now above the cut line at -3 with holes to go
DJ in the bunker off his drive on 18. The weekend looking less and less likely for the defending champion
Johnson with a bogey on 17 and is in serious jeopardy of not making the cut. He would still have to stay in Augusta until Sunday to crown the new champion
Sergio Garcia ends his Friday with a par on 18 and will not be playing this weekend in Augusta.
Jon Rahm has had another under the radar day, perhaps what he needed after a crazy week. But at +1 through 16 he looks like he will survive Friday and into the weekend.. Will the new daddy have any heroics on Saturday and Sunday to make this an even more memorable week?
Rory saves par on 16 to stay at +6, but pars aren't doing him any favors from outside the cut line.
Garcia with a bogey on 17 needs a birdie to survive to the weekend on the final hole
Rory birdies the par five 15th, but it doesn't look like it will be enough to see McIlroy to the weekend.
DJ pars the par three 16th and has two holes to stay above the cut line.
Just three holes remaining for our final group on Day 2. The leaderboard wont change much, but some (like Sergio Garcia and Dustin Johnson both at +3) still have work to do to make the cut
Johnson with a bogey on par 5. You don't see that too often. He went for the green in two, and landed it on the front edge of the green, drifting down the hill and into the water. A 3 putt sent him back to +3 and again he is flirting with the cut line.
Matsuyama with a solid 71. He finishes at -4, and has maybe been the most steady of anyone all week long.
Viktor Hovland with a fantastic stretch over his last three holes. He eagled 15 with a spectacular long putt, and birdied the next two holes. He has lifted himself from the cut line to -1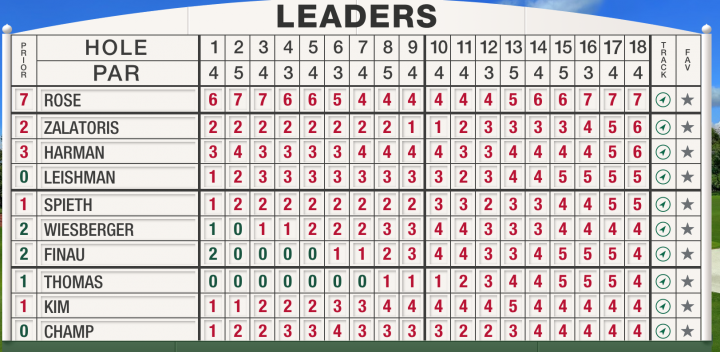 The leaderboard looks pretty predictable going into the weekend, with the final groups closing their Day 2 (update 5:48 ET)
The current cut is at +3. Mickelson is holding on right on the cut line, while Koepka, Westwood and McIlroy continue to be on the outside looking in
After his tee shot let him down Matsuyama three putts for bogey on 16. Disappointing after the near eagle on 15.
Incredible finish for Kim Si-Woo who finishes even par since bending his putter on the 15th. He goes into the weekend at -4, after overcoming one of the strangest scenes we've seen in The Masters in recent years.
The projected cut is at +3 now, at the moment defending champ Dustin Johnson is drifting just above, but Koepka and McIlroy are in danger of missing out on the weekend.
Zalatoris ends his day with the perfect approach and a tap in to secure three straight birdies to end his second round. He's at -6 just one back of Justin Rose
Matsuyama just missed an eagle putt on 15 with would have been his second in three holes. A birdie will do him just fine as he joins a pack at -5
Harman with a birdie on 18 and he joins Zalatoris at -6. Used the slope off the back of the green to bring his approach back and drilled the downhill putt to secure a spot close to the top tomorrow.
Zalatoris with a stunning last three holes, going birdie-birdie-birdie- to go into sole possesion of second place
Brian Harman going into the 18th at -5 after a birdie on the penultimate hole. He joins Leishman and Spieth at -5 with a hole to go
Kim was waiting to putt on 15 and bent his putter so bad, he has to use his 3 wood form here on out, because you can't use a club with altered characteristics. He missed his birdie putt on 15, and still has three more green to go
Rory is now at +8, and looks to be out of time to make it to the weekend.
Harman, Kim, Champ, and Matsuyama are all at -4, and have time and chance to creep up the board going into Saturday
Zalatoris is in cracking fom on the back nine, and is -5 on 18, after four birdies in his last eight holes.
Paul Casey was at -3 at one point yesterday, but a five-bogey back nine took him to +1 today. He's fighting to stay above the cut line today.
Not a whole lot changing on the leaderboard at the moment. Harman and Kim are on the final four hole stretch at 15, can either one of them close the gap on Rose before the weekend?
Si Woo Kim has jumped up the board today, with a solid, consistant day that has been sprinkled with birdies, but a bogey at 14 sends him back to -4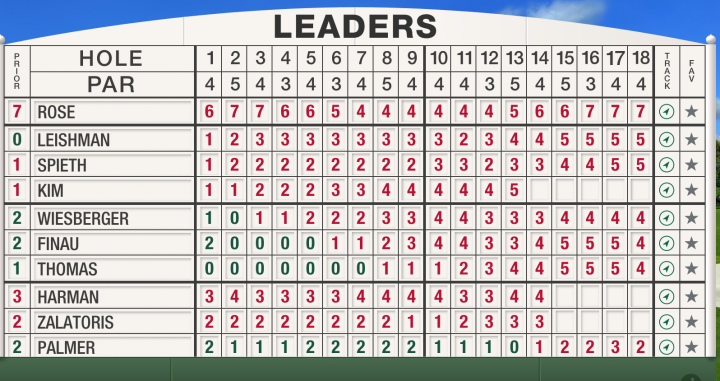 A look at the updated leaderboard: (4:07 ET)
Spieth enters the club house at -5 after shooting 33 on the back nine, and is in prime position to attack tomorrow. Smith ends and eventful round at -2 after birdie-eagle on 12 and 13, he went bogey-double on the next two holes but he's still in it going into the weekend .
The projected cut is hovering arond +3, which would leave DJ, Rory, Zach Johnson, and Brooks Koepka out of the weekend
Both Thomas and Finau close out their rounds with bogeys finishing at -4 after incredible efforts to climb up the leaderboard. Bittersweet ending for both who would have loved to enter the weekend on a high.
Spieth with a birdie on 17 and he's now -5!! One more chance to close a little closer to Rose going into Sunday.
What a bounce back from Bryson DeChambeau, who shot 76 yesterday comes back with a 67, and if he can continue to stroke it off the tee box like he did today, he might just be ready to make a charge on moving day
Matsuyama and Harman exchanging birdies and bogeys in their opening holes, the one time leaders on Thursday are both at -3 shooting even so far,
It seems like a race to second place between Finau and Thomas. Both are on 17. Both at -5. Both looking to move a stroke behing Justing Rose
Spieth with the red circle on the par five 15. He's at -4, and three under for the day. Spieth is just quietly laying back, waiting to make his move. -5 going into Saturday would be right where he wants to be.
Smith with a bogey and a double on 14 and 15. He was seven under on the day and -5 though 13, but he has derailed and is now five strokes away from Rose
Johnson has doubled and bogeyed his last two holes and is a shot outside the projected cut line at +4
DJ, +1 through five holes, was long on his birdie putt on six by two feet. It rolled 70 feet down the hill and last years Masters champ will tap in with a bogey after a great uphill recovery put.
DeChambeau is itchiing to get back to even or better before his round ends. After entering the round +4, he seems to have figured out the length of his irons after struggling yesterday and will look to grab another birdie before the round is done.
Finau and Thomas both birdie 15. What a run these guys are making towards the top of the board. Both at -5, both trail by two stokes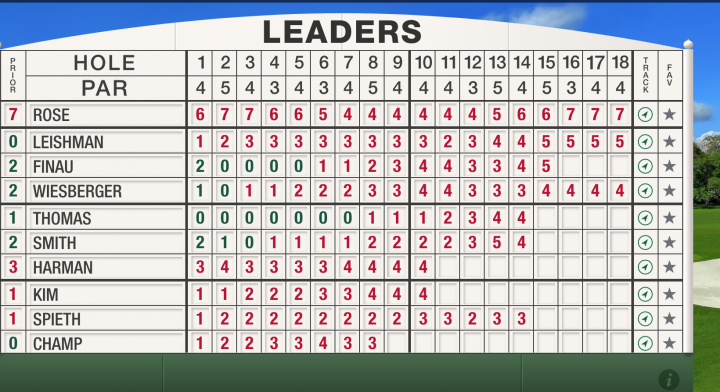 The Masters leaderboard (updated 3:00 ET)
The projected cut line is at +4 (2:55 ET)
The left to right slope on the green at 16 can give some much joy and so much pain. Today it has chosen to dish out the pain
Smith with his first bogey of the day on 14 drops back to -4. The par five 15th awaits. He eagled the par five just two holes ago.
FInau birdies and Thomas pars 14, both will go into the par five 15th at -4 and a chance to move up the board.
Rose just missed his birdie putt on 18, a very similar putt to the one he had for birdie to end his round yesterday. But he is the leader in the house at -7 after tumultuous 72
After four pars to start his day, yesterday's long time leader Hideki Matsuyama drops a stroke om the 5th to drop to -2
CAMERON SMITH WITH AN EAGLE ON 13!!! He has gone from +2 to -5 today, a Justin Rosesque round
Spieth bounced back after his bogey on 12 with a birdie on the following par five 13. He's back to -3 with another par five waiting on the 15th
Cameron Champ is just one more to the long list of players that have come out firing in the first four holes. Birdies on 1,2, and 4 got him going and he is now 3 shots back of the lead
Cameron Smith is having one of the rounds of Day 2 at Augusta. He shot two over yesterday, but a three under through four, put him on the leaderboard, and two birdies since has his at five under for the day and -3 on the tournament
Thomas has rolled for three stright birdies on 11,12, and 13 and sits at -4 just 3 shots back of Rose.
The first three or house are there to be had. Everyone attacking and many shooting low to start of their rounds
Webb Simpson coming out of the gate hot with birdies on 2 and 3. He's at -4 early on
Spieth bogeyed on 12 and his drive found the pines on 13. He left his birdie low of the hole after his chip left him work to do. But Spieth settles for par and stays at -2
Augusta doesn't give many gifts, but Justin Rose is taking advantage of every birdie chance the course is giving him. He is -3 on the par 5's today. JR now leads by two strokes at -7
The tale of two tee shots. Rose puts his first shot on the par 3 to with in 12 feet of the cup. Lowry hits it the same distance 2 yards left, and it rolls all the way down the hill creating and tough par save for the Irishman
Spieth with a birdie on 10. He is slowly quickly creeping into a position where everyone thought he would be. He's -3 through the 10th
Fleetwood was so unlucky on the par five 13. His attempt to find the green in two found its way into the creek, recovered well, but his putt to save par hit a wall at the front lip of the cup. The Englishman is at even par
DeChambeau can't seem to catch a break this week. He just lipped out at 5 footer on 12, and everytime it seems he has a chance to make a move Augusta throws another suprise at him.
Headliners yet to tee off:
Johnson,
Rahm,
Rory,
Garcia,
Matsuyama
Simpson
Reed
Rose goes birdie-birdie on 13 and 14 and leading The Masters again at -6. The par five 15 awaits JR which is where he started his stretch of three under on the final four holes yesterday.
FINAU IS LOCKED IN!!! A birdie on 10 puts him at six under for the day. He left his approch within five feet and tapped in for birdie. He is just a stroke off the lead after starting the day at +2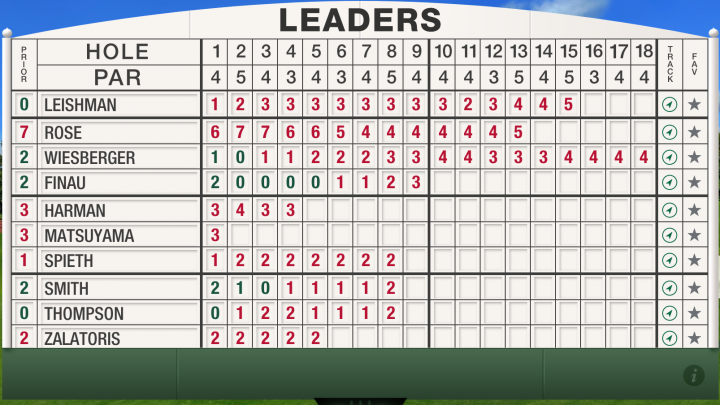 Our first look at the leaderboard on day two from The Masters (1:20 ET)
The updated projected cut is sitting at +3. There are still a lot of groups to tee off and a lot of movement on the leaderboard that still awiats us. We will see that number rise and fall throughout the day without question.
Leishman takes the outright lead! A birdie on the par five 15 takes him to five under and he leads Wiesberger and Rose by a stroke
Wiesberger is in the club house -4 and he shares a lead thorugh this point in the tournemant. With today treating everyone a bit more generously, will -4 be enough to go into Saturday with the lead?
TONY FINAU has birdied three of his last four!!! Top that off with an eagle on 2 and he is -5 through the front nine. He is just one back of the leaders. The morning groups are taking advantage of some smooth conditions on the first half of this friday
Watch out for Justin Thomas who went two under on the front nine and is at -1 going into the back nine where he went two under yesterday
So far 15 players are under par in the tournament, five of them have yet to tee off today
Watch our for Tommy Fleetwood, who had the ace on the par three 16. He is four under through the front nine after shooting a 74 yesterday. Can he keep it up on the back nine?
Leishman with a birdie on the par five 15th sends him into a three way tie at the top of the board.
One of the pretournament favorites Jordan Spieth is one under of the day, and -2 on the tournament. Spieth was able to overcome potential disaster yesterday on a couple of holes where his drive let him down. Still on the front nine, there is a lot of time to move up or down the leaderboard today.
Still very early on, but the projected cut at 12:38 ET is sitting at +4. Still a lot of golfers yet to tee off, and we will expect that cut line to shift quite a bit from now until the end of the day.
Marc Leishman seems to love the first few holes of Augusta National. He started yesterday with birdies on 4 of his first six holes, but ended at even par. The Australian had a brilliant start again with three consecuitve birdies to start his round, and is sitting at three under on the 13th
Wiesberger shot +2 74 yesterday, but he came out today in spectacular fashion with birdies on four of his first five holes. He just birdied the par five 15 to join Rose at the top of the leaderboard
Austrian Bernd Weisberger is our new co-leader after a birdie on the par five 15.
Let's start with a recap of the morning rounds. Leader Justin Rose has had a rough go in his opening nine this morning who bogeyed his opnening hole, and went bogey-bogey on 6 and 7 to send him back to -4
Hello everyone and welcome to day two the The Masters. We are here in Augusta with live updates and analysis of all the action coming from Friday's round.
Justin Rose came into today four shots clear of the the rest of the pack, but he had a difficult front nine which has opened up opportunity for those chasing.
Some will be eyeing the top spot on the leaderboard, some will be hoping just to make it to the weekend.
Stay tuned for live stroke-by-stroke coverage on AS English