Zidane vs Koeman: how many Clásicos have they played, coached and won?
Ahead of Saturday's huge LaLiga Santander clash, we reflect on the two managers and their histories as player and coach for the giants of world football.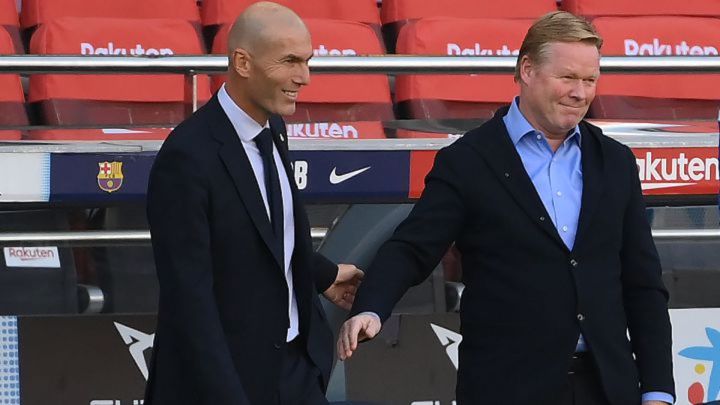 Real Madrid vs Barcelona live online: El Clásico updates
Real Madrid vs Barcelona. It's known around the globe as El Clásico and it is regarded by many as the biggest club game in football. Ahead of Saturday's latest instalment - one that carries plenty of significance in LaLiga's title race - we thought we'd take a look at the two managers, both huge star players in their day for these clubs.
Zidane vs Koeman: as players
Zinedine Zidane was a club legend by the time he eventually took the reins of Los Blancos, with his Champions League-winning goal at Hampden Park against Bayer Leverkusen likely his most famous. But he was also involved in many a battle with his Barça rivals.
The talented midfielder played in seven Liga Clásicos, in which he saw his side win twice, lose twice and draw three times. There was a memorable 4-2 win over a very decent opponent, including Ronaldinho and Eto'o in attack, where the Frenchman got himself on the scoresheet. Another Clásico goal for Zidane, away from LaLiga, came at the Camp Nou in the semi-final first leg that helped Madrid reach the UCL final against Leverkusen. And it was a sumptuous one too. Across all competitions, Zidane record as a player stands at: P11, W4, D4, L3, scoring three.
Ronaldo Koeman may have been a defender but across his 11 league Clásicos he managed to score five goals. He actually ended his Barça career as the Spanish top flight's highest scoring defender, more recently overtaken by Sergio Ramos.
The man with a hammer of a foot will be remembered by fans for the stunning free-kick from distance that was part of the 1994 5-0 embarrassment of their bitter rivals.
Zidane vs Koeman: as coaches
Despite the Frenchman having already picked up an enviable cabinetful of silverware in his short managerial career to date, the Dutchman's recent arrival at the Catalan giants means that this is only their second Clásico in opposing dugouts.
Last October was their first coaching head-to-head in this fixture and saw Zidane get the upper hand with Los Blancos leaving the Camp Nou with an impressive 1-3 victory. You can relive it here. In total, Zizou has managed Los Blancos against Barça on 10 occasions, winning five and losing just the two.
Can Koeman level things up on Saturday? As always, we'll be bringing you all the action live as well as the reaction and fallout.
Real Madrid vs Barcelona: Zidane's view
Real Madrid coach Zinedine Zidane said he hopes that Saturday's Clásico meeting between his side and Barcelona will not be the last time Lionel Messi plays in the fixture.
The Barça captain's contract expires this summer and his future is up in the air having been linked with a move away ever since his attempts to leave the club last year were unsuccessful.
New president Joan Laporta has vowed to keep the Argentinean at the club, but so far no new deal has been agreed.
"I hope it's not (Messi's last Clásico), I want him to stay at Barcelona, it's good for the Spanish league," Zidane told a news conference.
"We know what a player he is, but they're a very good team and we'll have to try to stop them playing to their strengths and be as good as we can be on the ball and play as best as we can."
Real's club captain Sergio Ramos is another player whose contract expires at the end of the season, and Zidane reiterated his hope that the 35-year-old has not faced Barca for the final time, either.
"Hopefully he's not played his last Clásico. He won't be fit tomorrow, which is a shame, but I hope he stays here," the French coach said.
Zidane will also be without Raphael Varane, who continues to isolate following a positive covid-19 test, as well as Dani Carvajal and Eden Hazard, who continue to recover from long-standing problems.
Champions Madrid currently sit third in LaLiga, three points off leaders Atletico and two behind Barça in second place.
Defeat would make it very difficult for them defend their title. However, Zidane insisted they were thinking about nothing but victory.
"I'm not thinking about losing or losing ground," he said.
"We'll see what the situation is at the end of the game; we're going to give our all, we're positive and want to play our best game."