Carlos Vela: "MLS is a trampoline for young players to go to Europe"
The 2019 MVP is entering his fourth year in MLS and he believes that European clubs are now looking more at the US league for players.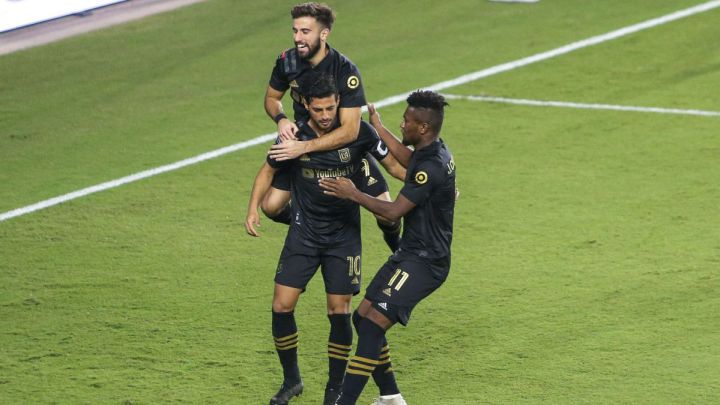 Carlos Vela arrived in Major League Soccer in 2018 and made an immediate impact in his first year with Los Angeles FC. In his second season the Mexican international broke all individual records and won the Golden Boot and was named the 2019 Most Valuable Player as he led LAFC to the Supporters Shield, the first title in the history of this young franchise.
10

In over three years Vela has experienced the growth of Major League Soccer and how young players are choosing to play here before they make the jump to Europe. According to Vela it is up to each player, but the truth is that many clubs in Europe are increasingly looking to sign MLS players.

"I think there's a pattern of young players coming to MLS before making the jump to Europe. But it is up to each player to make those decisions, but MLS is an important trampoline for young players to go to a European club. The league is working well and the players that are arriving are helping to improve the quality. Each case is different, but any good player is always welcome here," he said during the 2021 MLS virtual media day.
Vela's love for Arsenal
LAFC star Carlos Vela says Rossi, Atuesta and Kaye are ready for Europe:

"They are ready. Of course, it's not easy to just say 'I'm ready, I'll go'. You have to find the right club. I think soon we will have a couple of players leave because they're really good."

— Tom Bogert (@tombogert) April 14, 2021
The 31-year-old started his career in the Chivas youth team and after an outstanding performance in the 2005 FIFA U-17 World Championship he caught the eye of Arsenal. That same year he joined the Premier League side, but had loan spells in several teams after falling to consolidate himself in a more permanent role with the Gunners. When asked about Arsenal's current situation, he said they have a special place in his heart.
"I hope they can win the Europa League this year. I have a lot of love for Arsenal, because they opened the doors for me to play in Europe so I hope that they can win a trophy," he added.
Olympic hopes
Vela is eligible be called up to the Mexico youth national team that booked their ticket to the Olympics last month as one of the three permitted players above the age of 23 and he has said in the past he would like to play for 'El Tri' in that event. But the senior and youth coach closed the doors on a possible return, due to Vela declining to play for Mexico since the 2018 World Cup.
During the 2021 MLS virtual media day, he was asked about being called for the Olympics and replied: "I don't have much to say because I don't make those decisions."