MLS
Who are the favorites to be top scorers in MLS 2021? Vela, Chicharito, Higuain...
Carlos Vela romped to the top of the goalscoring charts a couple of seasons ago, and Diego Rossi then filled his shoes. But who is going to win the MLS Golden Boot in 2021?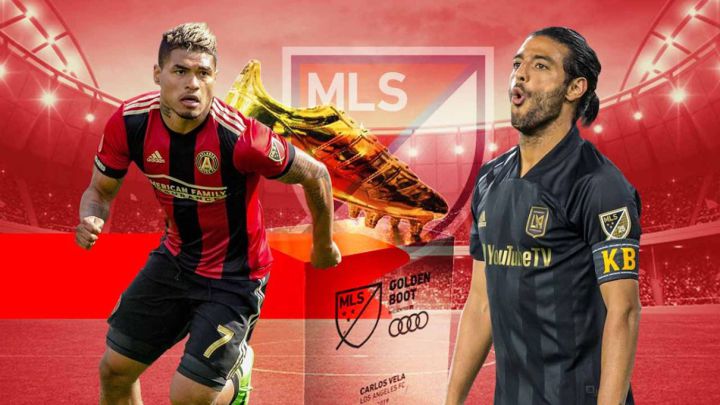 There are some cracking games to get Major League Soccer 2021 off to the perfect start - including Inter Miami's opener against LA Galaxy which we'll be bringing you live - but who are the contenders for the top scorer this season?
MLS Golden Boot 2021: top corner
Audi will be presenting the Golden Boot upon the campaign's conclusion and some backers will look at Carlos Vela to reclaim the award he won in 2019 with an impressive 34 goals. His main rival is likely to be Atlanta United's Josef Martínez, although it's the MLS, and a number of factors not seen in other leagues - the higher potential for players not to play an entire season, for example - can make it less predictable.
Diego Rossi
The LAFC striker has a great chance of repeating his Golden Boot award from last season, but there are doubts, namely the potential lure of a European move in the summer and the chance of a Uruguayan call up. Those risks aside, it will be interesting to see how he and Vela share the goals around - both surely clear of the team objective trumping all individual awards. He's a talented lad and has a chance to make an even bigger reputation for himself.
Jeremy Ebobisse
The Portland Timbers man was high on the net-bulging list in the last campaign and some smart money (we think!) is heading in his direction too for this gong. One thing he needs to do is up the number of attempts he has on goal, but other than that is proving himself very effective. Ebobisse is far from a one-trick pony and the Timbers will be expecting him to continue on his improvement path.
Gonzalo Higuaín
The former Real Madrid and Juventus man arrived in the US to huge fanfare but never got close to living up to the hype. So why should this year be any different. Well, we've seen him fill the onion bag up close and personal on enough occasions to know that the potential is surely there if he wants it, and added to that are the fresh faces that have been brought into Miami to support him. Phil Neville, one of those faces, is used to sharing a dressing room with top strikers and will no doubt have 'getting the best out of Gonzalo' high on his to-do list.
MLS Golden Boot 2021: just outside the post
Our outside chances for picking up the prize this year include Raúl Ruidíaz of the Seattle Sounders and Gyasi Zardes of the Columbus Crew. Both players have shown their goal-getting talents and are likely to get decent chances in front of the goalkeepers again, but there's also a good chance that they miss several games due to international commitments. And what impact can former AC Milan striker Alexandre Pato have in Orlando?
Then, there's always the outside chance that Javier 'Chicharito' Hernandez rediscovers the form that made him so deadly during his time in Europe. It's an unlikely one in our book, though.
Let us know in the comments section who you money is on to bag the most goals this season.