Mbappé: Manchester City to make summer move for PSG star
Manchester City have had two attempts to sign Kylian Mbappé frustrated but are planning a third bid for the PSG star this summer, according to L'Equipe.
Manchester City and PSG will face off in the second leg of their Champions League semi-final with the Premier League side looking to reach the final of Europe's elite club competition for the first time and the Ligue 1 champions seeking to go one better than last year when they were beaten by Bayern Munich in the showpiece game in Lisbon. The outcome of the game will go some way to establishing one of the other as a genuine European force to be mentioned in the same breath as Real Madrid, Bayern, Barcelona, Juventus and Liverpool, while also potentially having some influence on the future of PSG star Kylian Mbappé.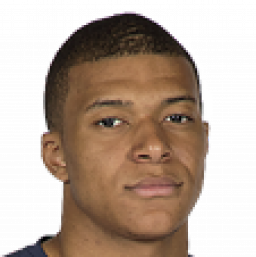 Manchester City are reportedly planning a move for Mbappé this summer after trying on two previous occasions to lure the France international to the Etihad. The most recent attempt came after Monaco and Manchester City met in the Champions League last 16 in 2016-17, a vibrant and youthful Ligue 1 side led by the then-emerging Mbappé winning a pulsating tie on away goals after the two sides scored six goals each. A few months later, City made contact with Vadim Vasilyev, Monaco's number two under Dmitry Rybolovlev, signing Bernardo Silva and Benjamin Mendy, but Mbappé was also discussed.
According to L'Èquipe, while PSG and Real Madrid were positioning themselves at the front of the queue for Mbappé, a meeting between Guardiola and Mbappé was arranged. Although the young France star was flattered by Guardiola's admiration, he eventually elected to move to PSG on loan at the end of the 2016-17 season with the eventual fee paid by the Parisians to secure him permanently reported at around €180 million.
That was not City's first move for Mbappé though, L'Équipe has revealed. Before Mbappé had signed his first professional contract at Monaco, during the 2015-16 season, City made an approach with a succulent offer but were politely told no dice.
Real Madrid, Liverpool also in the running for Mbappé
Now, with PSG and Mbappé making little progress on an extension to his current deal, which expires in 2022, and Real Madrid and Liverpool both considering breaking the bank for the France forward, L'Èquipe reports that City are considering making a third attempt this summer. Guardiola has eulogized the PSG forward and City see Mbappé as potentially being a more accessible signing than Erling Haaland, who is likely to spark a bidding war this summer. However, the interest of Madrid and potentially others among Europe's elite could equally mean that any move for Mbappé will need to eclipse the €222m PSG paid for Neymar, making the Brazilian the most expensive player in history.