Inter Miami CF keen on signing Arsenal's Willian this summer
Arsenal and the Brazilian playmaker are set to part ways at the end of the season and the franchise owned by David Beckham are keen on signing him.
Willian didn't perform as expected in his first season at Arsenal and even though he has two years left in his contract, the bosses and the player are ready to part ways at the end of the season. The Brazilian playmaker has scored one goal and given five assists in 25 appearances in the Premier League this season.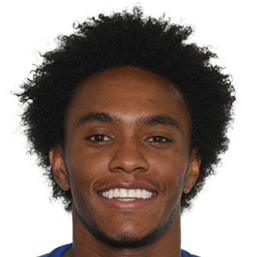 Inter Miami keen on signing Willian
According to a report from The Sun, Inter Miami want to sign the playmaker to replace Rodolfo Pizarro, who is not performing to the standards expected by manager Phil Neville and boss David Beckham. The Mexican international arrived as a designated player in 2020, but has failed to make a difference in the team during his time with the MLS side.
Neville decided to use Federico Higuaín instead of Pizarro in Inter Miami's 3-2 victory against Cincinnati at the TQL stadium during week 5 of the MLS regular season. According to the report, Willian has shown interest in joining Inter Miami, but the bosses would have to open up a designated player spot in order to make that happen.
Gonzalo Higuaín, Blaise Matuido and Rodolfo Pizarro are occupying those spots, so David Bekcham would have to let go one of them in order to bring the Brazlian playmaker. Higuaín is the 'face' of the franchise and Matuidi has settled in well with the team, so the 'sacrificed' player would be Pizarro.
Another problem for Inter Miami
David Beckham has another problem to solve before bringing in Willian from Arsenal. The Florida-based club is facing a sanction by the league for roster violation during the 2020 MLS regular season. The league's commissioner Don Garber said that the sanctions will come 'shortly,' but didn't say when it will happen.
Back in April, MLS announced that Matuidi's compensation was above the compensation limit for a TAM-player and he should've arrived as a designated player. At that time the spots were occupied by Matias Pellegrini, Rodolfo Pizarro and Gonzalo Higuaín.
According to the league's rules a team can only have three dp's whose 'compensation and acquisition costs are greater than the maximum budget ($612,500) while carrying the maximum budget charge against the team's salary budget ($4.9 million).
Targeted Allocation Money (TAM) only allows teams to sign players whose yearly salary falls between $612,000 to $1.612 million. Any player that makes more than the sums mentioned before is required to be registered as a designated player.