US News
Fourth stimulus check: what have Democrats said about a new relief bill?
Democrats are pushing for the passage of two bills that would provide billions in stimulus for struggling families and to improve the nations infrastructure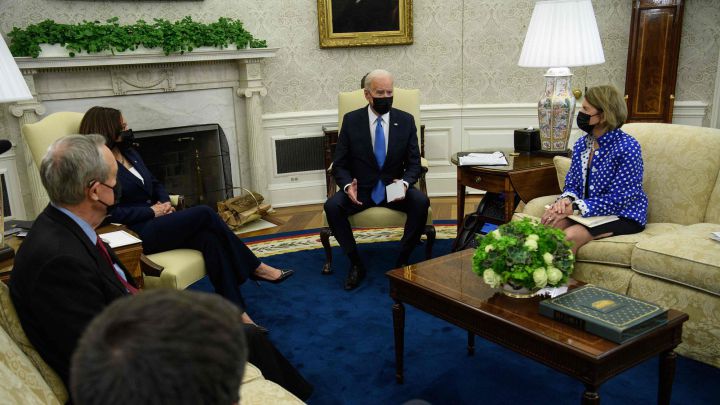 A Data for Progress poll released on 10 May which showed that fifty-seven percent voters are in favor of Congress passing more stimulus. Over two-thirds of Democrats and half of independents would like to see the passage of stimulus focused on "jobs, child and elder care, and infrastructure." Data for Progress also found that support for these measures was most common among younger voters and people of color.
Many Democrats in Washington have taken note of the public favor-ability and are moving to pass two major pieces of legislation, the American Jobs Plan (AJP) and the American Families Plan (AFP), which could include a fourth direct payment. However, wide spread public support does not seem to shift the Republican position. The American Rescue Plan enjoyed high levels of public support -- around 75% -- did not receive a single Republican vote. While Democrats are eager to negotiate with Republicans to reach a bipartisan compromise, some within the caucus, like Representative Judy Chu believe, that talks with Republicans should continue as long as they don't "waste time by negotiating with people who may not have any investment in getting those items passed."
70% of restaurant workers reported that tips have been down 50-70%. Low pay is what is keeping people from working, not the benefits. No one in the richest country in the world should be working 60, 70, 80+ hours a week only to not have enough for the rent. #RaiseTheWage

— Judy Chu (@RepJudyChu) May 20, 2021
Will a fourth stimulus check be included?
On Monday 17 May, seven members of the House Ways and Means Committee sent a letter to President Biden urging him to include the a fourth stimulus check in the AFP. The letter highlighted that "direct payments and enhanced unemployment insurance (UI) in particular have served as lifelines to families and workers that have had their lives upended by the pandemic." The leaders cited studies that show that the $1,400 checks sent in March will keep eleven million people out of poverty this year and that a "fourth and fifth check" increase those numbers to more than twenty million.

While for the first year of the pandemic, both parties compromised to pass two stimulus bills, the spirit of bipartisanship has dissipated on Capitol Hill and around the country. This is best exemplified by the approaches to additional unemployment benefits the two parties have taken. The calls for a fourth direct payment were were made as more than twenty Republican governors have announced that their state will be ending the payment of additional unemployment benefits in June and July.
Most governors who have made the decision to end the pandemic related unemployment assistance cited labor shortages and the belief that the payments are encouraging people to stay at home. Some states, like Arizona, will be ending the additional payments but are allocating funds to assist working parents by providing three months of childcare if they reenter the workforce. This approach helps workers overcome the barriers that are preventing them from returning to workforce. Some economists and policymakers are concerned with the plans of other states that will end the $300 a week topper in addition state benefits without providing any safety net for unemployed workers, especially those with children.
For example, if a working mother is postponing her reentry because she lacks an affordable child care option, taking away the benefits leaves her with a shrinking income and left to choose between staying with her children or putting food on the table. This situation could lead to some families becoming more reliant on government assistance, which is the opposite of what many of these governors are hoping to achieve.
Where do the negotiations on another relief bill stand?
Democrats are leading the charge on a series of relief bills. The White House and other Democratic leaders have been in talks with Republicans on the proposals but so far no bipartisan pieces of legislation have been put forward.
Democrats, who hold a majority of seats in the House are keen to bring the proposals to a vote but with no Republican support in the Senate, prospects of the bill passing with the filibuster are out of sight.
If the Democratic caucus in the Senate stands unified, they could pass one of the proposals with a parliamentary tool known as budget reconciliation. Budget reconciliation only requires a simple majority for a law to pass, versus the filibuster which mandates that a bill receive at least sixty votes. There are limits on how many bills can pass through budget reconciliation and since the American Rescue Plan was passed using this process, Democrats only have one more opportunity until the 2022 Mid-Terms. Many within the Democratic caucus have voiced support for the bills while others, including Senator Chris Coons of Delaware, have said that they would be open to passing the bill through the reconciliation process if meaningful efforts are made to negotiate with Republicans.
Speaker Pelosi has set the deadline for negotiations at 4 July, after which she plans to bring the one of the proposals, the American Jobs Plan, to a vote in the House. The House leader has stated that this date could be pushed back if real progress is made during the bipartisan negotiations.
In recent weeks, the White House has been meeting with key Republicans to negotiate on the American Jobs Plan. After the 2.25 trillion dollar proposal was put forward, some Republicans countered with a 568 billion dollar proposal. More recently the White House has released an updated version of the AJP, that bring the price tag of the bill down to $1.7 trillion; still miles away from what Republicans had proposed. Although after the meetings this week, Biden's team projected confidence, a Republican spokesperson was quoted saying, "based on today's meeting, the groups seem further apart after two meetings with White House staff than they were after one meeting with President Biden."
This leaves many open questions on the prospects of passing with either of the two proposals. And, while, support for a fourth direct payment is growing, it is more likely to be passed under the American Families Plan for which negotiations have yet to begin.