Covid-19 vaccine US news summary: Saturday 5 June 2021
US vaccine latest news live: Saturday 5 June 2021
Headlines
- New York the first US state to introduce a vaccine passport (find out more)
- US to deliver 80 million doses to COVAX facility
- China reports first case of H10N3 bird flu in a human (full story)
- Possible benefits of receiving two different covid vaccines, per new data (find out more)
- WHO grants China's Sinovac emergency authorization
- Japan confident Olympic Games will go ahead as 10,000 volunteers stand down
- India in talks over Sputnik Light vaccine
- GAVI in talks with China over expanding COVAX facility
- Over 50% of US adults now fully vaccinated; Biden calls the milestone "a big deal"
- Pfizer and BioNTech pledge to give one billion doses to low- and middle-income countries by end of year
- California won't create vaccine passport, but large events may require vaccine/test proof
- Over 138 million in the US now fully vaccinated (track CDC data here)
- US covid-19: 33.35 million cases / 597,377 deaths (live updates from JHU)
Take a look at some of our related articles: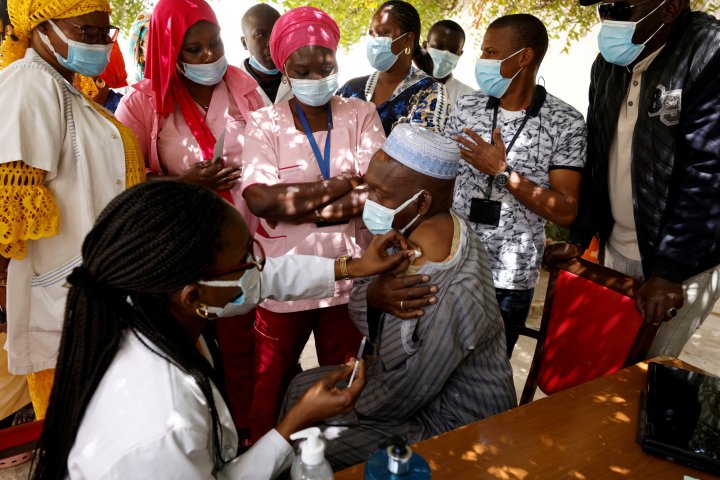 Senegal aims to make Covid-19 vaccine shots next year
(Reuters) Senegal could begin producing Covid-19 vaccines next year under an agreement with Belgian biotech group Univercells aimed at boosting Africa's drug-manufacturing ambitions, a source involved in funding the project told Reuters.
As wealthy countries begin to reopen after securing vaccine supplies early, African nations are still struggling to acquire shots. On a continent of 1.3 billion, only about 7 million have been fully vaccinated. The collaboration highlights the opportunities created by a global push to channel money and technology towards production on a continent that makes only 1% of the vaccines it requires.
Univercells announced the signing of a letter of intent for collaboration with the Institut Pasteur in Senegal's capital Dakar in April. The source shared details of the proposal, which were not made public. Under the agreement, the Institut Pasteur would use vaccine production technology developed by Univercells to supply Covid-19 vaccine shots to countries across West Africa. The institute would initially begin packaging and distributing vaccines produced by Univercells in Belgium early next year, the source involved in securing financing for the collaboration told Reuters.
Univercells would transfer its full production line to Senegal in the second half of 2022, the source said, adding that the company would train local staff so they could eventually run the operation. Univercells chief investment officer Kate Antrobus, when asked about the timeframe for the project, confirmed that it could send vaccine doses to Senegal early next year. She declined to comment on the exact date for a full vaccine production line in Senegal but of the timelines referenced she said: "I do not think they are unreasonable."
Timing depends on Univercells securing regulatory approval for a vaccine production site in Belgium. Antrobus said that was expected 'any day now'. Institut Pasteur director Amadou Sall declined to comment on the timeline or size of the project but said the facility was working with donors to secure financial backing. "There is a lot of political will, I am optimistic. But it is not about momentum, it is about creating a real opportunity," he said.
It is not clear yet which vaccine will be supplied to Senegal, but Antrobus said the site in Belgium would be able to manufacture a class of so-called viral vector Covid-19 vaccine such as those developed by Johnson & Johnson, AstraZeneca, Russia's Sputnik V and China's Cansino.
"If Covid amazingly subsides over the next year....that same capacity could be used for other viruses," Antrobus said.
Univercells also has its own Covid-19 vaccine candidate, being developed with Germany's Leukocare and Italian firm ReiThera, which has completed Phase II trials.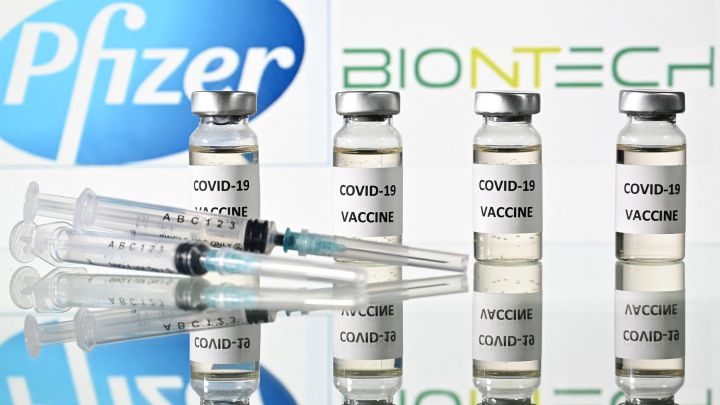 Are the two doses of Pfizer more effective against the strains?
Getting both doses of the two-dose covid-19 vaccines is the only way to ensure the recipient obtains the maximum efficacy, but researchers in the UK have found that it may be "critical" to provide protection against the emerging variants.
A new study published in the Lancet found that the Pfizer-BioNTech covid-19 vaccine had reduced effectiveness against variants of concern with the lowest against the Delta variant first discovered in India.
Europe cautious about reopening in light of new variant
As the US begins to move back to normality, lifting restrictions across the nation, countries in Europe continue to maintain restrictions despite low infection levels and rising vaccination rates. The UK has had one of the best vaccination rates in the world but the Delta variant that was first detected in India is causing officials to reconsider the 21 June reopening date and causing concern among its European neighbors about allowing the British to travel to their countries for fear of a repeat of the fall when another variant Alpha from the UK spread across the continent.
The Alpha variant which first appeared in England is now the dominant variant in the US while the other emerging variants have yet to be found in noticeable numbers. The US has comparable vaccination rates to the UK but there still remain pockets of low vaccination around both countries. Meanwhile EU nations are finally picking up speed in vaccinating their populations and look set to reach 70 percent of the adult population fully vaccinated by July. However there is still concern for the unvaccinated sections of the population could be at risk from the faster spreading Delta variant in their neighbor.
"This progress is fragile," Hans Kluge, the World Health Organization's director in Europe, warned last month. "We have been here before. Let us not make the same mistakes that were made this time last year."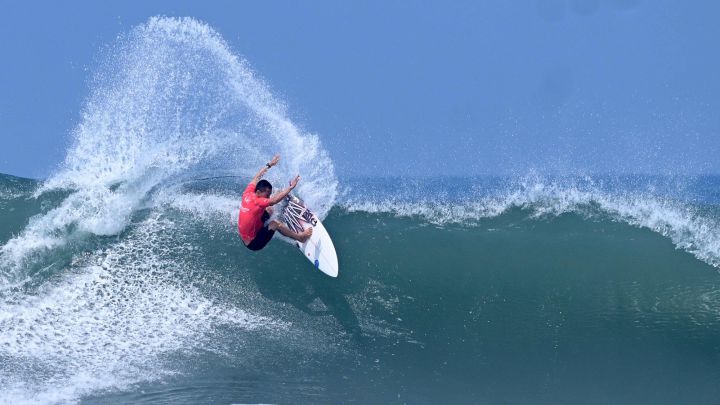 When will the restrictions on travel to Hawaii end?
Hawaii Governor David Ige is pulling out all the stops to get his state vaccinated setting benchmarks for loosening pandemic restrictions that are in place based on the state's vaccination rate.
To encourage the state's 1.4 million residents to get their covid-19 shot, the Governor announced an incentive campaign that will offer prizes to residents who are fully vaccinated or at least have gotten their first jab in a push to get the state to 70 percent of the population vaccinated statewide.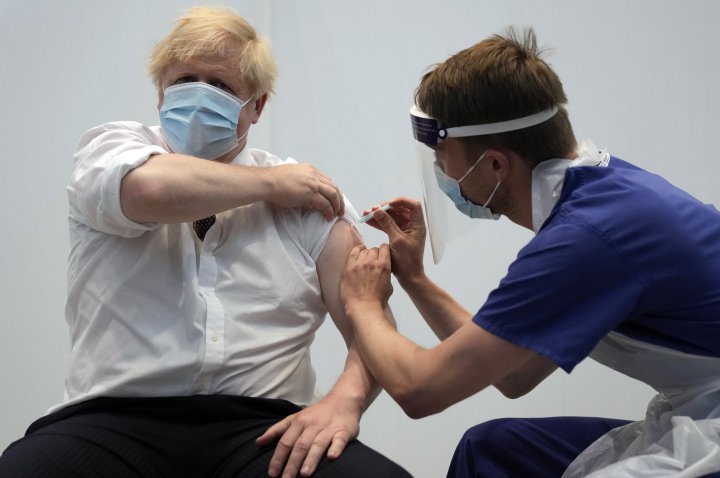 UK's Johnson calls on G7 to vaccinate world by end of 2022
British Prime Minister Boris Johnson on Saturday called for leaders of the Group of Seven (G7) rich nations to make a commitment to vaccinate the entire world against covid19 by the end of 2022 when they meet in Britain next week.
Johnson will host the first in-person summit in almost two years of G7 leaders - which follows a meeting of the group's finance ministers which wrapped up earlier in the day - and said he would seek a pledge to hit the global vaccination goal.
"Vaccinating the world by the end of next year would be the single greatest feat in medical history," Johnson said in a statement. "I'm calling on my fellow G7 leaders to join us to end this terrible pandemic and pledge we will never allow the devastation wreaked by coronavirus to happen again."
The leaders of Germany, France, the United States, Italy, Japan, the European Union and Canada will join Johnson for the three-day summit in Cornwall, southwest England, which begins on Friday. It will be the first overseas trip for U.S. President Joe Biden since he took office in January.
The covid-19 vaccine rollout worldwide animated
MIT Review has provided an animated chart showing how the covid-19 vaccine rollout has progressed around the world. You can customize your view to track progress in specific countries and even see how different nations stack up against one another. As well you can check out additional interactive charts encompassing everything from daily case numbers in each country to vaccinations to testing rates.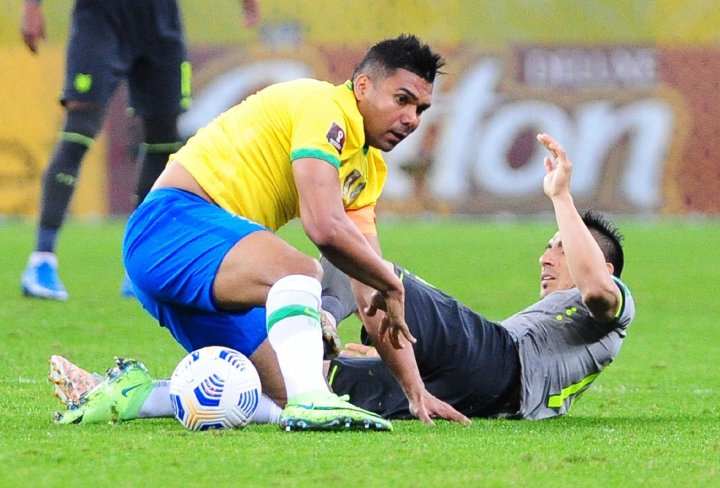 WLF: players should be freed from Copa América obligations
South American players should be given the chance to opt out of playing the Copa América this month, the World Leagues Forum (WLF) said in an open letter to FIFA and the South American Football Confederation (CONMEBOL) on Saturday.
The WLF, an organisation that represents more than 40 professional leagues and their clubs, said the abrupt decision to move the Copa América to Brazil after Argentina pulled out due to a surge in covid-19 cases "directly affect(s) leagues, their member clubs and their players."
"As far as the WLF is concerned, given this sudden change of location and circumstances... we consider that players should be given the opportunity to withdraw from the competition and that clubs should be able to recall their players, specifically if there is a travel restriction or a quarantine obligation on their return," said the letter seen by Reuters.
It comes the day after Brazil captain Casemiro said the squad would make a statement on Tuesday about whether or not they wish to compete in the Copa América.
Brazilian media reports said the players do not want to play in a hastily arranged tournament that is due to kick off on June 13. More people have died in Brazil from covid-19 than any other country outside the United States.
Photo by EFE/ Ricardo Rímoli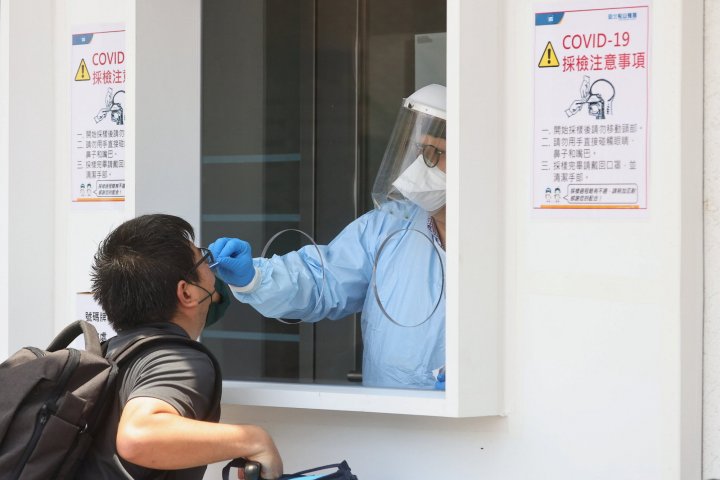 Taiwan discussing making covid vaccines for US firms
Taiwan is in talks with US companies about making their covid-19 vaccines, following similar talks with European firms, Health Minister Chen Shih-chung said on Saturday.
Taiwan, like much of the world, has been trying to speed up its vaccination programme following a spike in domestic cases, but has been stymied by global supply shortages.
Chen told reporters that they previously had talks with European companies he did not name about producing their vaccines under licence. "Only recently have we started to have talks with US companies, to see if it's possible or not to carry out relevant subcontracting work," he added, without providing details.
Taiwan has ordered around five million shots from US firm Moderna Inc, of which 150,000 have arrived. It has ordered 10 millions shots from British-Swedish firm AstraZeneca PLC.
Taiwan, also in talks with BioNTech SE, blames China - which claims the island as its own territory - for blocking a deal with the German company earlier this year.
Johnson & Johnson said on Friday it has been in talks with Taiwan about providing its covid-19 vaccine to the island since last year.
Around 3% of Taiwan's 23.5 million people have received at least one shot of a vaccine. Japan on Friday donated 1.24 million doses of AstraZeneca's covid-19 vaccine.
Photo: REUTERS/Ann Wang
US vaccine incentives lead to increase in young people getting jab
Vaccinations surged in the past month among the young people typically targeted by the campaigns. About 44% of 18-24 year olds have now received at least one shot, up from 34% a month earlier," according to Bloomberg.
APEC agrees to expedited transit of covid-19 vaccines
Ministers from the Asia Pacific Economic Cooperation (APEC) trade group agreed to expedite the transit of covid-19 vaccines and related goods at ports, a statement released on Saturday said.
APEC ministers met in New Zealand, where they also agreed to consider voluntary actions to reduce the cost of vaccines to fight the coronavirus pandemic.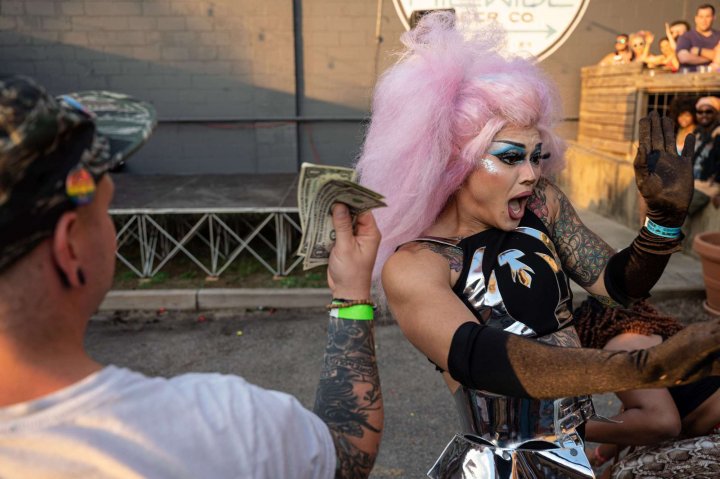 A drag queen performs as an audience member nearby displays money during a mobile vaccine mission and drag show at Mile Wide Beer Co. in Louisville, Kentucky, on Friday.
The vaccination event was facilitated in partnership with the brewery, Metro Department of Public Health and Wellness, Kentucky Nurses Association, and Queer Kentucky. The event was held to celebrate PRIDE month while also encouraging members of the LGBTQ community to receive their vaccinations as well as free HIV tests. Five unvaccinated guests showed up for the event and of those five, only one agreed to be vaccinated.
(Photo: Jon Cherry/Getty Images/AFP)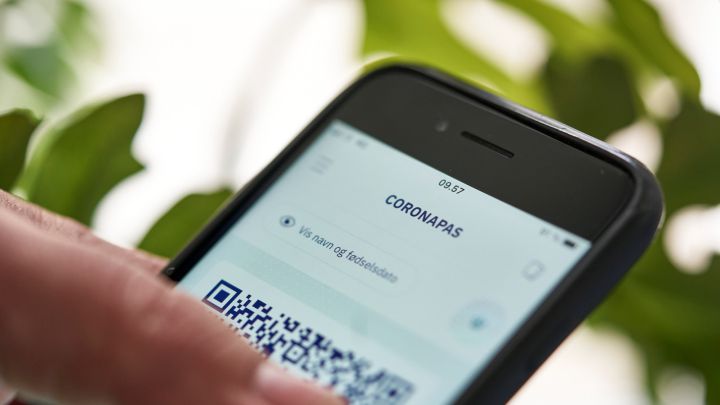 US encouraged by progress toward vaccine patent waiver
Progress is being made towards a deal on an intellectual property waiver for covid-19 vaccines at the World Trade Organization (WTO), US Trade Representative Katherine Tai said on Saturday.
Tai pointed to a revised proposal from the original proponents of the waiver, led by India and South Africa, as well as principles the European Union has come up with to guide how they would like to negotiate the issues.
In a surprise shift in May, the United States moved to supporting a patent waiver, piling pressure on opponents like the European Union and Switzerland, where many drugmakers are based.
"We're actually really encouraged to see more WTO members come forth with proposals on what they can support at the WTO with respect to intellectual property rules at the WTO and how they apply to the covid vaccines," Tai told reporters ahead of a meeting of trade ministers in the Asia-Pacific Economic Cooperation (APEC) forum.
Backers of a patent waiver for covid vaccines are looking to boost vaccine production and delivery to poorer countries that are battling a surge in covid-19 infections and struggling to access vaccine supplies as well as diagnostics, therapeutics and medical devices.
"We are encouraging more WTO members to come forward in this process, and we are carefully reviewing proposals, as I'm sure all WTO members are right now, and looking forward to moving the WTO's membership to text-based negotiations," Tai said on an online call hosted by New Zealand.
The latest draft from proponents of the waiver sets a time span for a waiver of at least three years and would allow the WTO's 164 members to determine when it ends.
(Reuters)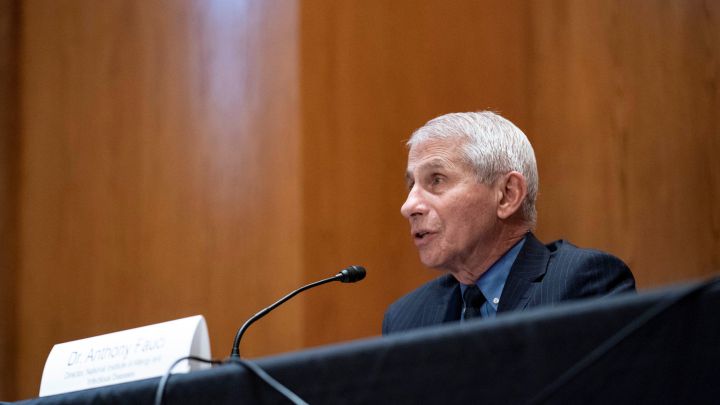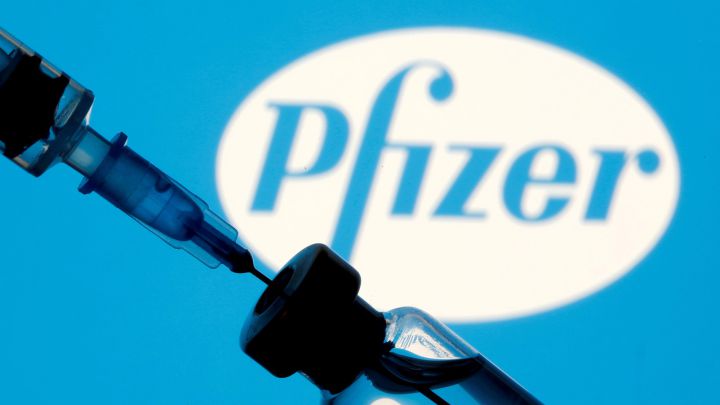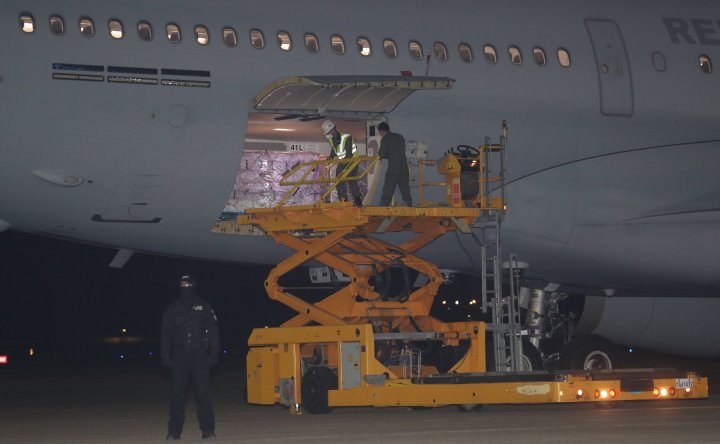 Johnson & Johnson's Janssen covid-19 vaccines sent by the United States are unloaded from a military plane at Seoul Air Base in Seongnam, South Korea, on Saturday.
(Photo: EFE/EPA/YONHAP / POOL)
US sends 1m J&J covid-19 vaccine doses to South Korea
The United States is shipping one million doses of Johnson & Johnson's one-shot covid-19 vaccine to South Korea, a US State Department spokesman said on Friday, one day after President Joe Biden laid out his plan to share vaccine doses globally.
"One million J&J vaccines are headed to our partners in the Republic of Korea. With these doses we're ensuring the safety and readiness of ROK and US forces. The friendship between our two countries runs deep, especially in times of great need," spokesman Ned Price said in a post on Twitter.
Reservations for the incoming US doses - nearly double the amount initially promised by Washington - have already been taken, Seoul officials said earlier this week. Infections are decreasing in South Korea, which has so far administered enough doses to inoculate about 9% of its population, Reuters data show.
On Thursday, Biden unveiled how his administration would distribute 25 million surplus doses across the globe, including six million shared among South Korea, Mexico, Canada, India, the West Bank and Gaza, among other partner nations and United Nations frontline workers.
Another five million will go to African countries, seven million to Asian nations and six million to South and Central American countries, according to the White House.
South Korea, a key US ally in Asia, was the second nation to be welcomed by Biden when he hosted South Korean President Jae-in at the White House last month.
At the time, Moon said Biden had committed 550,000 covid-19 vaccines doses for South Korean soldiers. Biden on Thursday said the United States was sharing its doses to end the pandemic, which has killed more than 3.7 million people worldwide, not to extract political favors.
(Reuters)
Covid-19 vaccine news: welcome
Hello and welcome to our dedicated live blog on covid-19 vaccines for Saturday 5 June 2021.
Here we aim to keep you fully up to date with all the latest news and updates on the global coronavirus pandemic, and the development and rollout of vaccines across the US and around the world.