Sergio Busquets tests positive for covid-19
Busquets is the only member of the squad to have tested positive for the virus. The U21s will play against Lithuania on Tuesday.
A coronavirus outbreak has occured out at Spain's training camp in Las Rozas just a week before the team's opening Euro 2020 game against Sweden in Seville. Sergio Busquets has tested positive for covid-19 but there are fears that it could have spread throughout the squad. PCR tests will be repeated on the squad and staff, 51 people in total. The friendly match against Lithuania on Tuesday will be coached by U21 manager Luis de la Fuente and will be played by the Spain U21 team.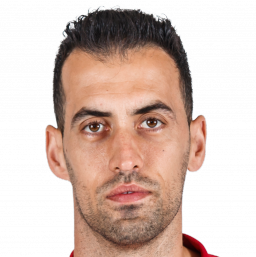 The Spanish FA had twice applied to the Ministry of Health for permission to vaccinate the squad, however, the 24 players chosen by Luis Enrique arrived at Las Rozas without receiving a vaccine. Busquets has tested positive in the latest PCR test carried out this morning at the national team's training camp in Madrid. The rest of the members of the training camp have all tested negative.
Both workers and close contacts of the player will remain isolated in the team camp and personalised training routines will be launched to continue the preparation ahead of Euro 2020.
Luis Enrique permitted to make squad changes
Head coach Luis Enrique can make changes to the squad until 21:00 on Saturday June 12. Per UEFA protocol, the national team will remain isolated and not play against Lithuania on Tuesday, as planned. The RFEF will refund the full ticket price to all those who wish to do so. They will also refund 20% of the price of the ticket to those who decide to attend the match in Leganés' Butarque stadium in Madrid on Tuesday. All communication and marketing events planned for Monday at the Media Centre in Las Rozas have been cancelled.