MEXICO NATIONAL TEAM
Mexico's Guillermo Ochoa targets fifth World Cup
The Club América player has been the starting goalkeeper for the Mexico national team since Gerardo Martino took over the managerial job in January 2019.
Guillermo Ochoa is 35-years-old and he has stated in the past that he has a 'dream of playing in another World Cup' before he decides to retire in the relatively near future. The Club América player has been called up for El Tri since 2005 and he has been included in the squads for four FIFA World Cups to date (2006, 2010, 2014 and 2018).
Ochoa could be the starting goalkeeper in Qatar 2022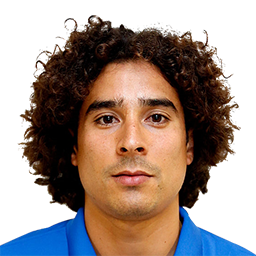 In 2019 Gerardo Martino was appointed as Mexico's new manager and since then Ochoa has been an important goalkeeper for the national team, starting 13 out of 28 games. According to multiple reports, the Club América player has decided to play with the Mexico Olympic team this summer and not the 2020 Gold Cup with the senior team.
Then in September the World Cup qualifiers start in CONCACAF and if Mexico books a ticket to Qatar next year, it seems that Guillermo Ochoa would be the starting goalkeeper as long as Martino is the boss. If that happens, the veteran player would be playing in his third World Cup, and in his fifth squad.
Ochoa has already won multiple Gold Cups
The 35-year-old has never played in the Olympics with the national team and he wishes to do it before his career comes to an end. Ochoa has already won the four Gold Cup tournaments with Mexico (2009, 2011, 2015 and 2019) and was awarded the Gold Cup Glove award in 2019.