Spain 0-0 Sweden result, goals, summary: Euro 2021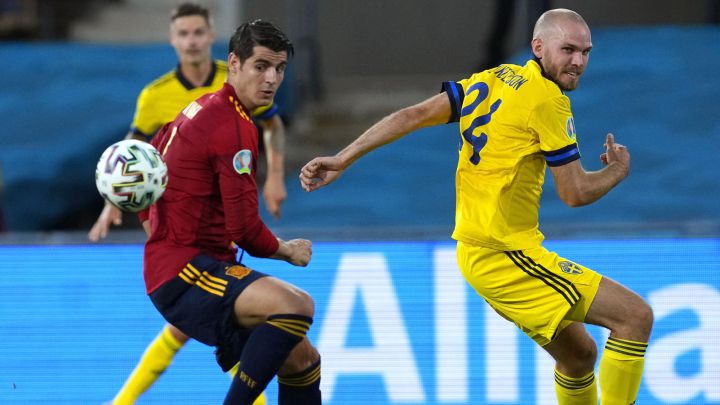 Spain 0-0 Sweden: Euro 2020 Group E as it happened
Peep peep peeeeep! A very frustrating evening for Spain, who must settle for a point. They were terrific in the first half and, though they were less impressive after the break, they continued to knock at the Swedish door. They just could not put the ball in the net, though.
Most notably, Álvaro Morata spurned a golden, golden opportunity when clean through on goal late on in the first 45, while Sweden goalkeeper Robin Olsen produced two fine saves to keep out headers by Dani Olmo and Gerard Moreno in either half.
Sweden were thoroughly second best and can only be delighted to have come away from Seville with a draw; that said, they did have a couple of gilt-edged chances of their own - first for Alexander Isak, then for Marcus Berg.
Up next for Spain is a clash against Poland at the Estadio de la Cartuja on Saturday, while Sweden face Slovakia in St Petersburg the day before. Having beaten the Poles in today's earlier game in Group E, the Slovaks are the surprise leaders after matchday one.
That's all from me - thanks for reading!
Moreno heads Thiago's corner a yard or so wide, and Sweden may well use up the remaining 45 seconds or so with the goal-kick.
No, Spain will get one more attack. Sarabia cuts in from the right once more and curls left-footed into the danger area... but it's headed away, and that will be that.
There's another chance for Spain, but it bounces off Sarabia! Alba again gets to the byline and thumps the ball across goal, where it flies past Moreno and through to Sarabia. He can't react in time, though, and the ball thuds off his knee and into Olsen's arms.
Again Moreno finds space in the box to try to test Olsen, but he curls his effort just past the far top corner.
Six minutes of time added on.
What a chance for Moreno, and what a fine save from Olsen! Sarabia cuts in from the right and drifts a left-footed cross onto the head of Moreno, who has been gobbling these opportunities up for Villarreal this season. He glances the ball on towards goal, but Olsen saves with his feet!
It's attack vs defence. Pedri lifts a neat through ball to meet Alba's run towards the byline. The left-back fizzes it first-time across goal to Moreno, who's arriving at pace at the near post - but he can only turn it past the post. The flag was up against Alba, anyway... although he looked onside.
Five minutes to go. Moreno fires a low ball into the box, but it flies across goal and away. Sweden have pretty much given up on anything that isn't defending with their lives, though, and back come Spain. They plop it about in front of nine, 10 yellow shirts, but there's no way through.
Fabián Ruiz is going to come on.
Sweden make a double substitution, replacing Olsson and Forsberg with Cajuste and Bengtsson.
Oyarzabal produces a neat turn inside the box before firing it across goal, but Sweden clear. Olsson is still struggling, and again the Swedes use his physical ailment to waste a bit of time. Luis Enrique tells the fourth official exactly what he thinks about that.
Sarabia fizzes in a lovely cross towards Moreno in the six-yard box, who can't quite get his head on it and Olsen punches clear.
Sweden have a man down - Olsson - with what looks like a bout of cramp. As you might expect, they absolutely milk the chance to waste a good few seconds, much to the indignation of the Spanish fans in the stands.
More attacking subs for Spain, who bring on Gerard Moreno and Mikel Oyarzabal for Olmo and Ferran Torres.
Sweden also make more changes, Emil Krafth replacing Lustig.
Sarabia buys a yard of crossing space with a neat drop of the shoulder, but his cut-back from the right-hand byline is hacked away. Spain recycle it to Llorente, who gets into the same position as Sarabia moments earlier, playing it to Olmo at the top of the box. Olmo controls and shoots, but, though he gets plenty of power on it, a Swedish boot diverts it away from goal.
Torres picks the ball up, runs towards the box and shoots towards goal, but his effort is blocked. Back come Spain, but Olmo is penalised for fouling Olsson and it's all becoming a lot scrappier from the hosts than in the first 45.
Sweden make their first changes of the evening, replacing Berg and Isak with Robin Quaison and Viktor Claessen.
OImo volleys a dropping ball well wide from the edge of the box.
Spain make a double change, Pablo Sarabia and Thiago Alcántara replacing Morata and Rodri.
Ferran Torres shuffles over to take Morata's place at the tip of the attack, with Sarabia occupying Torres' previous position on the wing.
What a chance for Berg! Sweden have been rather less under the cosh in the first 15 minutes of this second half, and really should be ahead there. After the Swedes win the ball back on the edge of their own box, Forsberg leads a break before feeding Isak on the right. He jinks in between Llorente, Pau Torres and Llorente before cutting the ball across goal to Berg, who scuffs wide from close range! A massive opportunity missed for Sweden.
As was to be expected, Spain are struggling to keep up the speed and intensity of their first-half performance. Probably time for Luis Enrique to think about shuffling his pack.
Lustig was booked for delaying that second Sweden throw-in.
Pretty much for the first time all evening, Sweden enjoy a period of more than a minute or so in the Spain half. First, Lindelöf takes a throw-in on the right short to Olsson, whose cross drops to Isak at the back post, only for the Real Sociedad forward to be crowded out.
Back come Sweden, winning another throw-in on the right. This time Lindelöf sends it in long towards Danielsson in the penalty area, but Spain get it away.
Larsson swings a right-wing free-kick into the box, where Spain try to play Sweden offside. It's still not 100% clear whether or not they managed it, but what we do know is that the ball ran through to Lustig at the back post, where the AIK Solna defender had acres of space to shoot... and succeeded only in kicking his own leg and falling over.
At the other end, Morata latches on to a loose ball and flashes a low shot just wide.
Peeeep! We're back up and running at the Estadio de la Cartuja.
No half-time substitutions for either side.
Spain set new Euros record
According to football stats specialists Opta, Spain completed the highest number of passes in the first half of a Euros match since such data began being collected.
Peeep peep peeep! Half time in Seville. Spain have been terrific, save for when it comes to actually putting the ball in the net. Sweden have barely had a kick, yet would have gone in ahead had it not been for the combination of Llorente and woodwork a couple of minutes ago.
Olmo thumps a strike towards Olsen's left-hand corner, the Sweden goalkeeper producing a slightly odd parry back across the face of goal. Pedri can't quite latch on to the loose ball, however.
And having passed up a glorious opportunity to make their domination count, Spain are very, very lucky not to go behind when Sweden get Isak barrelling into the penalty box. He wriggles himself into space to shoot and beats Simón with his strike, but Llorente is on the line to deflect the ball onto the post. It then bounces back into Simón's hands.
What a let-off for Spain. A Sweden goal would have been spectacularly against the run of play... but La Roja would also have had themselves to blame. They've been excellent, but that counts for precisely zip if you can't put the ball in the net.
Oh, Álvaro! What a chance he has spurned. What a chance. From the left, Alba clips over a ball to the edge of the box, where Danielsson makes a tremendous hash of his attempts to deal with it, and manages only to let it run through to Morata, who's suddenly in on Olsen. He places his finish just past the far post, however.
Unai Simón is finally called on to do something, when the Spain keeper is forced to tip an awkward Larsson cross over his bar. The corner is whipped in at pace and Danielsson throws himself at it, but he can't get his head on it and Spain clear.
Just under 90% possession for Spain so far, according to the latest stats at my disposal. Blimey. Spain could do with sticking one away soon-ish, though; they can't keep up this frenetic pace all night.
Koke steers a low ball into Llorente's run forward into the Sweden box, but the right-back has a gaggle of yellow shirts surrounding him and he can't quite bring it under control.
Again Koke has a chance to score! Receiving it out on the left wing, Olmo times his low pass into the box to perfection, the ball arriving right at Koke's feet as his late run into the box takes him to the penalty spot. The Atlético Madrid man hits it first time, but can't quite keep control of his effort and it flashes over!
Oh, that's nice link-up play between Ferran Torres and Llorente. Torres releases Llorente towards the byline before scampering into the box to get on the end of the return ball, but Olsson is there just in time to nick it off the winger's feet. Spain have done everything but score.
Close from Koke! He tries to combine with Jordi Alba on the left-hand side of the Sweden box, and when Alba is tackled, the loose ball falls straight at his feet. He doesn't need a second invitation to shoot at goal, but drags his effort just, just wide.
Alba may well have been offside in the build-up, though.
Sweden boss Janne Andersson applauds as his side win a throw-in out on the right wing, in what is the first time they have spent anything approaching a substantial period of time in the Spain half. Lindelöf delivers the throw-in long, and when the clearance drops to Forsberg on the outside of the box, he hooks a wild volley yards over the crossbar.
Marcos Llorente tries to slip a low ball from the right into Ferran Torres' run into the box, but Danielsson is there to clear. Sweden are not enjoying this.
What a save from Olsen! Olmo is so close to giving Spain a more than deserved lead. Koke picks the ball up in the right-hand channel before curling a cross right onto Olmo's head, some 10 yards out. Though his effort is directed low towards the corner, the Sweden keeper gets a glove to it and turns it behind!
The ball's whipped in low from the right to Morata, who's just beaten to it by Danielsson at the near post. He brings it clear, but once again Spain's off-the-ball pressing is energetic, to say the least, and the Swedes succeed only in giving possession right back to their hosts.
Olmo is brought down wide on the left, 15 yards or so outside the penalty area. Koke delivers, but Lindelöf heads it clear. Morata and Ferran Torres then elicit huge cheers of approval from the Spain fans when their busy harrying immediately wins the ball back for La Roja, and back they come.
Save for a brief forward foray in the second minute, Sweden haven't really got out of their half yet. They've barely had a kick.
That's bright play from Koke and Jordi Alba, the former clipping over a through ball for the latter to collect and cut back from the byline. Augustinsson has to turn it behind for another Spain corner, which finally falls to Olmo on the edge of the box. He's got a couple of yards of space to dig out a shot, but fires just over!
The home supporters in the stands are making plenty of noise; it's been a very purposeful start from the Spaniards.
Ferran Torres receives out on the right and drifts in a far-post cross that Dani Olmo can't quite get his head on to, but Spain win a corner when Lustig has no option but to head it behind.
Sweden deal with the corner, but Spain win it right back and are already setting up camp in the Scandinavians' half.
Peeeep! There's a slight delay because the officials don't appear totally happy with one of the goal nets and it has to be hastily sorted out... but we're now underway in Seville!
Pedri makes Spain history
Incidentally, Pedri's inclusion in the Spain XI means he becomes La Roja's youngest ever appearance maker at the finals of a major tournament. At 18 years and 201 days old, he beats the record set by Cesc Fàbregas (at the time aged 19 years and 41 days) when he played in the Spaniards' first game at the 2006 World Cup.
Teams out at La Cartuja
Out come the teams in Seville! National-anthem time.
Elsewhere in Group E...
In today's other match in Group E, by the way, Slovakia claimed a surprise win over Poland, Milan Skriniar's fine second-half finish earning the Slovaks a 2-1 victory in St Petersburg, where the Poles had Grzegorz Krychowiak sent off for two bookable offences.
Poland face Spain in Seville next, while Slovakia are again in action in St Petersburg when they take on Sweden.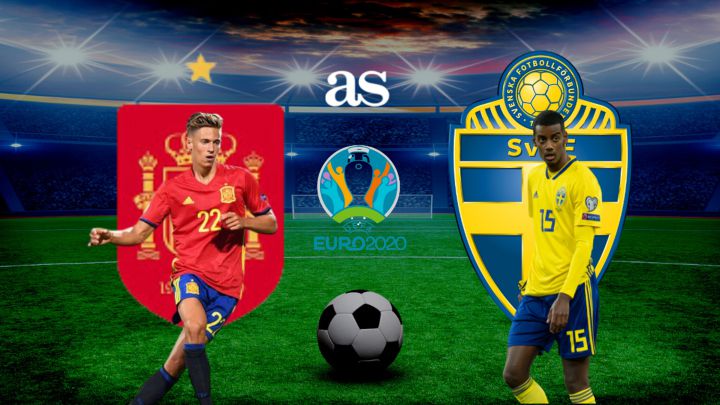 What the coaches said: Janne Andersson, Sweden
No Sergio Ramos in Spain's squad:
"I think Ramos has been a fantastic player for Spain for a number of years now. So, as far as I'm concerned, I don't mind that he won't be playing."
Facing Spain in Spain:
"Playing Spain away is one of the toughest challenges in the world of football today. It's an exciting challenge and we need an absolute top performance, but we've had those in the past and I hope we can get another one."
See also: Why isn't Sergio Ramos in the Spain squad?
(Quotes via UEFA.com; photo: UEFA/Handout via REUTERS)

What the coaches said: Luis Enrique, Spain
Youthful squad:
"The years pass for all of us, players aren't eternal, but I didn't have a restructuring in mind. I was thinking about the players who best fit my idea. And I think we've got a good mix of youth and experience."
Sweden:
"Sweden are a side who play very direct football, and up top they have very strong players, with speed and quality. They attack the spaces well and will play long balls."
Lack of leadership?
"The team doesn't lack leadership; there are 23 players who can bring that. I'm also a leader […]. [Coaches] make decisions and if a coach isn't a leader, that's a bad sign."
(Photo: UEFA / AFP)
Morata starts up front for Spain, Berg in for Kulusevski for Sweden
Unai Simón keeps his place in goal for Spain, while in defence Jordi Alba gets the nod over José Gayà at left-back and Aymeric Laporte makes his first competitive international appearance since switching allegiance from France, partnering Pau Torres at the heart of the backline. Marcos Llorente again plays at right-back, just as he did in La Roja's warm-up against Portugal.
In midfield, Rodri comes in for Sergio Busquets, while Koke and Pedri are preferred over the likes of Thiago and Fabián Ruiz alongside the Manchester City man. Up front, Álvaro Morata starts ahead of the in-form Gerard Moreno, flanked by Dani Olmo and Ferran Torres.
Sweden make just the two changes to the team that beat Armenia 3-1 in their final pre-Euro 2020 friendly, Ludwig Augustinsson coming into the defence and Marcus Berg replacing Dejan Kulusevski up top.
Sweden team news
Starting line-up: Olsen, Lustig, Lindelöf, Danielson, Augustinsson, S. Larsson, Ekdal, Olsson, Forsberg, Isak, Berg
Spain team news
Starting line-up: Simón, M. Llorente, Laporte, P. Torres, Alba, Rodri, Koke, Pedri, F. Torres, Morata, Olmo
Spain vs Sweden: Euro 2020 preamble
Hello! Well, it's awfully nice to focus on the football after a build-up to Euro 2020 which, for both tonight's sides in Seville, has been dominated by the coronavirus.
Spain are without captain Sergio Busquets (for now at least) after he contracted covid-19 just over a week ago, while defender Diego Llorente has rejoined the camp after first testing positive, then negative. Having placed the rest of the squad in isolation, Spain weren't even able to play their final Euro 2020 warm-up against Lithuania last week. Their under-21s deputised, and did a spanking good job of it, too, winning 4-0.
Meanwhile, Sweden have also been hit by covid-19. Mattias Svanberg and Dejan Kulusevksi both returned positive tests last week, and though they have now returned to Janne Andersson's squad after testing negative, neither will be involved tonight.
Sweden come into the tournament in very decent form indeed, having won each of their last five games and kept four clean sheets in the process. However, they face a Spanish side that got the better of them in qualifying for Euro 2020, easing to a 3-0 win in Madrid before earning a draw in Stockholm.
The Swedes will also be up against a 16,000-strong crowd mostly pulling for the home team at the Estadio de la Cartuja - a ground where Spain have enjoyed positive fortunes. Before a 3-1 win over Kosovo at the stadium this March, they memorably thumped Germany 6-0 there in November.
.