Red Sox jump to first place, Padres win without Tatis
The Boston Red Sox moved past the Tampa Bay Rays in the AL East as the San Diego Padres found a way to beat the Cincinnati Reds.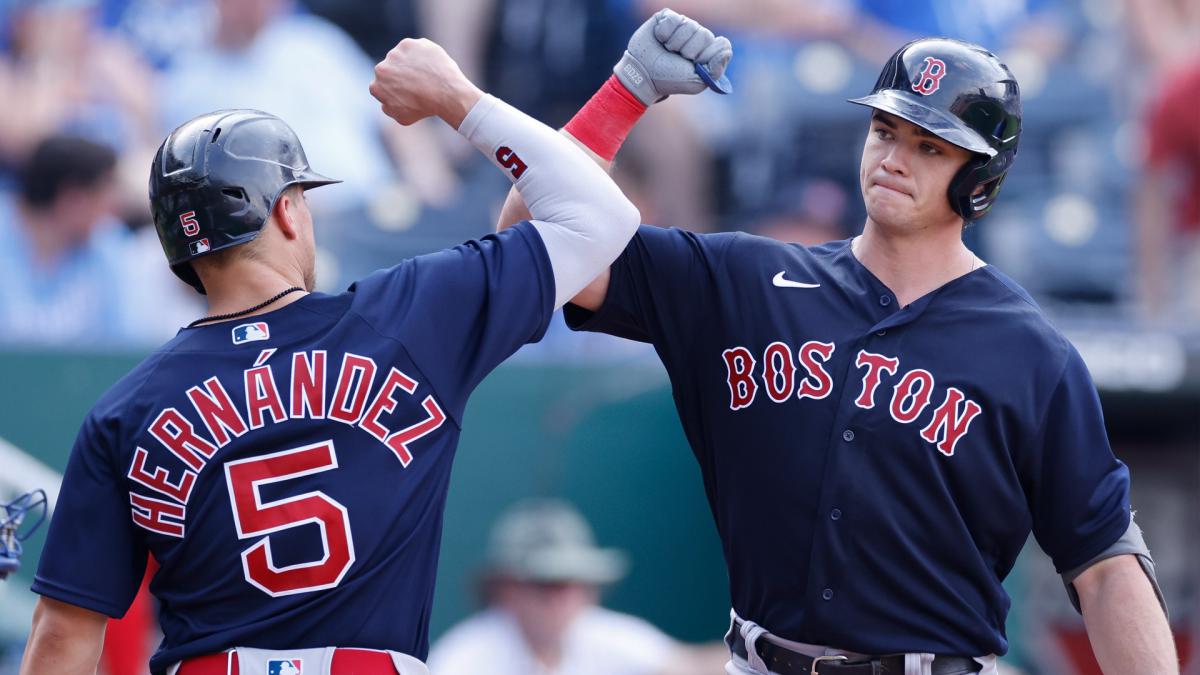 The Boston Red Sox have returned to the top of the American League (AL) East division.
Boston defeated Kansas City 7-1 Saturday as Martin Perez and three relievers shut down the Royals' hitters while J.D. Martinez and Bobby Dalbec each hit two-run homers for the Red Sox.
That win on the road coupled with the Tampa Bay Rays' 6-5 extra-inning loss at the Seattle Mariners later in the evening put the Red Sox alone atop the division for the first time since May 22.
The loss was Tampa Bay's season-high fifth in a row, and the third in that stretch to come via a walk-off win by their opponent, as Mitch Haniger's 10th-inning single scored J.P. Crawford for the victory.
Crawford had hit a grand slam in the second inning to give Seattle a 5-2 lead but Tampa Bay came back to tie it on solo homers from Mike Zunino, Manuel Margot and Brandon Lowe.
Tatis' replacement lifts Padres
After replacing the injured Fernando Tatis Jr. in the fifth inning, Kim Ha-seong hit a two-run homer in the eight to give the San Diego Padres a 7-5 win over the Cincinnati Reds. Padres manager Jayce Tingler said Tatis is day-to-day after hurting his left shoulder while diving for a ball hit by Tyler Naquin.
Walker Buehler struck out 11 and had a no-hitter through seven innings in a 9-3 Los Angeles Dodgers win over the Arizona Diamondbacks.
Orioles collapse despite long-ball heroics
The Baltimore Orioles' first six hits of Saturday's game against the Toronto Blue Jays were home runs -- a franchise first, according to Stats Perform -- but the O's still managed to lose 10-7 after the Blue Jays scored six in the ninth inning.
The Chicago Cubs managed only three hits in an 11-1 loss to the Miami Marlins as they fell into a share of the National League (NL) Central lead with the Milwaukee Brewers.
Adames lights up Rockies
The Brewers prevailed over the Colorado Rockies thanks in large part to Willy Adames, whose two-run homer in the ninth provided the winning margin in a 6-5 victory. Adames also had three doubles, becoming just the fifth player in club history to record at least four extra-base hits in a game.
Saturday's MLB results
Pittsburgh Pirates 6-3 Cleveland Indians
New York Mets 5-1 Washington Nationals
Washington Nationals 6-2 New York Mets
New York Yankees 7-5 Oakland Athletics
Toronto Blue Jays 10-7 Baltimore Orioles
Miami Marlins 11-1 Chicago Cubs
Minnesota Twins 3-2 Texas Rangers
Boston Red Sox 7-1 Kansas City Royals
Houston Astros 7-3 Chicago White Sox
Milwaukee Brewers 6-5 Colorado Rockies
Los Angeles Angels 8-3 Detroit Tigers
Los Angeles Dodgers 9-3 Arizona Diamondbacks
Philadelphia Phillies 13-6 San Francisco Giants
San Diego Padres 7-5 Cincinnati Reds
Seattle Mariners 6-5 Tampa Bay Rays
Atlanta Braves-St Louis Cardinals (postponed)
White Sox at Astros
The Houston Astros (42-28) look for a four-game sweep of the Chicago White Sox (43-28) and their seventh win in a row as they send Lance McCullers Jr. to the mound against former team-mate Dallas Keuchel.