2021 NBA Conference Finals schedule: games and dates
The Milwaukee Bucks take on the Atlanta Hawks in the Eastern Conference, while the Western Conference sees the Phoenix Suns meet the LA Clippers.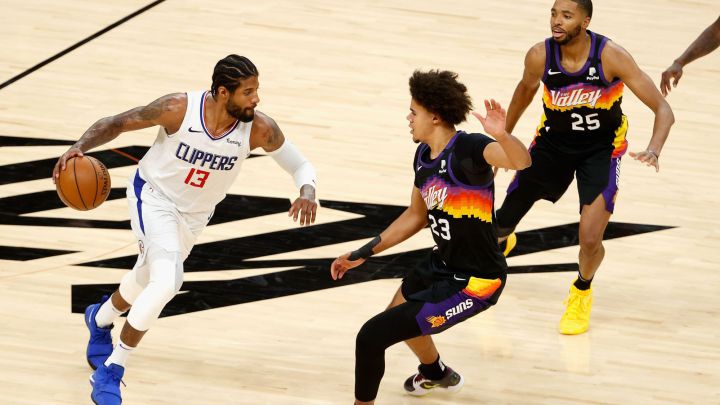 The Eastern Conference Finals see the Atlanta Hawks take on the Milwaukee Bucks, while in the Western Conference Finals the Phoenix Suns face the Los Angeles Clippers.
NBA Finals place at stake in Conference Finals

The Hawks made it to the best-of-seven Conference Finals with a 4-3 semi-final series win over the Philadelphia 76ers, with the Bucks booking their spot alongside Atlanta by seeing off the Brooklyn Nets 4-3.
In the Western Conference, meanwhile, the Clippers defeated the Utah Jazz 4-2 to set up their clash with the Suns, who claimed a 4-0 series sweep over the Denver Nuggets.
The winners of the two Conference Finals will face off in the NBA Finals in July.
2021 NBA Conference Finals schedule
Eastern Conference Finals: Milwaukee Bucks vs Atlanta Hawks
Game 1: Wednesday 23 June, 8:30pm EDT
Atlanta Hawks vs Milwaukee Bucks, Fiserv Forum, Milwaukee
Game 2: Friday 25 June, 8:30pm EDT
Atlanta Hawks vs Milwaukee Bucks, Fiserv Forum, Milwaukee
Game 3: Sunday 27 June, 8:30pm EDT
Milwaukee Bucks vs Atlanta Hawks, State Farm Arena, Atlanta
Game 4: Tuesday 29 June, 8:30pm EDT
Milwaukee Bucks vs Atlanta Hawks, State Farm Arena, Atlanta
Game 5: Thursday 1 July, 8:30pm EDT
Atlanta Hawks vs Milwaukee Bucks, Fiserv Forum, Milwaukee
Game 6: Saturday 3 July, 8:30pm EDT
Milwaukee Bucks vs Atlanta Hawks, State Farm Arena, Atlanta
Game 7: Monday 5 July, 8:30pm EDT
Atlanta Hawks vs Milwaukee Bucks, Fiserv Forum, Milwaukee
Western Conference Finals: Phoenix Suns vs Los Angeles Clippers
Game 1: Sunday 20 June, 3:30pm EDT
Los Angeles Clippers 114-120 Phoenix Suns, Phoenix Suns Arena, Phoenix
Game 2: Tuesday 22 June, 9:00pm EDT
Los Angeles Clippers vs Phoenix Suns, Phoenix Suns Arena, Phoenix
Game 3: Thursday 24 June, 9:00pm EDT
Phoenix Suns vs Los Angeles Clippers, Staples Center, Los Angeles
Game 4: Saturday 26 June, 9:00pm EDT
Phoenix Suns vs Los Angeles Clippers, Staples Center, Los Angeles
Game 5: Monday 28 June, 9:00pm EDT
Los Angeles Clippers vs Phoenix Suns, Phoenix Suns Arena, Phoenix
Game 6: Wednesday 30 June, 9:00pm EDT
Phoenix Suns vs Los Angeles Clippers, Staples Center, Los Angeles
Game 7: Friday 2 July, 9:00pm EDT
Los Angeles Clippers vs Phoenix Suns, Phoenix Suns Arena, Phoenix