NBA
NBA playoffs 2021: Clippers win first-ever Conference Finals game
The Los Angeles Clippers bounced back from consecutive losses against the Phoenix Suns thanks to Paul George this Thursday night at the Staples Center.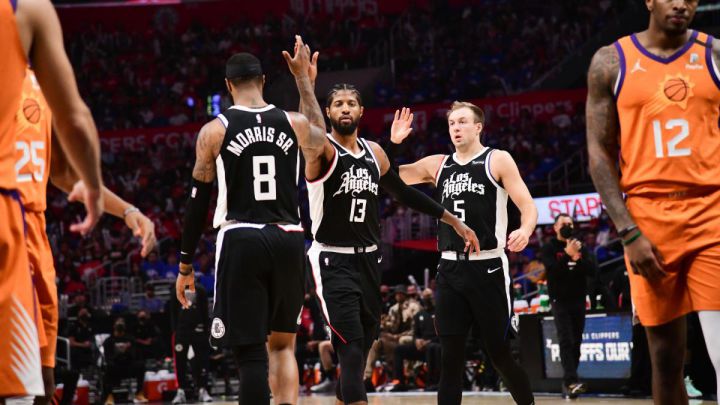 After losing two consecutive games against the Suns, the Los Angeles Clippers have won their first-ever Western Conference Finals 106-92. Paul George was fantastic for the Clippers with 27 points, 8 assists, and 15 rebounds. This is the first time in the Los Angles Franchise history to be featured in the Conference finals. The team found themselves with a 2-0 series against a very consistent Suns team that had Chris Paul back in the starting five.
Paul George has picked up where superstar Kawhi Leonard left off. The Clippers player even had a half-court at the buzzer-beater in the third period, giving the crowd something to cheer about. George has had consistent numbers. He's had at least 20 points in all 15 games of the playoff series. His performance even eclipsed LeBron James' record of 15 consecutive games with more than 20 points back in 2016.
Comeback kid Clippers
This Clippers team seems to like being down on the series. It is the only team in the history of the league to be down 2-0 three times in a postseason. Their third quarter was impeccable play, as they ran over the Suns, outscoring them 34-21. The Los Angeles team was a complete one, where not only did Paul George was the man of the match, but also saw Reggie Jackson score 23 points and Ivica Zubac put up 15 points and 16 rebounds.
Moreover, the Suns saw the return of their point guard Chris Paul who was on the league's health and safety protocol due to COVID possible contact. Paul posted 15 points and 12 assists, becoming the 13th player in the history of the NBA with 1,000 assists in the playoffs.
Hawks at Bucks
Giannis Antetokounmpo and the Milwaukee Bucks will take on the Atlanta Hawks in Game 2 of the Eastern Conference Finals on Friday. Trae Young and his Hawks have taken the lead so far.