Thunderstorms and Flash Flood Watch warnings: which areas are at risk?
Parts of the Northeast are under threat from severe weather until the early hours of Sunday morning. Rains could result in flash floods through Senday.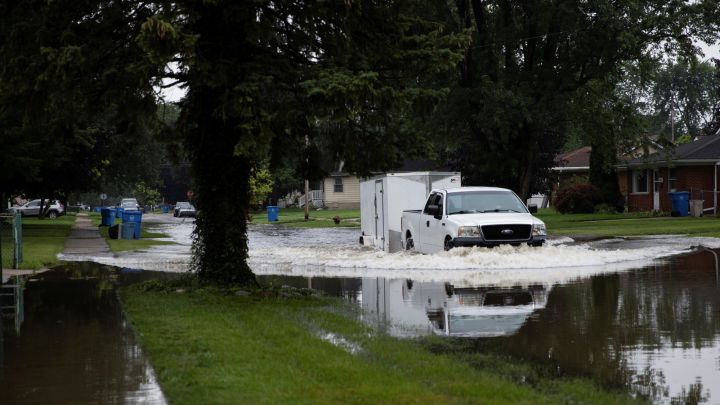 The National Weather Service has issued a Severe Thunderstorm Watch for parts of the Northeast in effect until 11 pm Saturday, but severe weather could persist into the early hours of Sunday. The ground is already soaked from the wettest July since 1975 providing the conditions for flash floods through Sunday.
Tornado warnings were briefly issued in counties along the New York and New Jersey border. The severe thunderstorms could bring lightning and strong, potentially damaging winds to communities northwest of the I-95 corridor from New Jersey up to southern Vermont.
Here is a look at a simulation of what the radar "may" look like this afternoon into tonight. All times are approximate. One of our biggest concerns is with heavy downpours training over the same areas that have received a lot of rain over the last few weeks. pic.twitter.com/8Q9SwcjRf1

— NWS New York NY (@NWSNewYorkNY) July 17, 2021
Areas under threat of flooding
After Elsa brought torrential rains to the Northeast last week leaving the ground saturated there is the potential that new heavy rain will cause considerable flash flooding. This could occur especially in locations with poor drainage and in urban areas. Rainfall rates could exceed 1 inch per hour with total rainfall between 1 and 3 inches, but could be higher in certain locations. Scattered showers and isolated thunderstorms will linger through Sunday evening providing the conditions for additional flooding.
The Flash Flood Watch is in effect through Sunday morning for portions of New York, including New York City, northwestern Connecticut, western Massachusetts and southern Vermont.
A severe thunderstorm watch has been issued for parts of CT, DE, DC, MD, MA, NJ, NY, PA, VA, WV until 11 PM EDT pic.twitter.com/7bwMt9onCB

— NWS New York NY (@NWSNewYorkNY) July 17, 2021
The areas affected include:
Connecticut: Northern Litchfield and Southern Litchfield
Massachusetts: Northern Berkshire and Southern Berkshire. In New York, Eastern Albany, Eastern Columbia, Eastern Dutchess, Eastern Greene, Eastern Rensselaer, Eastern Schenectady, Eastern Ulster, Montgomery, Northern Fulton, Northern Saratoga, Northern Washington, Schoharie, Southeast Warren, Southern Fulton, Southern Herkimer, Southern Saratoga, Southern Washington, Western Albany, Western Columbia, Western Dutchess, Western Greene, Western Rensselaer, Western Schenectady and Western Ulster
Vermont: Bennington, Eastern Windham and Western Windham.
Take precautions in severe weather
It is recommended not to go out in severe weather if it can be avoided. When driving avoid low lying areas where flooding may occur and do not try to cross flooded portions of roads, your car can easily get swept up by the water or stall your engine.
It's also recommended when you hear thunder to seek shelter away from open areas and stay away from windows. Lightning can strike 10 to 12 miles away from a storm.