Tokyo Olympics 2021 medal count summary by country, 25 July
Tokyo Olympics medal count: live updates
Tokyo Olympics: live medal table
China: Gold 6 Silver 1 Bronze 4
Japan: Gold 5 Silver 1
United States: Gold 4 Silver 2 Bronze 4
Republic of Korea: Gold 2 Bronze 3
ROC: Gold 1 Silver 4 Bronze 2
Italy: Gold 1 Silver 1 Bronze 3
Australia: Gold 1 Silver 1 Bronze 1
France: Gold 1 Silver 1 Bronze 1
Hungary: Gold 1 Silver 1
Tunisia: Gold 1 Silver 1
Austria: Gold 1
Ecuador: Gold 1
Iran: Gold 1
Kosovo: Gold 1
Thailand: Gold 1
Uzbekistan: Gold 1
Canada: Silver 2
Netherlands: Silver 2
Brazil: Silver 1 Bronze 1
Great Britain: Silver 1 Bronze 1
Indonesia: Silver 1 Bronze 1
Serbia: Silver 1 Bronze 1
Chinese Taipei: Silver 1 Bronze 1
Belgium: Silver 1
Bulgaria: Silver 1
Colombia: Silver 1
Spain: Silver 1
Georgia: Silver 1
India: Silver 1
Romania: Silver 1
Germany: Bronze 2
Kazakhstan: Bronze 2
Turkey: Bronze 2
Ukraine: Bronze 2
Estonia: Bronze 1
Israel: Bronze 1
Mexico: Bronze 1
Mongolia: Bronze 1
Slovenia: Bronze 1
Switzerland: Bronze 1
Related Olympic reading: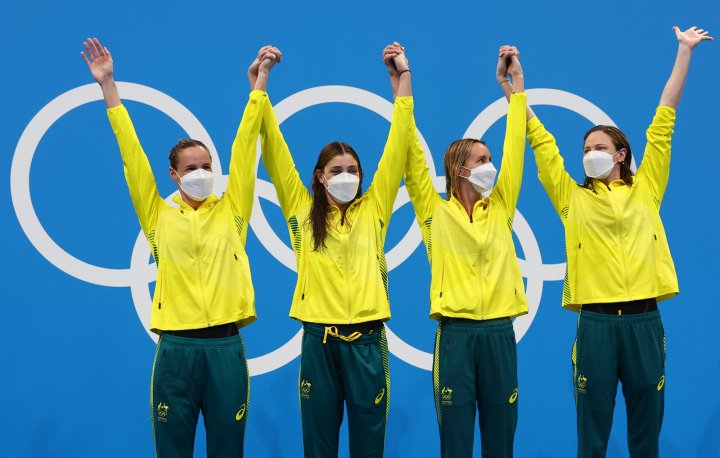 Australia take third straight swimming 4x100m freestyle relay gold
Australia won the 4x100 women's freestyle relay Olympic gold for the third time in a row, beating their own world record and helping take the sting out of a disappointing first day of finals in the pool.
The quartet of sisters Bronte and Cate Campbell, Meg Harris and Emma McKeon took 0.36 seconds off their previous best of 3:30.05 set in April 2018, with a world record of 3:29.69.
Canada took silver, 3:09 seconds behind the winners while the United States came in third for the bronze medal.
Ecstatic with their performance, team members made a show of presenting their gold medals to each other after the ceremony.
"We all just presented the medals between ourselves because it was a pretty special moment," said Bronte Campbell.
"Because it is really all about the team and all of us supporting each other and competing with each other and therefore making each other stronger," she said.
Japan's Hifumi Abe wins judo gold medal
Japanese Judoka Hifumi Abe, 23, won the gold medal in the men's 66 kg category at the Olympics on Sunday, defeating Georgia's Vazha Margvelashvili in the final.
Bronze medals went to Baul An of South Korea and Daniel Cargnin of Brazil.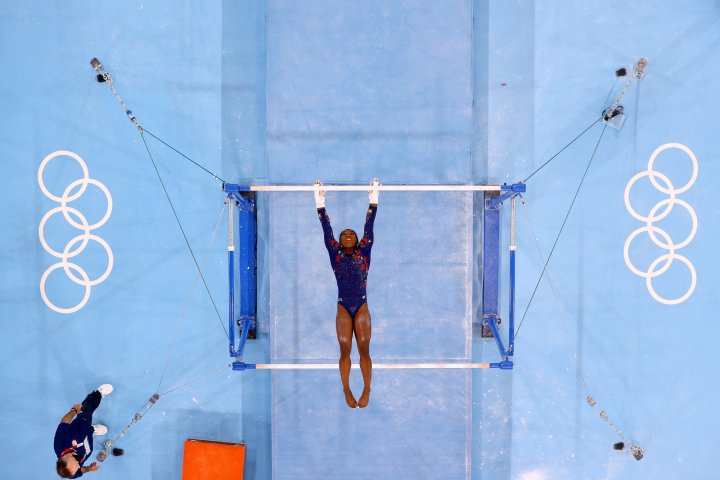 Simone Biles on track for six golds
Simone Biles, the reigning Olympic all-around gymnastics champion, was on track to win six gold medals at the Tokyo Games.
The American will feature in the finals of the team and all-around competitions and she also qualified for apparatus finals in the uneven bars, balance beam, floor exercise and vault.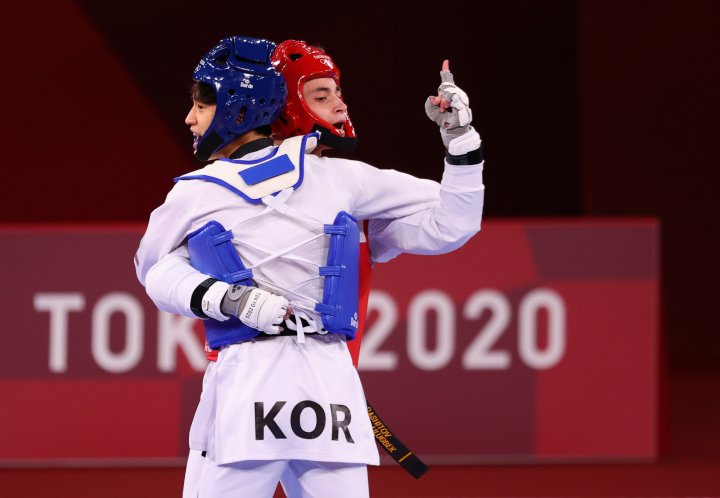 Uzbekistan's Rashitov wins men's -68kg gold medal in taekwondo
Uzbekistan's Ulugbek Rashitov defeated Britain's Bradly Sinden to win the men's taekwondo -68kg category gold medal on Sunday.
China's Chen and Li win weightlifting gold
China claimed two Olympic gold medals in men's weightlifting on Sunday as Chen Lijun and Li Fabin won the 67kg and 61kg categories.
With Zhihui Hou winning the women's 49kg category on Saturday, China has collected all three gold medals so far at the Tokyo Games.
Chen won his first gold with a combined lift of 332kg, seven kg short of his own world record.
Colombia's Luis Javier Mosquera Lozano took silver with 331kg and Italy's Mirko Zanni bronze with 322kg.
China's Li won the gold and amused the small audience at Tokyo International Forum with his signature "flamingo" move.