Tokyo Olympics 2021 medal count updates: who has won more? Tally by country, today, 2 August
Tokyo Olympics: live medal table (in rank order)
China: Gold 29 Silver 18 Bronze 16 (63)
United States: Gold 22 Silver 27 Bronze 17 (66)
Japan: Gold 18 Silver 6 Bronze 10 (34)
Australia: Gold 14 Silver 4 Bronze 15 (33)
ROC: Gold 12 Silver 21 Bronze 17 (50)
Great Britain: Gold 11 Silver 12 Bronze 12 (35)
Germany: Gold 7 Silver 7 Bronze 12 (26)
France: Gold 6 Silver 10 Bronze 7 (23)
Republic of Korea: Gold 6 Silver 4 Bronze 9 (19)
New Zealand: Gold 6 Silver 3 Bronze 5 (14)
Netherlands: Gold 5 Silver 7 Bronze 7 (19)
Italy: Gold 4 Silver 9 Bronze 15 (28)
Check out the full table with all medals won
Allman wins discus gold for Team USA
Team USA's Valarie Allman has claimed the gold medal in the women's discus throw final, her effort of 68.98m beating Germany's Kristin Pudenz into second and Cuba's Yalme Pérez into third.
Equestrian: Britain win team eventing gold medal
Britain's Oliver Townend, Laura Collett and Tom McEwen have won team gold in equestrian eventing. Australia claimed the silver medal, improving on their third place in Rio 2016, and defending champions France took the bronze.
Men's Gymnastics: Vault gold for Korea
SHIN Jea-hwan win's Korea's second-ever gold medal in this event after YANG Hak-seon in London 2012. ROC's Denis Abliazin takes silver.
Gymnastics: Jade Carey wins floor gold
Jade Carey (USA) takes gold on the floor for the USA! Vanessa Ferrari wins silver, and MURAKAMI Mai wins bronze for hosts Japan. A really nice win for Carey after disappointment in the vault yesterday. Team USA will also have a big chance of a gold tomorrow when Simon Biles retuns for the beam event.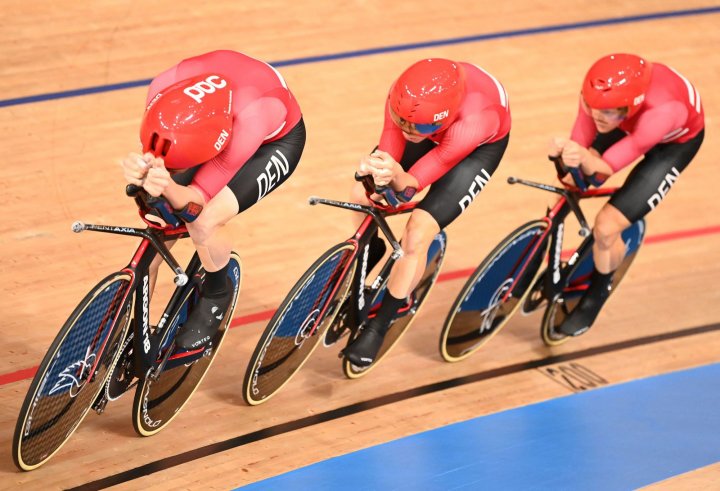 Cycling: Denmark set new OR in men's pursuit
WR holders Denmark have now set a new OR in the men's pursuit, beating Team GB with a time of 3:45.014. The Danes set the WR in Feb, 2020 in Berlin and are now the proud holders of both records.
China wins first gold in track cycling
After setting a new WR in the semi-final, China's BAO Shanju and ZHONG Tianshi defeated Germany's Lea Friedrich and Emma Hinze in the women's team sprint final. ROC pair Schmeleva and Anastasiia Voinovatake, who were silver medalists in Rio in 206, take the bronze medal this time after beating the Netherlands.
Weightlifting: More gold for China
In the women's -87kg weightlifting, Wang Zhouyu (CHN) lifted a total of 270 kg to win the gold (120 snatch, 150 clean & jerk). Tamara Salazar (ECU) and Crismery Santana (DOM) take silver and bronze, respectively.
New world record set at the velodrome
Germany's women's team pursuit team, Franziska Brausse, Lisa Brennauer, Lisa Klein, and Mieke Kroeger, have a set new world record with 4:07.307, beating the previois record set by Great Britain at Rio by 3 seconds
Shooting: Quiquampoix wins gold for France
Jean Quiquampoix (FRA) equals Olympic record to take gold in the men's 25m rapid fire pistol champion, with London 2012 champion Leuris Pupo (CUB) securing silver.
Badminton: Indonesia defeat China to take gold
Indonesia women's doubles pair, Greysia Polii and Apriyani Rahayu, defeated China's Hen Qing Chen and Jia Yi Fan (CHN) in straight sets (21-19, 21-15) to win the their first ever world-level Championship title. The pair were bronze medallists at the 2018 and 2019 world championships, as well as at the 2018 Asian Games.
Camacho-Quinn wins first-ever athletics gold for Puerto Rico
Having set an OR in the semi-final, Jasmine Camacho-Quinn was the outright favorite for the 100m final and took the gold with a time of 12.37, well ahead of USA's Kendra Harrison (12.52) and Megan Tapper of Jamaica. It is Puerto Rico's first-ever Olympic gold medal in Athletics.
Greece gold in long jump
On his last attempt, Greece's Miltiadis Tengtoglou secured the gold for Greece in the men's long jump with a 8.41m effort. Silver medalist Juan Miguel Echevarría of Cuba also managed to jump 8.41m, but Tentoglou's four legal efforts were all 8.10 or above, with his second-best 8.15. Echevarría only managed three legal jumps, with his second-best an 8.09.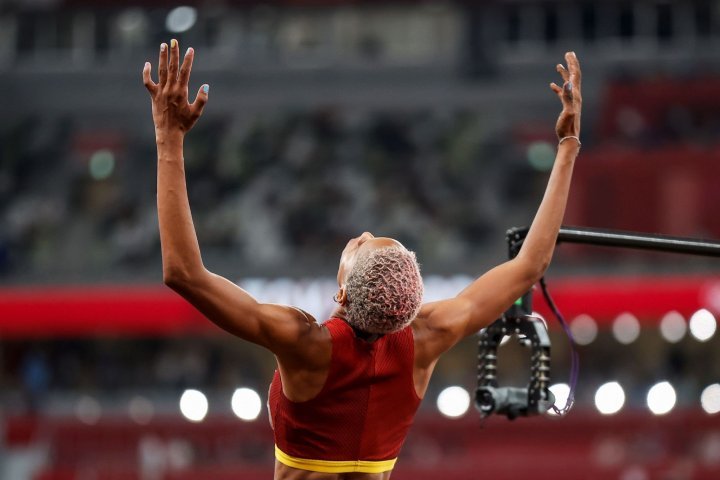 Yulimar Rojas gold and world record
Venezuela's Yulimar Rojas won the gold medal and set a new world record in the women's triple jump with her final jump, marked at 15.67m - beating the previous best set by Ukraine's Inessa Kravets, set almost exactly 26 years ago in Gothenburg.
Portugal's Patricia Mamona claimed silver and Ana Peleteiro took bronze for Spain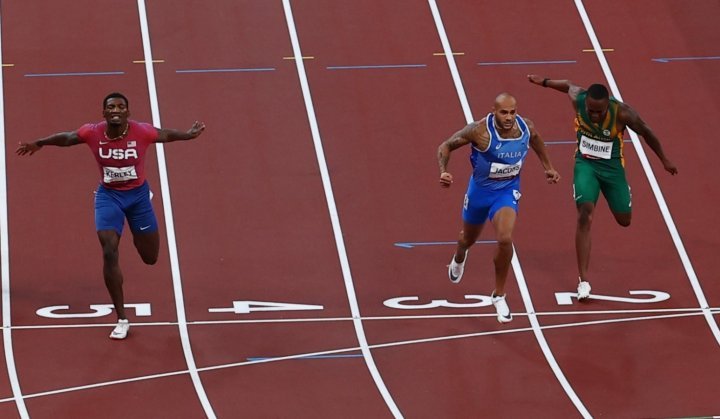 Jacobs wins Men's 100m
Italy's Marcell Jacobs sprinted to gold in the Men's 100m, crossing the finishing line on 9:80 seconds. Fred Kerley bagged the silver for Team USA and just a whisker behind him was Canada's Andre de Grasse, who took bronze.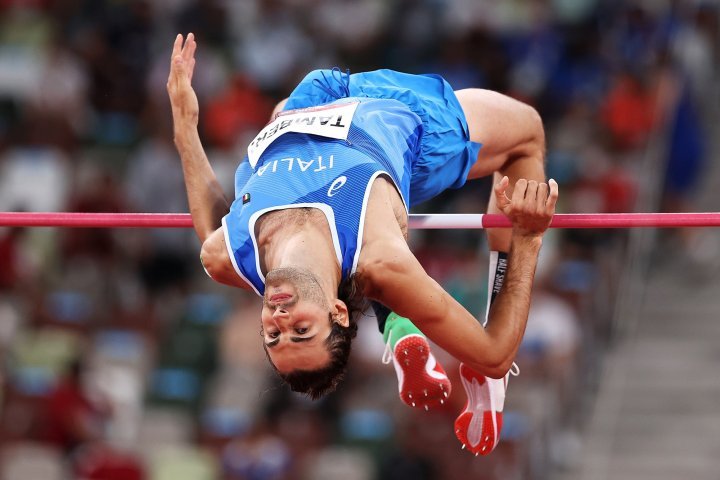 Tamberi and Barshim share high jump gold
Italy's Gianmarco Tamberi and Qatar's Mutaz Essa Barshim shared the gold medal in the men's high jump event. Both jumped 2.37m without misses and agreed to share top spot on the podium instead of a jump-off. It was an emotionally-charged moment for Tamberi who broke down and was seen writhing around on the track in disbelief, moments later Marcell Jacobs took another gold for Italy.
In third place, Belarus' Maksim Nedasekau claimed the bronze.
Tokyo Olympic medal table: Day 10
With Day 9 of the Olympic Games underway and the medals flowing, we'll aim to keep you up to date with all the golds, silvers and bronzes across the events taking place today, Monday 2 August, in Tokyo.