Tokyo Olympics 2021 medal count updates: who has won more? Tally by country, today, 3 August
Tokyo Olympics medal count live updates
Tokyo Olympics: medal table after Day 11 (in rank order)
China: Gold 32 Silver 21 Bronze 16 (69)
United States: Gold 24 Silver 28 Bronze 21 (73)
Japan: Gold 19 Silver 6 Bronze 11 (36)
Australia: Gold 14 Silver 4 Bronze 15 (33)
ROC: Gold 13 Silver 21 Bronze 18 (52)
Great Britain: Gold 13 Silver 17 Bronze 13 (43)
Germany: Gold 8 Silver 8 Bronze 14 (30)
France: Gold 6 Silver 10 Bronze 8 (24)
Netherlands: Gold 6 Silver 7 Bronze 7 (20)
Republic of Korea: Gold 6 Silver 4 Bronze 9 (19)
New Zealand: Gold 6 Silver 4 Bronze 5 (15)
Italy: Gold 5 Silver 9 Bronze 15 (29)
Check out the full table with all medals won
Thompson-Herah caps Day 11 with sprint double
Emulating her former teammate and Olympic great Usain Bolt, Elaine Thompson-Herah became only the second athlete in history to defend a sprint double at a Games with victory in the 200m to add to her 100m win.
Simone Biles on behind the scenes struggles
After returning to action to take bronze in the beam final, Simone Biles explained that although athletes are expected to push through whatever issues they may be having, sometimes what is happening behind the scenes takes preference to the public pressure.
Djuraev, gold and new Olympic record
Uzbekistan's Akbar Djuraev won gold in the men's 109 kg weightlifting category. The 21-year-old lifted an Olympic record-breaking total of 430 kg. Armenia's Simon Martirosyan took silver with 423 kg and Latvia's Arturs Plesnieks bronze with 410 kg.
Nilsen earns pole vault silver for US
The USA's Chris Nilsen has won silver in the men's pole vault final, coming second with a personal-best 5.97m. Sweden's Armand Duplantis took gold with 6.02m and Brazil's Thiago Brazi was third with 5.87m
Thomas wins bronze for Team USA in women's 200m final
The USA's Gabrielle Thomas has taken bronze in the women's 200m final, behind Jamaica's Elaine Thompson-Herah, who won with a national-record time of 21.53, and Namibia's Christine Mboma.
19-year-old Mu streaks to gold in women's 800m
Team USA's Athing Mu, 19, has raced clear of the field to win the women's 800m final, setting a new national record of 1:55.21. Fellow American Raevyn Rodgers took bronze, while Great Britain's Keely Hodgkinson won silver.
Wrestling: Hungary and ROC win gold in Grego-Roman events
Tamas Lorincz of Hungary takes 77kg gold, Akzhol Makhmudov (KGZ) wins silver and Rafig Huseynov (AZE) secures bronze.
At 97kg, gold goes to ROC's Musa Evloev, silver to Artur Aleksanyan (ARM), and bronze to Mohammadhadi Saravi (IRI)
Boxing gold for Cuba
Latest updates from the boxing ring: Cuba's Roniel Iglesias proved to strong for Pat McCormack of Great Britain in the men's welterweight final. They respecitvely take gold and silver. Brazil's Abner Teixeira won the men's heavyweight bronze after defeting Iglesias' compatriot, Julio La Cruz.
Cycling: Netherlands claim gold and OR
The Netherlands quartet broke the OR again as they beat Great Britain the final of the men's team sprint at the Velodrome a little while ago. They clocked a time 41.369. Records being broken left, right and center at the Velodrome today and yesterday.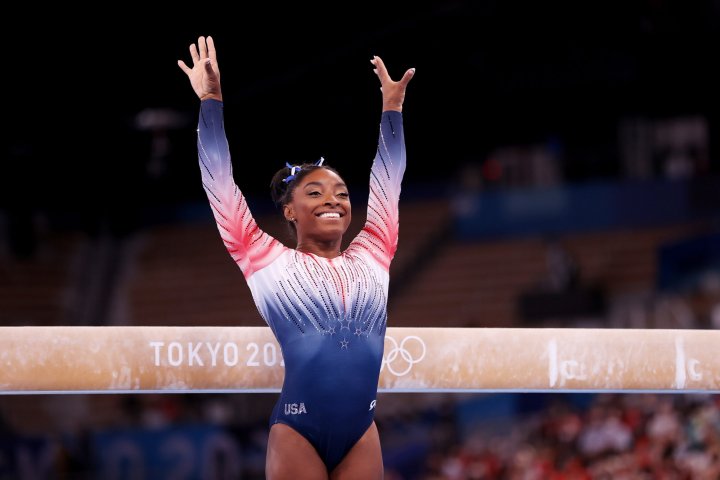 Simone Biles marks return with bronze medal
Having sat out the last couple of events due to her physcial and mental health struggles, Simone Biles takes bronze in her much-anticipated return to action in the women's beam finals. Biles went third, scoring 14.000, which was below then-leader Xijing Tang of China, who scored 14.233 in the opening routine. Biles remained in the silver medal posititon until the end, when last-up Guan Chenchen (China) scored 14.633 to take the gold, pusing Biles back to the bronze medal position.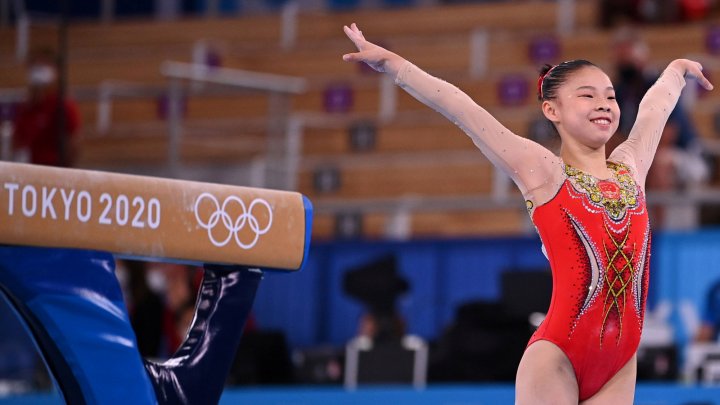 Gymnastics: China 1-2 on the women's beam
China's Guan Chenchen saved the best for last, scoring an impressive 14.633 to knock her team mate Tang Xijing off the top spot to claim gold. That means Team USA's Simone Biles must settle for bronze after her much-anticipated return to action.
Track Cycling: Germany break WR again to take gold
Germany's women's team pursuit quartet (Franziska Brausse, Lisa Brennauer, Lisa Klein, Mieke Kroeger) have set a new WR for third time in 24 hours. They've knocked another two second off their previois WR set just a while ago. They take gold in the final, while Britain must settle for silver.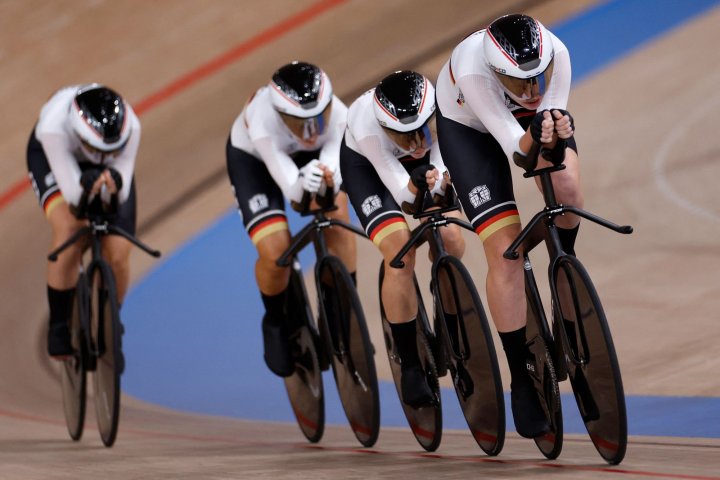 Records being smashed at the Velodrome
Team GB's WR could be one of the shortest-lasting of all time. After Germany set a new WR in the women's team pursuit yesterday, GB did one better today today. But Britain's WR lasted about six minutes as Germany cut another second off that time to re-take the record, with a time of 4:06.166.
Less than a half-hour later, the Netherlands set a new OR in the men's team sprint, clocking 42.134 seconds. Not long after that, Italy took a staggering two seconds off the men's team pursuit WR in their race against New Zealand.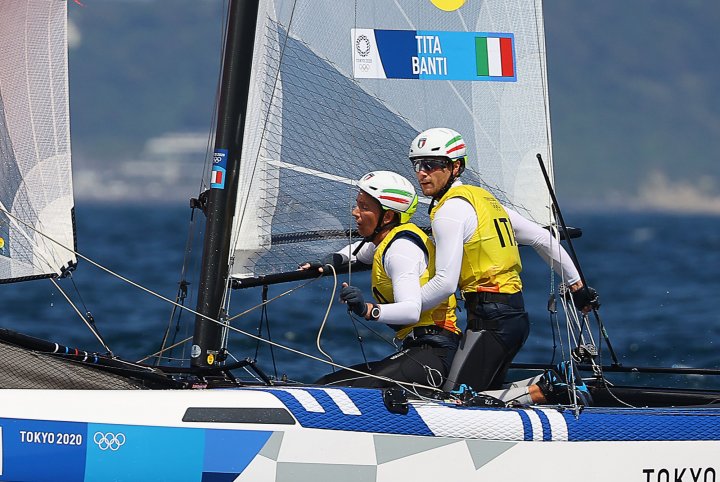 Sailing: Italy win gold in Nacra 17
Ruggero Tita and Caterina Banti (ITA) take gold after finishing sixth in the Nacra 17 medal race. John Gimson and Anna Burnet (GBR) earn silver, while Paul Kohlhoff and Alica Stuhlemmer (GER) won bronze.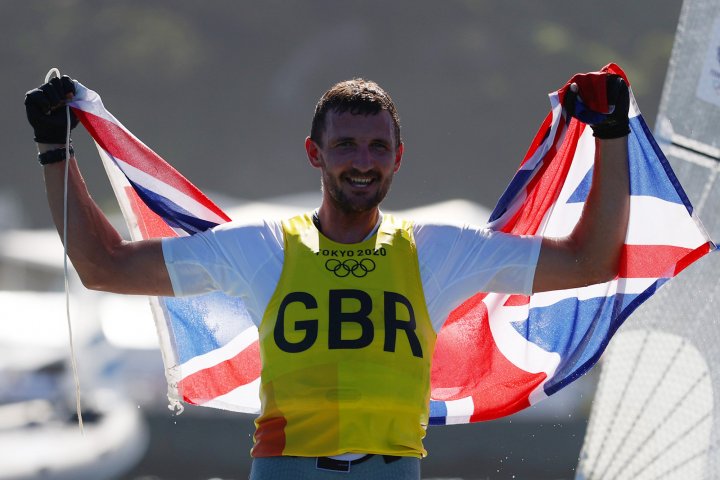 More sailing gold for Team GB
Giles Scott won the gold medal for Britain in the men's Finn class in sailing at the Enoshima Yacht Harbourç. Zsombor Berecz of Hungary took the silver medal, with Joan Cardona Mendez securing the bronze for Spain. (Reuters)
Sailing: GB take gold in 49-ers
A sensational finish to the medal race by Britain's Dylan Fletcher and Stuart Bithell saw them win gold in the men's 49er sailing event at the Enoshima Yacht Harbour on Tuesday. They edged out Peter Burling and Blair Tuke of New Zealand, who took the silver, with Germany's Erik Heil and Thomas Ploessel taking the bronze. (Reuters)
Irie Sena makes history for Japan
Sena becomes the first woman to win an Olympic boxing medal for her country. Filipina Nesthy Petecio gives her country their second Olympic medal, making her only the second woman from the Philippines to ever win a medal in the Games.
New WR as Norway take gold in men's 499m hurdles
Karsten Warholm of the Norway smashes the world record with a time of 45.94 and takes home the gold in the men's 400m hurdles.. Rai Benjamin of the US wins the silver medal, with Alsion Bra do Santos of Brazil earning bronze.
Team USA's Brittney Reese clinches the silver in long jump
Germany's Malaika Mihambo sccoped the gold, while Nigeria's Ese Brume tool bronze.
Allman wins discus gold for Team USA
Team USA's Valarie Allman has claimed the gold medal in the women's discus throw final, her effort of 68.98m beating Germany's Kristin Pudenz into second and Cuba's Yalme Pérez into third.
Tokyo Olympic medal table: Day 11
With Day 11 of the Olympic Games underway and the medals flowing, we'll aim to keep you up to date with all the golds, silvers and bronzes across the events taking place today, Tuesday 3 August, in Tokyo.