Lawrence 'poised' as Lance enjoys dream moment
First overall pick for the Jaguars Trevor Lawrence felt poised in his debut and Trey Lance provided a spectacular highlight on his 49ers NFL bow.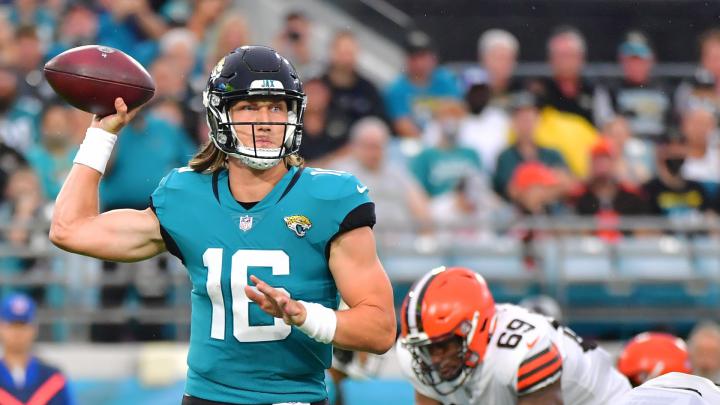 Trevor Lawrence felt "comfortable and poised" in his NFL debut while Trey Lance enjoyed a dream moment on his San Francisco 49ers bow.
Lawrence, Lance and fellow first-round rookie quarterbacks Zach Wilson and Justin Fields all took the field for the first time on Saturday.
Long seen as a generational quarterback prospect, the pressure is on Lawrence to inspire a turnaround for a Jacksonville Jaguars team that went 1-15 in 2020.
The early signs were positive for Lawrence, who completed six of his nine passes for 71 yards in the Jaguars' preseason opener against the Cleveland Browns, the former Clemson star bouncing back after he fumbled after being sacked on his first play.
"I feel like the first time out there, I felt comfortable, felt poised," Lawrence said. "Obviously, the first play's not kind of what you want for the first play, but after that, I thought we did a good job.
"We communicated well up front. They did a really good job of protection. At least one of those sacks was on me, for sure, just holding the ball too long. That's something I'll work on.
"Just manoeuvring in the pocket is something I've always got to work on. Other than that, I missed an easy one to Marvin [Jones], a little quick out I wish I would have hit.
"But other than that, I felt good out there. I think we were seeing it, all on the same page. There's obviously things to clean up, but I thought it was a pretty good day."
Trey Lance pulls off 80-yard touchdown pass
Lance didn't complete as many passes, going five of 14, but he had the most spectacular play of the four rookie quarterbacks, hitting Niners wide receiver Trent Sherfield for an 80-yard touchdown throw in their meeting with the Kansas City Chiefs.
The third overall pick, whom San Francisco selected after trading three first-round picks to move up in the draft, said: "It was super exciting. Kind of the moment you dream of scoring your first touchdown.
"Even though it's preseason, it's pretty cool. With my team-mates, the guys in that locker room, that they were so excited for me and for Trent making that play. It was for sure a special moment and I wish I could've capitalised on the opportunities that came after that."
Former 49ers defensive coordinator Robert Saleh is now head coach of the New York Jets and witnessed an encouraging performance from Wilson.
Wilson went six of nine for 63 yards as the Jets beat the New York Giants at MetLife Stadium.
"I thought it was good," said Wilson of his showing. "Of course, still things to clean up. It was a great experience. I really enjoyed having that game-like setting.
"The introduction to kind of like the NFL, the whole game, it's great for everybody, no matter how much football you've played, it was awesome to get out there."
Fields fell to the 11th pick in the draft, with the Chicago Bears trading up to select him, and they will be more confident in that decision after he threw for one touchdown and ran for another against the Miami Dolphins.
An uneven opening gave way to a performance that will increase calls for him to start over veteran Andy Dalton and afterwards Fields said of the speed of the game: "It was actually kind of slow to me, to be honest.
"I think I was expecting it to be a little bit faster but practicing game speed, going at it with my team-mates every day, of course, you know, we have a great defense so, me going against them every day, it definitely slowed the game up a little bit for me. So, I felt comfortable out there.
"Of course, I have room to grow, so I'm just gonna try to get better each and every day."