Tatis back with a bang, McKenzie flirts with perfect game in Detroit
Fernando Tatis Jr. made a triumphant return to action with two home runs in the Padres win, while Triston McKenzie flirted with perfection for the Indians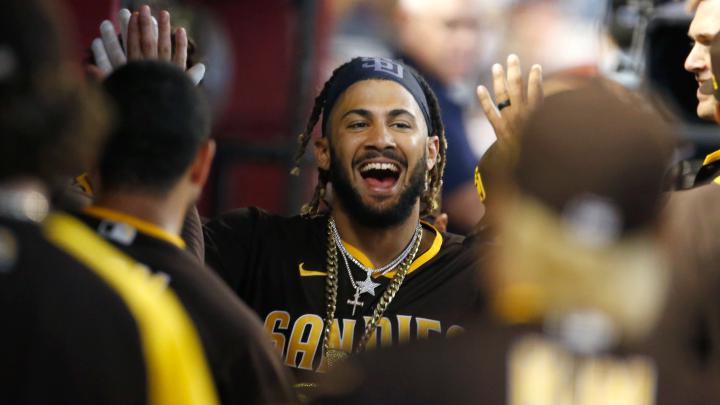 Fernando Tatis Jr. continued where he left off before injury as the returning San Diego Padres star hit a pair of home runs in Sunday's 8-2 victory over the Arizona Diamondbacks.
Tatis had been on the injured list since July 31 due to a partially dislocated left shoulder, however, the MLB All-Star made his comeback against the Diamondbacks.
The 22-year-old – playing in right field for the first time in his professional career – slugged his 32nd and 33rd homers of the season to help the Padres avoid a four-game sweep.
Tatis finished four-for-five with four RBIs and three runs scored as the Padres maintained their lead in the race for the second National League (NL) Wild Card spot, two and a half games clear of the Cincinnati Reds.
"Just make them remember why they miss you," said Tatis, who homered in the third and fifth innings. "I feel like that's what it is. The hunger of being outside and not doing anything for my team for so long, I really felt bad. So, coming back, you bring your 100 per cent, take a chill and do what you know what to do."
McKenzie flirts with perfect game
Cleveland Indians pitcher Triston McKenzie stared at history in the team's 11-0 shutout of the Detroit Tigers. McKenzie was four outs away from perfection, retiring the first 23 Detroit batters in order. He lost the perfect game in the eighth inning. Not since 1981 have the Indians recorded a no-hit performance from one of their pitchers.
Texas Rangers rookie DJ Peters hit a pair of two-run homers in a 7-4 win at home to the Oakland Athletics.
The New York Yankees topped the Chicago White Sox 5-3 behind two-run homers via Rougned Odor and Luke Voit.
Slumping Cubs reeling
The Chicago Cubs suffered their 11th consecutive defeat following a 4-1 loss to the Miami Marlins. There have now been eight different losing streaks of 11-plus games this season according to Stats Perform – Cubs (twice), Baltimore Orioles (twice), Diamondbacks (twice), Rangers and Kansas City Royals. It is the most such losing streaks in a season since 1899. It is also the first time three different teams had multiple losing streaks of 11-plus games in a season.
After the Cubs' loss today, there have now been 8 different losing streaks of 11+ games this season:

Cubs (x2)
Orioles (x2)
D-backs (x2)
Rangers
Royals

That is the most such losing streaks in a season since 1899:

Cleveland Spiders (x6)
Washington Senators (x2)

— Stats By STATS (@StatsBySTATS) August 15, 2021
Muncy crushes Mets
Max Muncy showed no mercy in the Los Angeles Dodgers' 14-4 victory against the New York Mets. He hit two homers, including this two-run dinger in the sixth inning.
Sunday's results
Milwaukee Brewers 2-1 Pittsburgh Pirates
Atlanta Braves 6-5 Washington Nationals
Cincinnati Reds 7-4 Philadelphia Phillies
Boston Red Sox 6-2 Baltimore Orioles
Miami Marlins 4-1 Chicago Cubs
Cleveland Indians 11-0 Detroit Tigers
New York Yankees 5-3 Chicago White Sox
Minnesota Twins 5-4 Tampa Bay Rays
Texas Rangers 7-4 Oakland Athletics
St Louis Cardinals 7-2 Kansas City Royals
San Francisco Giants 5-2 Colorado Rockies
Los Angeles Angels 3-1 Houston Astros
San Diego Padres 8-2 Arizona Diamondbacks
Toronto Blue Jays 8-3 Seattle Mariners
Los Angeles Dodgers 14-4 New York Mets
Angels at Yankees
Gerrit Cole will make his return to the mound following a stint on the COVID-19 injured list when the Yankees (65-52) host the Angels (59-60) on Monday. Jose Suarez starts for the Angels in the make-up game from July 1.