SOCCER | SERIE A
Inter 2021-22: New-look Nerazzurri attempt to recreate Conte's title success
Inter have attempted a quick rebuild after losing the main men in their title charge, looking to challenge again in 2021-22.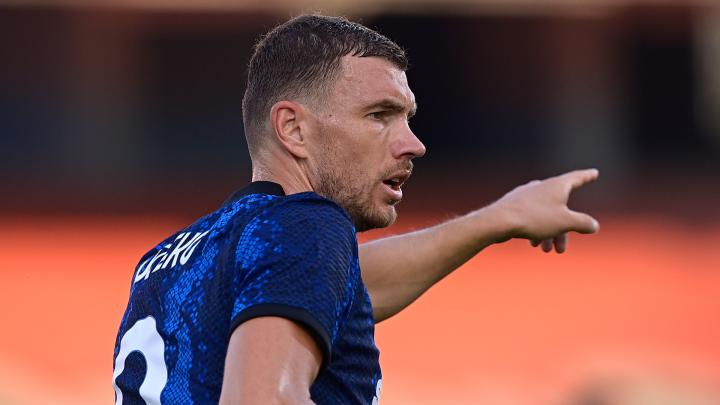 This should have been a season for Inter fans to enjoy, on the back of a title triumph and with European football returning to some semblance of normality.
Instead, they have lost coach Antonio Conte, top scorer Romelu Lukaku and standout wing-back Achraf Hakimi. Talk of a Tottenham move for Lautaro Martinez – seemingly linked to Harry Kane's future – has not been ruled out entirely.
It leaves the reigning Serie A champions picking up the pieces, with the club's dire financial situation dampening hopes of a successful title defence.
Although there have also been new arrivals, Simone Inzaghi and a 35-year-old Edin Dzeko clearly are not in the same class as Conte and Lukaku.
Inter will be slightly different this season and it is highly likely they will be slightly worse for it.
Downgrade to Dzeko
In Lukaku, Inter have sold a player in his prime coming off his best campaign to date. In Dzeko, the Nerazzurri have brought in a veteran whose Serie A career just plunged to new depths.
Lukaku netted 24 times en route to Inter's Scudetto, while Dzeko's final year with Roma brought only seven league goals.
The Bosnia-Herzegovina international did play a mere 1,825 minutes, but it was his poor form while on the pitch that saw him limited to 20 starts despite featuring in 31 matchday squads.
Dzeko's shot conversion rate of 10 per cent was higher than in two of his seasons in the capital and only margainally lower than 2017-18's 10.5 per cent when he scored 16 times. The decreasing frequency of his attempts was an issue, managing just 3.5 shots per 90 minutes, a trough to contrast to the 2016-17 peak of 5.3.
Inter's new forward fell some way short of his expected goals (xG) total of 13.3 – a failing only partially explained by the expertise of opposition goalkeepers, who prevented 3.6 Dzeko goals according to expected goals on target (xGOT) data, which analyses the quality of the shot rather than the quality of the chance.
Lukaku, on the other hand, outstripped his xG figure of 23.8, even if his attempts were only worth 22.9 xGOT.
It is not only as a scorer that Dzeko slips below Lukaku's standards either. Chelsea's latest record buy was a creative force last term, providing 11 assists. Dzeko had three.
Indeed, Lukaku crafted a team-high 52 chances – or 9.4 per cent of Inter's 552 shots across the campaign – while Dzeko laid on 29 (5.3 per cent of Roma's attempts). Dzeko was more involved in build-up play than Lukaku, averaging 49.7 open play sequences per 90 to his predecessor's 44.4, but he could not match Lukaku in terms of passing accuracy (68.8 per cent), passing accuracy in the opposition half (64.8) or passing accuracy in the final third (58.5).
Unsurprisingly, the former Giallorossi favourite also cannot play at the same pace as Lukaku. Dzeko was involved in only six fast breaks to Lukaku's league-leading 17, although he did score twice from such situations. Roma were second in the league in this regard – behind Inter.
But even if the Nerazzurri do slow slightly with Dzeko in the side, his work in moving the ball up the field is still comparable to Lukaku's. He had more carries (7.9) and progressive carries (4.5) than Lukaku last term, while operating in the same ballpark for carry distance (92.6 metres), attempted dribbles (2.9) and completed dribbles (1.3) – all numbers per 90.
The percentage of his touches Dzeko took in the opposition box (17.3) tallied closely (18.3 per cent for Lukaku), too, with the previously prolific attacker's game peculiarly now suited to work away from goal.
An aerial force
As part of his link-up play, Dzeko offers a clear focal point. His 60.4 per cent success rate in aerial duels ranked fourth among Serie A forwards with 100 or more such tussles. Lukaku won only 42.9 per cent in a category led by Zlatan Ibrahimovic (65.7 per cent). Dzeko's 52 flick-ons also put him fourth.
But Dzeko's heading ability does also give Inter a greater threat inside the penalty area. The striker was joint-third for headed attempts (20, excluding blocks), with his 1.0 per 90 double Lukaku's 0.5. As with his feet, Dzeko was wasteful in this regard, scoring only one header while new Inter colleague Martinez nodded in four goals, but a greater sample size shows the danger he can pose. Since his 2015 Serie A debut, Dzeko leads the way for headed attempts (203, excluding blocks) and his 16 goals – making up 18.8 per cent of his total of 85 – are tied for third.
Dzeko therefore looks a good fit in an Inter side who last season topped the charts in succeeding with 24.6 per cent of their open play crosses, leading to a joint-high 92 headed shots and 14 headed goals.
Whether that crossing quality is still at the club is another matter.
Inter's wings clipped
Only nine defenders in Serie A last term attempted 100 crosses, but Hakimi, marauding up the right, was one of them. Within that select group, his crossing accuracy of 23.9 per cent ranked third – just ahead of Leonardo Spinazzola, another exciting wing-back and Dzeko's former Roma team-mate (23.5 per cent).
Hakimi's departure for Paris Saint-Germain robs Inter of that quality and the 36 chances he created. There is pressure on Denzel Dumfries, a €12.5million recruit, to fill that void. He created 41 chances in the Eredivisie last season, yet only five of his 50 crosses were successful.
That ability to deliver from wide positions is merely one of Hakimi's array of attributes, too, with the €60m man carrying the ball 22.7 metres further per 90 than Dumfries while also contributing a goal or assist every 178.1 minutes, compared to the Netherlands international's 308.5 minutes.
Inter should at least have increased creativity from midfield, where free signing Hakan Calhanoglu offers an upgrade on the recuperating Christian Eriksen. Calhanoglu, playing for rivals Milan, had league highs in chances created (98) and chances created from set-pieces (50) in 2020-21. Milan led Serie A in goals from set-pieces (16, excluding penalties), but Inter ranked joint-fourth (16) and will surely now improve.
Trying to run it back
If mixed results are anticipated from direct replacements for Lukaku, Hakimi and Eriksen, those moves at least indicate some unlikely joined-up thinking in spite of the chaotic nature of this off-season. Inzaghi's appointment also suggests Inter plan to change little from last season, even with the numerous notable departures.
Like Conte and Inter, Inzaghi's Lazio consistently lined up with a 3-5-2 formation in 2020-21, with their approaches also not dissimilar.
Lazio's press was a little more aggressive, allowing 11.6 passes per defensive action to Inter's 12.8 and also engaging in more pressed sequences (543) despite having slightly more possession (52.9 per cent) than Inter (52.0 per cent). Lazio also scored eight goals from high turnovers.
However, between the replacement of a speedy Lukaku with a slower Dzeko and Inter's pre-existing preference for build-up attacks (119) over direct attacks (80), Inzaghi's playing style might have to be a little more patient this term, even if the new number nine's physical presence will give them an outlet.
These are minor tweaks, though, that should mean Inzaghi can adapt to Inter or Inter to Inzaghi.
Defending champions have rarely had it so tough when preparing for a new campaign, but Inter have done all they can to ensure a new-look side can continue to find success.