NFL: Steelers' Roethlisberger relishing "newness" in Pittsburgh
Quarterback Ben Roethlisberger spoke to the media ahead of his first appearance of the preseason period, against the Detroit Lions on Saturday.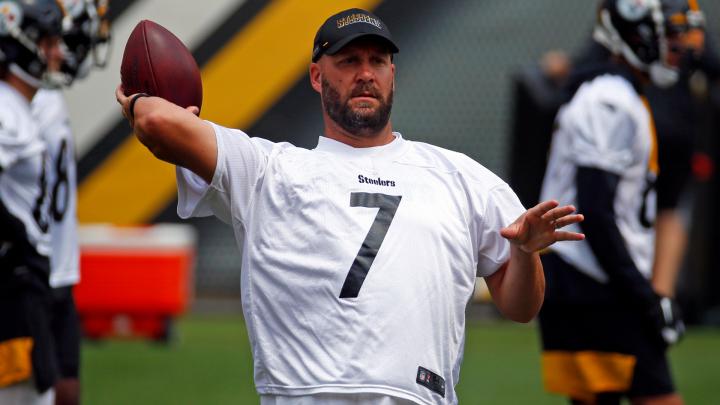 Veteran Pittsburgh Steelers quarterback Ben Roethlisberger is excited to run the team's new offense heading into the new NFL season.
QB Roethlisberger preparing for NFL season number 18 in Pittsburgh
Roethlisberger is gearing up for his 18th season with the Steelers after the 39-year-old agreed a new restructured contract in Pittsburgh, where he will make his first preseason appearance against the Detroit Lions.
The two-time Super Bowl champion and seven-time Pro Bowler is relishing the opportunity to work alongside new offensive coordinator Matt Canada and quarterbacks coach Mike Sullivan.
"There is a lot of newness"
"We have a new system," Roethlisberger told reporters of the need to play against the Lions. "There's a new coach to player communication in terms of a new guy. The offense is different. He's up in the box as compared to on the field.
"There is a lot of newness. I think it's prudent to get as much time as I can under those circumstances."
"I would love to get as many reps as I can," said Roethlisberger. "It's been how many months since I've actually stepped on the football field to take a hit? I know it's preseason, but still just meaningful reps. With the newness of it I'd definitely like to get as much as I can.
"I guess it depends on how we're doing, how it feels. I really wanted to try and play last week because it was on the road and that would have been our first opportunity to play on the road and the situation, with circumstances like crowd noise and things like that before we go into a very hostile environment in week one. But coach, I couldn't talk him into it."
Roethlisberger helped Pittsburgh – who have one of the best defenses in the NFL – to an incredible 11-0 start last season.
But they ran out of steam badly down the stretch, losing four of their last five to finish 12-4 before a stunning 48-37 Wild Card playoff defeat to divisional rivals the Cleveland Browns.
Roethlisberger was coming back from a serious elbow injury which saw him miss all but two games of the 2019 campaign.
His play was steady but unspectacular, leading a Steelers offense that averaged 250.5 net passing yards per game, 15th best in the NFL.
Roethlisberger threw for 3,803 yards, 33 touchdowns and 10 interceptions in 15 games, with a 94.1 passer rating (19th among qualifying QBs).
At 9.65 yards per completion – the lowest rate in the league – he was more of a game manager than the downfield threat of old.
"I want to make sure that I'm not the reason that we struggle"
Roethlisberger added: "The challenge of newness. I spent a lot of time at home, going over it, reading it, watching film. I was telling my wife the other night that I think maybe it's even better that there's some new stuff because it almost refocuses you in a way.
"If this was still the same stuff, I would probably go home and be like okay I'll watch the film and be ready to move on. But last night I watched the film, and I went back over everything again to refresh my mind. I think because it's different. I want to make sure that I'm not the reason that we struggle."
Roethlisberger's yards per attempt average of 6.3 was the lowest of his career across seasons in which he has played double-digit games – it was 5.7 in his two appearances in 2019.
He had 43 pass plays that went for 20 yards or more, tied for 17th, though yards after catch was clearly a massive contributor to those plays. Pittsburgh ranked eighth with 50.4 per cent of the Steelers' gross passing yardage made up by yards after the catch.
His passer rating of 81.0 on throws of at least 21 air yards was 18th among quarterbacks with 25 such attempts and he completed only 30.2 per cent of those attempts (22nd of 28 QBs with a minimum of 25 attempts).
"Some of the new concepts I'll have it and I'll go home and I'll look at it and I'm like wait, what is this guy… if you think about it on every pass play for instance, I have to know what five guys are doing. It's not just one guy or just what I'm doing," he continued.
"So, I have to know who the hot is and what each specific guy is doing so there'll be times that I know what maybe three of them are doing and will be like, 'Wait, what's this guy doing again.' I just have to just try and refresh in my mind."