Cam Newton out for Patriots due to covid-19 protocols
A "misunderstanding" about daily testing means Cam Newton cannot be with the New England Patriots until Thursday due to covid protocols.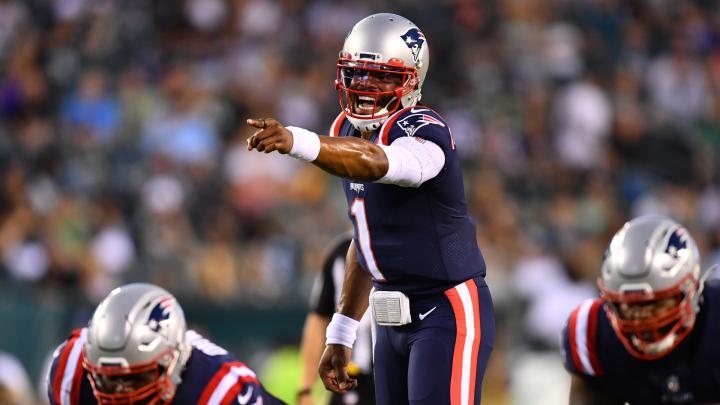 Cam Newton will be away from the New England Patriots' facility until Thursday due to coronavirus protocols following a "misunderstanding" about daily testing.
Newton is seen as the frontrunner in his competition with rookie first-round pick Mac Jones to be the Patriots' starting quarterback.
However, he will now miss time as the Patriots take part in joint practices with the New York Giants ahead of their preseason finale on Sunday.
Explaining Newton's absence, a Patriots statement read: "On Saturday, Cam Newton travelled to a club-approved medical appointment that required him to leave the New England area. He received daily covid tests, which were all negative.
"Due to a misunderstanding about tests conducted away from NFL facilities, and as required by the NFL-NFLPA protocols, Cam will be subject to the five-day entry cadence process before returning to the facility.
"Cam will continue participating virtually in team activities and return to the club facility on Thursday, August 26."
Only players who are not vaccinated against covid-19 are subject to the five-day re-entry process.
Newton and Jones battling for starting QB spot
The Patriots announced that QB Cam Newton will be out five days as required by the NFL-NFLPA protocols, "due to a misunderstanding about tests conducted away from NFL facilities." pic.twitter.com/b8Cmouhtj6

— SportsCenter (@SportsCenter) August 23, 2021
Newton and Jones have each impressed in preseason for the Patriots and had little difficulty moving the ball against second and third-stringers in their 35-0 rout of the Philadelphia Eagles last time out.
Former MVP Newton went eight of nine for 103 yards and a touchdown while Jones completed 13 of his 19 pass attempts for 146 yards.
Newton missed one game last season after testing positive for covid-19. Across 15 games, he completed 65.8 per cent of his passes for 2,657 yards, eight touchdowns and 10 interceptions.
While his numbers through the air were disappointing, he did rush for 12 touchdowns, Newton's most since his rookie year with the Carolina Panthers in 2011 (14).
The 2020 season saw Newton, according to Stats Perform data, perform below the average in well-thrown percentage and air yards per attempt. He delivered a well-thrown, accurate ball on 76.1 per cent of his passes while averaging 7.07 air yards. The league averages for quarterbacks with at least 100 attempts in those metrics in 2020 was 78.0 per cent well-thrown and 8.16 air yards.
Jones, who was third in the Power 5 with a well-thrown percentage of 83.21 in his final season at Alabama last year, now has a chance to further his claim to the starting job with extra practice reps as Newton sits out.