Jags' Etienne out of season after being put on IR
Jacksonville Jaguars first round draft pick Travis Etienne will miss the entire 2021 season after being put of the injured reserve list on Tuesday.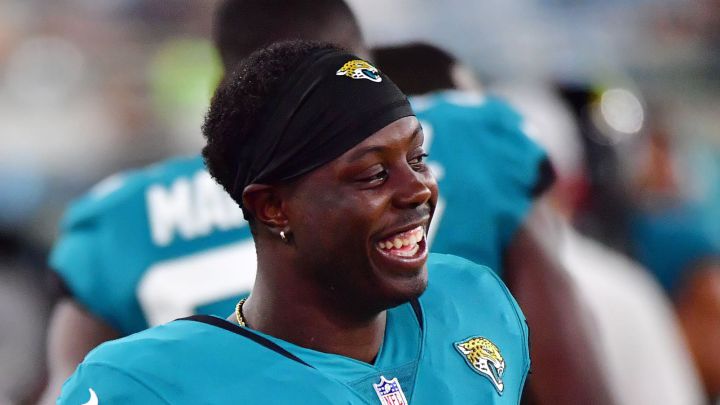 The Jacksonville Jaguars second pick in the first round of this years NFL Draft, Travis Etienne, has been ruled out for the 2021 season after being placed on the injured reserve Tuesday.
Jags lost more than just game vs. Saints on Monday

The Jags not only lost Monday's preseason game to New Orleans, but they lost one of their go to running backs for the up and coming season.
Etienne had one reception and one rush for a total of four yards before injuring his left foot early in Jacksonville's second preseason contest. The injury will force the running back to undergo surgery for a Lisfranc injury.
Etienne to IR, will miss rookie season

Tests on Tuesday showed the severity of the injury and the team decided to put the first round draft pick on the injured reserve list. As a result of being put on IR before making the 53-man roster, Etienne will not be permitted to return this season.
Jacksonville took Etienne with the 25th pick of the 2021 draft. The running back was their second pick of the first round, after taking Etienne's former college teammate Trevor Lawrence with the first overall selection. It was the first time ever a team took a running back and quarter back from the same school in the first round.
Etienne a threat on the ground and in the air

Jags head coach Urban Meyer had planned to use the dual threat running back in the pass game almost as much as the run game. The dynamic speedster has the hands that could have got rookie QB Trevor Lawrence out of some jams over the course of the season, but one of Meyer's big play options will have to wait until next year to line up with his former college teammate.
Over the course of his career at Clemson, Etienne was one of the most exciting players in the NCAA. He led the nation in runs over 20 yards with 55 from 2017 to 2020. He also had six receptions of 30 or more yards over those four years, to give him a total of 61 explosive play at Clemson.
Jags will miss Etienne's explosiveness
The Jaguars were last in the NFL in explosive plays last year, with a combined total of just 16 rushes of 20 yards and passes of more than 30 yards.
Etienne is not just Clemson's all time leading rusher, but also the ACC's all time leading rusher, accumulating 4,752 yards over his four year career.