NBA
Lillard still wants NBA title success with Portland Trail Blazers
"I've always said I want to play in Portland, I want to win in Portland." Damian Lillard responds to speculation regarding his future with the Trail Blazers.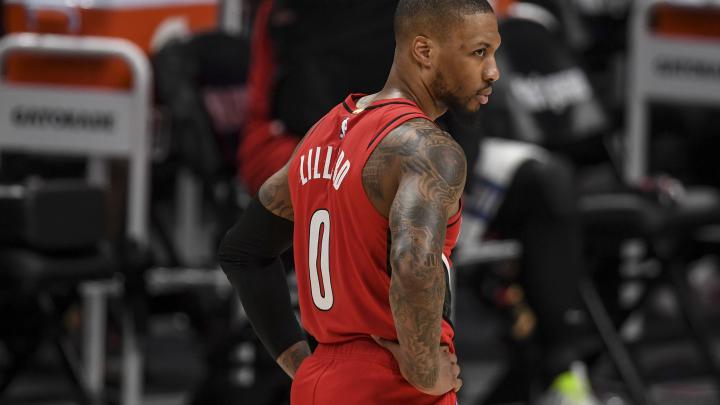 Portland Trail Blazers star Damian Lillard said he still wants to win an NBA championship with the franchise amid ongoing speculation over his future.
Lillard focused on Blazers' success
Lillard's future has dominated headlines following Portland's first-round playoff exit last season, the six-time All-Star continuing to be the subject of trade rumours involving the Philadelphia 76ers.
There has also been talk about the New York Knicks, but despite his frustration after another early postseason elimination in 2020-21, Lillard remains determined to deliver a title to Portland.
"We lose to Denver, they were you know unhealthy," Lillard told Complex News' Pierce Simpson. "I'm frustrated with the loss against Denver, so like we gotta do better.
"I've always said I want to play in Portland, I want to win in Portland, and I still feel that way. So if I'm saying we gotta do better, we gotta give ourselves a real chance, we can't get out the first round as we are, then we gotta get better.
"Not from a standpoint of threatening you all. It was like, if it comes down to me having to move on and do something different like then maybe that's what I have to do.
"But it was like, I haven't made that decision you know what I'm saying? But the fact remains that I would like to win a championship in Portland."
All-Star Lillard speaks the truth
Lillard has been named an All-Star six times in his career and has helped the Blazers reach the playoffs in each of the past eight seasons.
It is his clutch shooting that has consistently kept Portland in the mix and, since he entered the league in 2012, only Golden State Warriors superstar Stephen Curry (2,460) and James Harden of the Brooklyn Nets (2,125) have made more three-pointers than Lillard's 2,051.
Portland reached the Western Conference Finals in 2019 but were swept by Curry and the Warriors.
However, this season's exit at the hands of the Denver Nuggets in six games was their fourth first-round elimination in five seasons and led to the Blazers parting ways with head coach Terry Stotts. Chauncey Billups is the man now tasked with leading them to a first NBA Finals since 1992 and a first championship since 1977.
"You get to a position where it's like, 'Do I defend myself or do I just say nothing'. For me, when I'm just hearing stuff that's not the facts, I'm going to say I didn't say that," Lillard told The Athletic as he addressed the trade speculation.
"Some things I've just got to let it be said. I know what the truth is. I know where I stand. It's not my duty to make the public know … it's not my job to make them aware of what that is.
"It definitely has been different. I feel like I've handled it like I've handled everything. I just let it happen. I let people talk and I just stay true to who I am and I stand on that.
"If I say something, I stand on what I said. It is what it is, at this point."