What number could Kylian Mbappé wear for Real Madrid?
At the heart of the club (especially in the marketing department) they are thinking about what would be the ideal number for the French star.
In the event that the Kylian Mbappé soap opera has a happy ending for the player and for Real Madrid, the marketing department at the club are thinking about what the ideal number would be for the French star.
Obviously, Mbappé would have liked to wear the number 7 that he wears at PSG, a number that is also emblematic in the history of the Madrid club. It has been worn by, among others, Kopa, Amancio, Juanito, Butragueño, Raúl and Cristiano Ronaldo. Eden Hazard currenly wears it and will continue to wear it. The number 10, another alternative, is the number that Mbappé wears with the French national team, but that rightfully belongs to Luka Modric, the only Ballon d'Or in Ancelotti's current squad. The number 11 shirt belongs to Marco Asensio, who picked it up last summer when Gareth Bale left to join Tottenham on loan.
Options for Mbappé at Madrid
Mbappé could opt for the number 19 if Álvaro Odriozola goes to Fiorentina on loan (he will decide in 48 hours if he agrees to a loan deal there for a season). The number 25 is also available, which in principle is for Dani Ceballos. But the Spanish midfielder could take the 19 left vacant by Odriozola if he finally heads to Serie A. And there are two numbers left, much more hierarchical, which could go to Mbappé.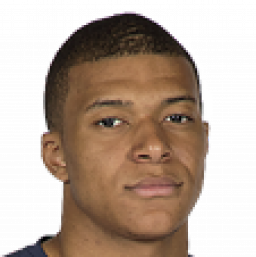 One number that may surprise many is the number 5, which Jesús Vallejo currently has. But as the Aragonese has not yet made his debut in La Liga, it is possible to assign another player to that number. The 5 was worn by club legend Zinedine Zidane, Mbappé's childhood hero and the man who convinced him to come to Madrid. That 5 could be a very feasible option because of the importance of the number and its symbolic significance. The other alternative is the 23, which is now worn by Ferland Mendy, a good friend of Mbappé's, who would have no problem giving it to him. Mendy is out of action this season due to his tibia injury.
Beckham's number
The number 23 is also iconic in the world of sport, given that it is the number worn by David Beckham at Madrid and also worn with global success by Michael Jordan at the Bulls and Lebron James at the Lakers. So Mbappé is spoilt for choice. But first, we have to wait until next Tuesday for a signing that would be a revolution for Madrid and for our league.