MLB
Ohtani's MLB start delayed as Angels ponder Trout shut down
The Los Angeles Angels received bad news on both of their star players – Shohei Ohtani and Mike Trout – on Monday.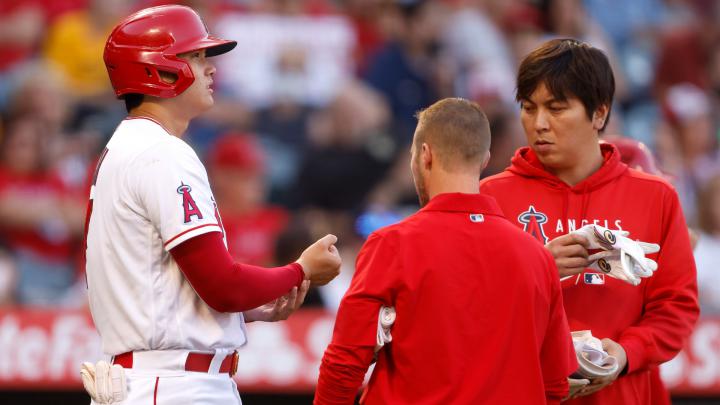 The Los Angeles Angels are pushing back Shohei Ohtani's next outing on the mound and Mike Trout may be running out of time for a return to the field this MLB season.
Angels concerned over Ohtani
Ohtani had been scheduled to pitch against the New York Yankees on Tuesday, but Angels manager Joe Maddon said his two-way star's hand is still sore after being hit by a pitch on Saturday.
X-rays came back negative and Ohtani was in Monday's line-up as the designated hitter, however, the Angels will keep him off the pitching mound for the time being and give Jaime Barria the start against the Yankees.
"Pitching is problematic, so we'll just have him hit until he's ready to pitch," Maddon told reporters.
Maddon compared the issue to when Ohtani was hit in the thumb by a foul ball while sitting in the dugout last month, which led to the team moving his next pitching start back a few days.
The Angels have no plans to shut Ohtani down from either pitching or hitting, Maddon said as the likely MVP is "in the running for some pretty big personal awards right now and I don't ever want to get in the way of anybody's greatness."
Ohtani entered Monday's game with an MLB-leading 41 home runs and an American League (AL)-best .623 slugging percentage at the plate – not to mention 20 stolen bases – and is 8-1 with a 3.00 ERA in 19 starts on the mound, striking out 127 in 105 innings.
Trout – a three-time AL MVP himself – appeared to be nearing a return from a calf injury that has sidelined him since May 17 after running the bases at full speed before Saturday's outing.
While he felt fine at the time, Trout has experienced soreness since then and Maddon said the time is approaching that the Angels (64-67) might need to talk to him about shutting it down for the season.
The Angels are fourth in the AL West and 10 games adrift in the Wild Card race.
"It's a possibility, and probably getting closer to having to say something like that," Maddon said. "But he still wants to continue the fight and we're going to honour his wishes. However Mike sees this, we're going to go that way."
The 30-year-old is hitting .333 with a 1.090 OPS and eight home runs in 36 games this season.