Ukraine vs France summary: score, goals, highlights, World Cup 2022 qualifier
Ukraine vs France live: WC2022 qualifier
On the whistle match report
France's winless streak stretched to five games as Les Bleus were held to a 1-1 draw away to Ukraine in their World Cup qualifier in Group D on Saturday.
The world champions fell behind when Mykola Shaparenko found the back of the net with a stunning striker after 44 minutes before Anthony Martial restored parity early in the second half.
France still top the group on nine points from five games after a 1-1 draw against Bosnia on Wednesday and three days before hosting second-placed Finland, who beat Kazakhstan 1-0.
Ukraine are third behind the Finns, who also have five points, with Bosnia and Kazakhstan both on two points.
Peep, peep, peeeep! It's all over
Digne, Rabiot and Pogba create some space with tidy link-up play before Kimpembe and Benzema get involved and the Real Madrid striker feeds Dubois to send in a cross.
It's good enough to have the crowd noticeably nervous, with relief following as the home defence clears its lines.
Another change as Zubkov comes on for Yarmolenko
Oooh! Benzema almost gets in behind but he's strayed offside.
Sydorchuk is ON for goalscorer Shaparenko
We will be looking at six minutes added on. I thought it would be more.
Kimpembe and Yarmolenko get a yellow each... and then before I'd finished typing that Malinovsky decided to get one too.
Rabiot gets an effort away at goal but Pyatov is up to the challenge again. Some words now being said, and a little more, between Kimpembe and one of the Ukraine players. No Christmas cards going to be shared there.
Yarmolenko hoping to get on the end of a Tymchyk pass but is unable to. Both teams now looking for a winner but being careful not to lose it... I predict no more goals.
Pogba is obstructed after trying to play a clever one-two with Griezmann but the ref's having none of his demands for a free-kick.
Ch-ch-ch-changes
Ukraine: Tsygankov and Yaremchuk OFF, Malinovsky and Sikan ON
France: Tchouaméni (limping) OFF, Veretout ON
More pressure from France ends with a very decent effort from distance by Pogba.
Pyatov shuffles across his line smartly to catch.
Diaby onto post
Patient play from France then sees a pass by Pogba pinged at Benzema deep inside the Ukraine box. His instant control and lay-off to Diaby is excellent and the latter's low effort rebounds back off the upright.
Tymchyk gets involved again on the right and puts a great ball into a busy area. Nobody knows where it's bouncing and the double deflection takes it into the grateful hands of Lloris.
Stoppage in play as pitch invader is chased by steward. There really are some idiots out there!
For all their big stars, France are generally second best right now. The hosts, pushed on by an animated crowd, are much brighter.
Nice work on the left wing from Yaremchuk who creates enough space for the cross and fires one in. Solid positioning from Les Blues ensures it doesn't reach an opposing player.
Zouma is forward for a French corner, reaches the delivery with his head but, like a man overdosed on Viagra, he can't keep it down.
Tymchyk has been in the wars today, so to speak. After having some bandaging added to his head for an earlier knock, Digne just gave him a whack there and it all came flying off.
Double change from Deschamps
Coman and Martial OFF, Diaby and Benzema ON
Greizmann over
Slow play from France is sparked into life with a cross-field ball from Pogba that finds Coman on the right.
The Bayern man looks up and slides a pass to Griezmann who controls and shoots from the edge of the area. Well over but nicely worked.
Spotted: Benzema among the subs warming up
Back-to-back corners cause some discomfort for the French defence but they deal with them and now look to build something meaningful of their own.
A very loose pass from Pogba in his own half allows the Ukraine to build another attack from nothing.
The ball in is a dangerous one and needs some careful defending from Zouma to ease it away.
An unorthodox jump-backflick clearance on the edge of his own box sees Pogba stamp on Tymchyk's ankle and he's down in some pain.
No intention from the French midfielder to hurt his opponent but it looked a sore one.
Very nice exchange between Digne and Rabiot down the left - you could call it a French connection - almost opens up an opportunity but the covering blue and yellows see it away.
The challenge in the area that lead to the goal saw Tymchyk injured so we've been waiting for play to restart. Don't fret though, that time will be added on later.
GOAL!! Martial levels things up
It's a hopeful floater into the box and Rabiot does well to head it down. A slight deflection lands it on a plate for the United striker and, despite Pyatov's best efforts, it squeezes in.
Out of nothing. Not a classic. Deschamps and co. will not care a jot.
Stoppage in play as Mykolenko holds his neck after coming off worse in a challenge with Coman. As is often the case, a little rub solves it and he should be fine to continue.
France get the ball rolling and immediately look to break down the left, Digne with a nice flick towards Rabiot. Good covering forces them back.
The players are now out and it's almost time to go again...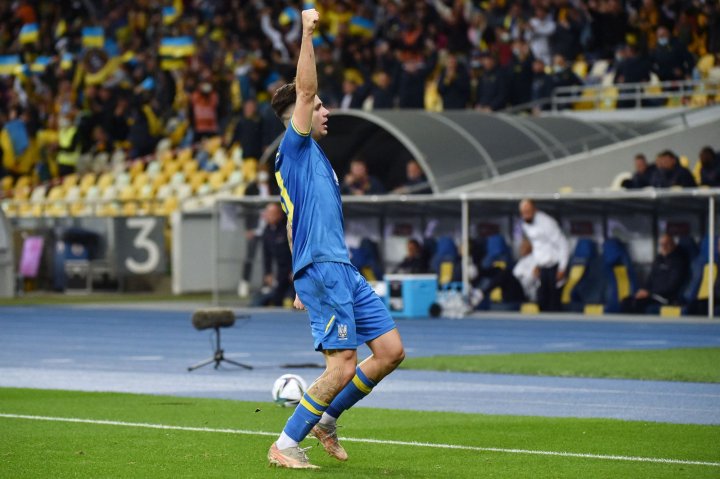 Half-time thoughts
Well, just like the game the other night, this is not going to plan for the World Cup holders.
It's been a fairly balanced first 45, with the hosts using the counter-attack to good effect as their more illustrious visitors mix it up between measured passes looking for an opening and direct balls over the top for Martial to hold onto. Neither have worked particularly well.
That said, two of the best moments came within seconds of each other at either end: Pogba lying in Martial with a delightful first-time pass, only for Pyatov to come out on top. Then, a lightning break from the hosts and a superb finish from Shaparenko to put them ahead.
Expect the atmosphere to continue as we get back into this...
Peep! The whistle blows for the break
Other than a bit of a painful knock to Rabiot I've not got much else to tell you.
GOAL!! And what a strike by Shaparenko
A break down the right sees the ball fired low across the French penalty area. It's flicked away but rolls to the edge of the area where Shaparenko arrives and hits a powerful curler into the top right corner.
What a hit, son!
Martial in, but kept out
As soon as I say that, a killer pass comes through to Martial who nudges it forward and then tries to stroke it past Pyatov who blocks brilliantly. Great chance!
After a very positive spell for the home side France have had a minute or two of some tidy passing, but they're struggling to find that killer pass.
As we head up to half-time it looks as though the Ukraine may be forced into a change, Tsygankov lying on the ground for a minute before heading off for treatment.
Well, no sub yet, he's back on for the time being.
A foul by Pogba inside his own half gives the hosts another chance to create some problems.
An accurate chip forward into space is flicked by Yarmolenko backwards but Lloris is quick to gather.
Zabarnyi misses huge chance
It's the best opening of the game so far.
A deep corner finds Yarmolenko unmarked at the back and his first-time volley is brilliantly saved by Lloris. The block, though, provides a second bite and Zabarnyi, while trying to spin his body around, gets an effort away from about six yards out... but it flies over.
This place is rocking again. Great atmosphere.
Yarmolenko almost gets a chance to strike but then the French break forward at pace. Coman has the ball on the left side of the Ukrainian area and decides to cut in and shoot. A cross to a teammate would surely have been the better choice.
Beeep beeep! Coman drops a shoulder and leaves two covering players for dead. Disappointingly he doesn't then just leg it down the full length of the wing, instead turning back into trouble and losing the ball.
Griezmann just wide
Lofted ball forward to Martial - there appears to have been quite a concerted effort to go direct to him - is headed back and down on the edge of the area. As it bounces Barçalético's Griezmann arrives and thumps it low and hard.
It's a clean enough connection that has some of the home fans worried but Pyatov is happy to watch it fly a couple of handwidths wide of his left post.
Back to the action...
Nice build-up play from the French sees them quickly shift the ball between players from left to right, and Dubois then curls a cross in from the side of the penalty area.
It's punched away by Pyatov and then the follow-up blast from Martial is smothered by at least two lunging defenders. The visitors are in control but the counter remains open to their hosts.
Griezmann caps it off
It's worth noting that Antoine Griezmann has now jumped into the all-time top 10 appearance-makers for France
This is his 97th cap.
Yaremchuk volley
An excellent break through the middle from Stepanenko sees the ball go out to the right after a half tackle from Tchouaméni. The cross to the back post has Yaremchuk stretching to volley home but he gets it all wrong... and his teammate makes that clear to him.
Confident play from the home side in and around their own penalty area. The white shirts of France descend on them but the tidy passes of Matviienko, Zabarnyi and others sees them safe enough away.
What the...?! A Mexican wave already!
Great covering at the back for the Ukraine prevents Martial getting on the end of a well intentioned pass.
That early burst from the hosts has been stifled somewhat, but the fans are bubbling, waiting for the next one.
Pogba on target
It's a decent ball in and Pogba meets it with his head with two minders ensuring he doesn't make clean contact. The Man Utd man does manage to guide it on target but Pyatov will be happy to deal with those all night.
Corner to France. Griezmann to take...
The noise of the home fans has dropped a notch as France have a little more of the ball and Rabiot throws in another high ball torwards their goal. Pyatov again makes his presence known.
At last the French get a moment to breathe, passing the ball across the midfield before Martial is searched for with a high floater from the boot of Pogba.
Pyatov is quick out of his goal and uses the advantage of his hands to claim above the striker.
The home side again get a sniff at goal as some very loose play from the French midfield allows the ball to be stolen and Yarmolenko gets a shot off from the edge of the area. Over the bar.
A blistering counter from Ukraine - carried along by the noise of the crowd - ends in the penalty area with Yarmolenko who just can't get a shot away.
The hosts get us going, playing in an eye-catching blue and yellow kit, and some immediate pressing on the back of a long ball forward has the French clearing their lines quickly.
The anthems are done and it's almost time to go...
French changes
As we had heard hints of a while ago earlier Raphaël Varane and Karim Benzema have been benched for tonight's match with Kurt Zouma and Anthony Martial stepping in to their sizeable shoes.
This is an excellent chance for the Manchester United forward to show what he's made off. He's not getting the starting time at Old Trafford either and a recent Portuguese signing could make that more of a challenge.
Star tonight, and things may change.
Early Ukraine threat
Hugo Lloris and his defensive unit will surely be mindful of the early threat that their opponents appear to have of late. In their last two games, Roman Yaremchuk has scored the opener within just 20 minutes.
Can he make it an early hat-trick?
Starting XI: France
Lloris; Dubois, Zouma, Kimpembe, Digne; Tchouaméni, Pogba; Coman, Griezmann, Rabiot; Martial
Starting XI: Ukraine
Pyatov, Matviienko, Kryvsov, Zabarnyi, Tymchyk, Stepanenko, Shaparenko, Mykolenko, Yarmolenko, Yaremchuk
Ukrainian troubles
With just four points from their opening four group games, the country that can boast being the second largest in Europe is having its worst qualification experience to date, collecting just four points.
That said, they have proved themselves to be good starters, opening the scoring in each of their previous games.
Deschamps decisions
The early news we're hearing out of the French camp is that there are a number of changes potentially for the starting XI.
We already know that Mbappé (precaution) and Koundé (suspended) were never going to be involved but it's looking as though Benzema and Varane are also going to be replaced.
Confirmation expected soon.
From Strasbourg to Kiev
The French squad travelled in their usual rinky-dink style and you can follow their journey to the Ukraine.
How it stands: Group D
The game is massive for the home side with an unlikely win boosting their chances of the topping the group and securing an automatic ticket for Qatar next year.
A runner-up position would see the side in question going into a play-off where only three teams progress with the ten group winners.
At present Les Bleus hold a four point advantage over today's opponents and were the pre-competition favourite to secure the automatic place. Their recent draw has, at least for the moment, put a little more pressure on them.
Ukraine vs France live: welcome
привіт і ласкаво просимо and bonjour et bienvenue
No matter where you are joining me from tonight - not just those in the Ukraine or France - let me wish you a very warm welcome.
This match-up has much more riding on it than Didier Deschamps would have hoped for, but after their disappointing home draw against Bosnia and Herzegovina the other night he'll have told his stars that only a win is good enough.
Interim coach Oleksandr Petrakov, on the other hand, has his own challenges, after his first game in charge also ended in a draw, this time against Kazakhstan.
Stay with me as we build up to the action, and then I'll take you through it until we have a result...