Do you have to vote for everything on the California recall ballot?
California residents have until 14 September to decide whether they want Gavin Newsom to remain as governor, but there is controversy about the voting system used.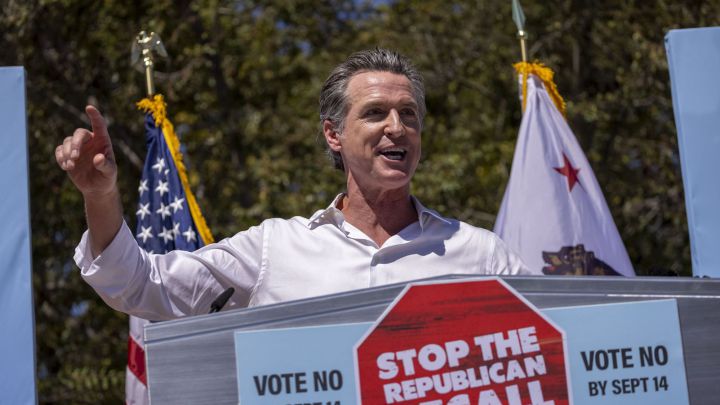 Between now and 14 September Californians will decide the fate of Gov. Gavin Newsom, who becomes only the second governor in the state's history to face a recall election. The state's 22 million registered and active voters will be given the choice between Newsom and 46 alternative candidates.
The California recall election employs a two-part ballot to give voters the choice between Newsom and the challengers, but how does it work and do you have to submit a vote on both of the two questions?
What's on the ballot in the California recall election?
The question presented on the ballot in the California gubernatorial recall election is: "Shall GAVIN NEWSOM be recalled (removed) from the office of Governor?"
Below that question is a list of all 46 qualified replacement candidates to take over as the governor of California, alongside any party affiliations and occupations that they wish to declare. Voters can choose to vote on either one or both parts of the two-part ballot.
In recent public appearances Newsom has actually discouraged his supporters from voting in the second of the two questions, asking instead that they simply vote 'no' to the first. He said: "We're just focusing on 'no' on the recall, leaving the rest blank."
Federal lawsuit challenges 'unconstitutional' recall election
The two-part structure of the California recall election is designed in part to make the process as simple of possible for voters, but it does create the possibility that Newsom could be removed from officer despite winning more votes than any other candidate.
To remain in office he must receive at least 50% of the total vote in the first question, regarding his future as governor. If fewer than half of voters want him to remain in office then he is automatically removed, regardless of how many the most popular replacement candidate received.
Given that there are 46 alternative candidates, there is a very real chance that the most popular could receive far fewer than Newsom's total and still replace him.
This quirk of the two-vote system has sparked controversy and there is was a legal challenge in the District Court for the Central District of California. The plaintiffs, Rex Julian Beaber and A.W. Clark, argued that Newsom's name should have been added to the replacement candidate list, but a federal judge rejected the challenge.