Piqué: "Everything changed with Guardiola because of Shakira"
Gerard Piqué was the guest on satirical radio show La Sotana and he held forth on Leo Messi, Samuel Umtiti and his former boss Pep Guardiola.
Gerard Piqué was typically forthright in an appearance on satirical radio show La Sotana in which the Barcelona defender spoke about Leo Messi, Pep Guardiola and his relationship with the Manchester City manager at Camp Nou after he started dating Shakira, and fellow defender Samuel Umtiti, who has come in for criticism from Barça fans after a string of injuries.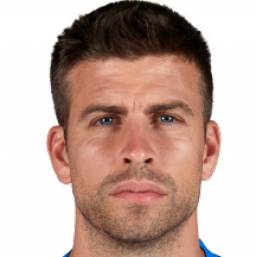 "He is fulfilling the contract with all obligations," said Pique of France defender Umtiti. "People have to be empathetic. The attitude is impeccable. He has never missed a training session. Another thing is who signed the contract, a president who was voted in by the members. Why should we whistle at him? Most people have been in a company for 30 years and do nothing. If I were at another club, for example [Manchester] United, I would be doing the same as Umtiti. Every situation is different. I only ask people to be empathetic."
Piqué on Messi: "The agreement was in place"
On the departure of his friend and long-time teammate Messi, Piqué said: "[Joan] Laporta called us to tell us what was happening. The club was waiting to see what would happen with Leo because the agreement was in place. The captains took a wage cut so that the new signings could be registered."
Piqué also discussed Pep Guardiola and said that his relationship with the former Barcelona manager deteriorated towards the end of their time together: "In his last season there was a lot of tension. I think Mourinho wore us all down. Pep demanded total control of everything. I was dating Shakira and everything changed with him. I was under a lot of pressure and I even thought about leaving in the 2011-12 season. I suffered a lot under Pep that last year."
On former Camp Nou president Josep Maria Bartomeu, who has been blamed for Barcelona's current financial plight, the veteran defender opined: "I can't say if he is the worst [club president]. From what I have experienced, he must be [up] there. We are all guilty, but it is true that the club have not gone where all the Catalans want. Now I am hopeful and excited. The next five or 10 years will be very good for Barcelona."