Why didn't I get the extra $300 unemployment payment on my pay check?
The additional jobless benefits first introduced by the CARES Act in 2020 have now expired, but there are other forms of support of out-of-work Americans.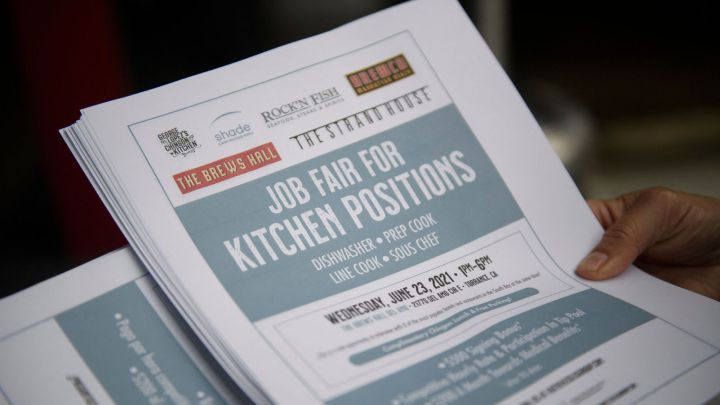 Throughout the summer, millions of out-of-work Americans lost access to the federal unemployment benefits boost as numerous states decided to withdraw from the support. But even in the states that chose to remain in the programmes, the payments ended on Labor Day after President Joe Biden refused to extend them beyond the 6 September expiration date.
The sudden cut-off date affected over 11 million people, with roughly 7.5 million losing the entirety of their unemployment benefits as a result.
However as the covid-19 case numbers continue to rise and after the underwhelming August jobs report, is there any chance that Biden may look to reinstate the programmes in the near future?
Will the $300 additional unemployment benefits be replaced?
The continued spread of the Delta variant is of grave concern for health officials and is having knock-on effects for the US jobs market. In a speech earlier this week, President Biden blamed the poor jobs growth figures on the increasing case numbers, saying: "There's no question, the Delta variant is why today's job report isn't stronger."
The last time that Congress extended the additional unemployment benefits the US was reporting around 61,000 daily covid-19 cases. Now, the figure is around 160,000. With such a stark rise some would expect a concerted effort to see the benefits boost extended but it could be difficult politically.
The big red flag in the August jobs report: Job LOSSES in retail and restaurants -- likely b/c of the Delta variant.

Retail: -29,000 jobs
Restaurants: -42,000

Job gains elsewhere:
Biz: +74,000 jobs
Warehouse: +53,000
Manufacturing: +37,000
Entertainment: +36,000
IT: +17,000

— Heather Long (@byHeatherLong) September 3, 2021
Progressive Democrats are the only ones who have called for an extension but their energies will likely be concentrated on the passage of the $3.5 trillion reconciliation bill, which focuses on green infrastructure development and new social care programmes.
The White House has been clear on its position that a further extension is not warranted. In a recent letter to Congress, Treasury Secretary Janet Yellen and Labor Secretary Martin Walsh wrote:
"The temporary $300 boost in benefits will expire on September 6th, as planned. As President Biden has said, the boost was always intended to be temporary and it is appropriate for that benefit boost to expire."
States could introduce federally-funded Extended Benefits programme
While the prospect of extending the $300 weekly supplement appears unlikely, Biden has made clear that additional support is still available for states that are struggling to get workers back into the workforce. The Extended Benefits programme allows an additional 13 weeks of benefits in states that are experiencing high unemployment.
States typically only provide 26 weeks of unemployment benefits for residents per year, although that figure varies between 16 and 30 weeks in different states. Once an individual has exhausted their state's regular unemployment benefits they can access additional funding if their state is included in the programme.
You cannot say cancelling unemployment benefits gets people back to work when we have the data to prove it doesn't.

What it will do is make life even harder for the single mom who's barely making ends meet while trying to balance childcare and staying healthy during a pandemic.

— Cori Bush (@CoriBush) September 7, 2021
As of 7 September 2021, the following states provide access to the Extended Benefits programme:
Alaska
California
Connecticut
District of Columbia
Illinois
Nevada
New Jersey
New Mexico
New York
Texas
For more information on the additional unemployment benefits and to find out if you could be eligible for the support, check out What is the Federal State Extended Benefit programme?