REAL MADRID | CAMAVINGA
Camavinga: "Escaping the war made me stronger..."
Camavinga was born in a refugee camp in Angola, to parents who had fled the war in Congo. In 2013, after having moved to France, the family home burned down...
Camavinga's story is one of survival - or at least that is pretty much how life has been for his parents. Real Madrid's new signing had to come through extreme hardship and tough personal problems, some of which he wasn't aware of as he was still only a baby. Born on 10 November 2002 in a refugee camp in Mejide, Angola where his parents, Celestino and Sofía, had ended up after fleeing the war in the Congo. Soon after, the family (he is the third of six children) moved to Lille in France, eventually settling in Fougères, a small town in Brittany.
Camavinga and the trials of life
"It's clear that escaping the war helped me in that it made me stronger. But above all, my family really helped me a lot so whenever I play, I play for them. That made me a stronger person,", Camavinga explained when he was officially unveiled by Real Madrid today. During his introductory speech, Florentino Pérez recalled the adversities which Camavinga has had to overcome in his life. "Your parents, Celestino and Sofía, and your brothers and sisters know very well what sacrifice and battling against adversity means. From your parents and your famiy, you have learned principles which will accompany you always and which will help you overcome the biggest difficulties that you will face," the Madrid president said.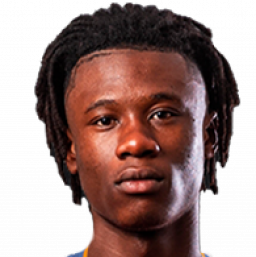 The problems which the Camavinga family have had to endure didn't end there. Eduardo started playing football at youth level with Drapeau Fougères and soon caught the eye of Rennes. That coincided with another dramatic event. In 2013, when he was just 11 years old, the family home in Fougères burned down to the ground - they lost all of their personal belongings, including official documents in the fire (which created problems when processing his request to gain French nationality). In the end, his first club set up a solidarity chain to help the family so that they could move forward.
When Camavinga signed for Rennes, he became the great hope for his family which is deeply united. His rise at Rennes was meteoric, he continually played in levels above his age group and at 18, the opportunity to sign for Real Madrid arose. The future is looking brighter than ever for Camavinga and the struggles he and his family have come through are now firmly in the past.