NFL
What is Aaron Rodgers' contract with the Green Bay Packers? Salary and terms of agreement
Three-time MVP Aaron Rodgers is reported to have agreed new terms with the Green Bay Packers but his future beyond the 2021 season remains in doubt.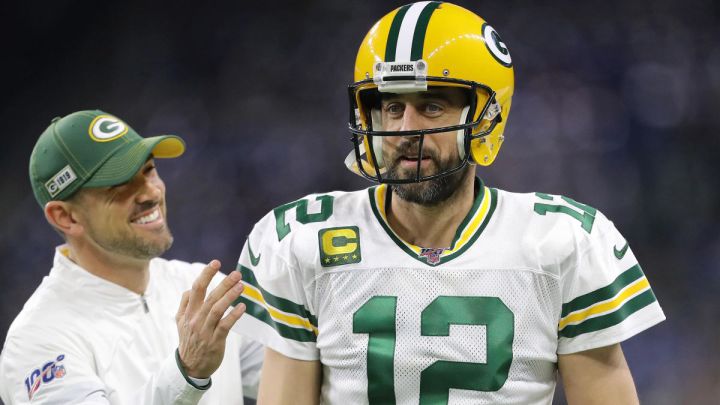 Back in April, reigning NFL MVP Aaron Rodgers told members of the Green Bay Packers organization that he wanted to leave. The 37-year-old, who has played for the Packers for his entire NFL career, leading Green Bay to victory in Super Bowl XLV and winning three MVP awards (2011, 2014 and 2020), wasn't happy for a number of reasons. For the time being, it seems that his situation has been resolved in the short term but his future beyond the 2021 season remains in doubt.
Latest updates
It appears that Rodgers and the Packers have come to an agreement - although the 2021 season could well be his last in Titletown. Reports claim that the Packers have agreed terms on a restructured deal with the quarterback and his situation will be reviewed at the end of the season. The franchise has agreed to void the final year of his previous contract, 2023, plus forfeiture provisions have been taken out, which will effectively prevent the Packers from pursuing prorated portions of Rodgers' signing bonus.
General manager Brian Gutekunst explained to the media at the start of the month, "I've had really good conversations throughout camp with Aaron and Matt [LaFleur], and I think the communication has been really, really good so, as we went into this kind of decision-making period, I think everybody — all the people that are involved in that, were very aware of what was going on and why we were doing what we were doing. So I feel really good about that. And the conversations that I've had with Aaron have been excellent.".
Rodgers' future with Green Bay has been a source of speculation since last spring, when the team made a surprise move to draft quarterback Jordan Love in the first round. Rodgers then said in May 2020 that while he had a "sincere desire" to play his entire career with one franchise, that scenario "may not be a reality at this point". More recently, he was directly asked about his relationship with Gutekunst, which has been strained to say the lease, with some claiming that he wanted the GM fired. "I think it's a work in progress," he said with a wry smile. "You know, relationships aren't formed in a matter of a couple of days. There's time where the respect grows and the communication follows".
"We will enjoy this year"
He continued, "There is a lot of unknowns. I've talked about it various times to our camp - people's contracts and situations down the line. The right perspective is needed for all of us. We don't feel pressure - I'm speaking personally, I can't speak for everybody but the feel I get in the locker room is not pressure, it's focus. I think that's the right perspective. We know we have a talented team, we know what the expectations are, we just just focusing on accountability and holding each other accountable. Because, regardless of what happens with any of our situations, this group will be together, the way it is now, in years down the line. So we are going to enjoy this year for all it has to offer".
At age 37 and coming off his third NFL MVP award last season, Rodgers has said he wants to play into his forties but where that will occur has suddenly become a question.
In 197 appearances for Green Bay, Rodgers has thrown for 51,245 yards with 412 touchdowns and 89 interceptions, completing 65.1 per cent of his passes. His 103.9 passer rating is third all-time.
A three-time All-Pro selection, he led the Packers to the Super Bowl title after the 2010 season.
Rodgers set career highs last season with a 70.7 completion percentage and 48 touchdown passes.
Rodgers' total earnings and contract
According to the Forbes Rich-list, Aaron Rodgers' most recent four-year, $134 million contract extension with the Green Bay Packers was due to run through the 2023 NFL season. However, after conversations held over the summer, his situation will be revised at the end of the season when it is possible that he could leave.
Back in 2018, the Packers player bought a minority shareholding in NBA franchise Milwaukee Bucks. The 37-year-old has personal sponsorship deals with the likes of State Farm Insurance, Pizza Hut, Adidas, Prevea Healthcare, Bergstrom Automotive, Sharpie, and IZOD and reportedly generated an income level of $21,642,000 in 2020,this added to his $9 million from endorsements led to an overall approximate annual income of $30.1 million dollars, making him the 45th highest-paid athlete worldwide.