REAL MADRID
Real Madrid plan for the future with new deals for emerging stars
The club is combining long-term signings with contract extensions for youth team promises such as Miguel, Arribas and Hortelano, who they hope will make the first team.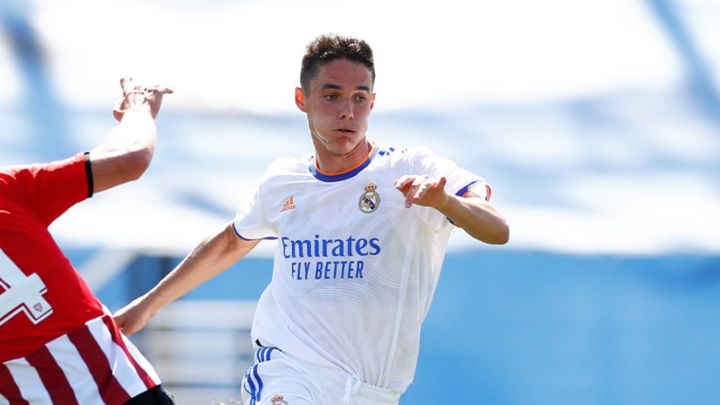 Real Madrid couldn't complete the signing of Kylian Mbappé - the player who their fans had dreamed of seeing join this summer. PSG refused to sell the striker, turning down offers of 160, 180 and 200 million euros. Madrid hope the situation doesn't change in the coming months so that Mbappé will be able to join on a free transfer next summer to lead the club's next project. A project that will revolve around the French forward, accompanied by a mix of players from the current squad and future promises. It is on that crop of young players that Madrid are focusing their efforts.
Starting with Camavinga, the only new arrival who Real Madrid actually paid a transfer fee for this summer (Alaba joined on a free). The 18-year-old midfielder cost 30 million euros from Rennes. He is the most recent example in a long list of new recruits, some of them, expensive signings, with a view to seeing Madrid move into the future: Kubo, Rodrygo, Vinicius, Militão, Mendy, Reinier, Vallejo, Brahim, Lunin, Asensio, Ceballos... And other who ended up taking a different path such as Ødegaard, Theo Hernández and Achraf.
A total of 12 players in Real Madrid's 2021-22 first team squad are 26 years of age or younger (including two players who are out on loan, Kubo and Reinier). This season will be the last for some of the older members of the squad such as Modric (now 36, he could renew for another year if he maintains his level), Marcelo, Isco and Bale... The club hopes that the old guard will make way for the upcoming players like Camavinga, and others who are planned to join in the future (Mbappé) plus those coming up from the youth team - young players who Madrid have high hopes for.
New deals for Real Madrid's youth stars
The summer is the time when decisions are made regarding the futures of players in the youth teams - which ones will stay and who will leave. Madrid have given a number of those players a sign of the faith they have in them to make the grade with the first team in the next two to three years. Castilla players Arribas, Miguel Gutiérrez, Marvin, Luis López, Dotor and Gila have all been handed new deals. According to El Mundo, in most cases, the buy-out clauses have been set at 50 million euros and will rise to 100 million once they are registered with the first team squad.
In the lower categories, the focus is on two players in particular - Bruno Iglesias (who has renewed until 2025) and Peter Federico. Bruno is regarded as the great white hope in Madrid's youth academy as ex-player Álvaro Benito told Cadena SER: "He has some exceptional qualities. He has to improve certain aspects on the mental side, will power and effort... But he has a lot of quality, he is reminiscent of Kaká. Personally, I love him, he is the biggest talent in Madrid's youth academy right now". Still to be resolved is Antonio Blanco's situation; AS understands that he is under contract until 2023 and so it taking things calmly for now. It will be next summer when the decision must be made as to whether he renews or leaves the club. But he is another player who the club hold in high regard and see as the natural substitute for Casemiro.