Patrick Mahomes lauded after leading Chiefs to comeback win
Andy Reid and Tyreek Hill heaped praise on record breaker Patrick Mahomes after the quarterback guided the Kansas City Chiefs to victory over the Cleveland Browns.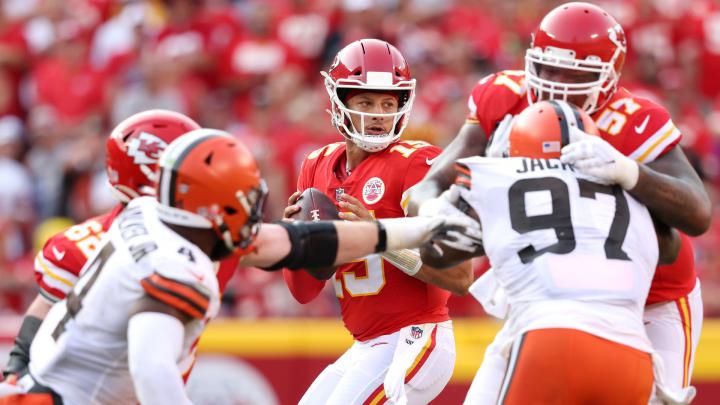 Patrick Mahomes was praised by Andy Reid and Tyreek Hill after his record-breaking performance inspired the Kansas City Chiefs to a rallying win over the Cleveland Browns in their NFL season opener.
Chiefs beat Browns despite trailing by double digits
The Chiefs faced a 12-point deficit before quarterback Mahomes fuelled a 33-29 come-from-behind victory against the Browns on Sunday.
Mahomes threw a pair of touchdowns in the fourth quarter for reigning AFC champions the Chiefs, including a 75-yard pass to Hill that helped close the gap.
He completed 27 of his 36 passes for 337 yards and three touchdowns as the former MVP made more NFL history.
The 25-year-old broke the record for most passing yards in NFL history through the first 50 games, while he also boasts the most passing touchdowns ever through the same amount of appearances.
Mahomes "always feels like we're in it" - Chiefs boss Reid
"That's Patrick Mahomes being Patrick Mahomes," said Chiefs team-mate Hill. "There it is."
Chiefs head coach Reid added: "You love his attitude because he always feels like we're in it.
"He does such a great job with the guys around him. He's a great communicator during tough times on the sideline."
"We can win no matter what the situation is" - Mahomes
Mahomes led the Chiefs to their ninth win in the last 11 games in which they trailed by double-digit points.
"We think we can win no matter what the situation is," Mahomes said.
"Getting that play to Tyreek kind of got the crowd back into it," Mahomes continued. "When you're at Arrowhead [Stadium] and the crowd's rolling, it gets the defence going and it kind of translates to the offence."