How many finals and titles does Eden Hazard have?
Belgium's star player has endured a torrid time at Real Madrid but his winning record at previous clubs is still very impressive.
At 30-years old, Eden Hazard should be entering the prime time of his career. Instead, he is languishing in the Real Madrid squad, constantly struggling for fitness and a major drag on the club's wage bill. He has recently spoken of his desire to overcome two "lost years" at the club and get back to winning trophies.
He is no stranger to winning some of Europe's most prestigious trophies, and a fit Hazard would be a massive boost to Real's chances of silverware this season.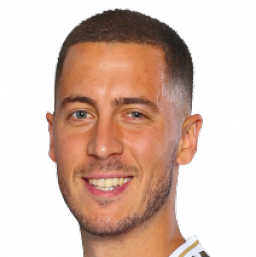 Eden Hazard: cups and successes
France
Starting his career at Lille, in Northern France but close to the Belgian border, Hazard won the league and cup double in the 2010/11 season, marking the last time the club had won either trophy until their league triumph last season. It was the club's first championship since the 1953/54 season.
In that season, Hazard won the Ligue 1 Player of the Year for the second year running despite scoring just 7 goals all season
England
Hazard arguably enjoyed the best years of his career in west London. After a sizzling final season at Lille in which he scored 20 league goals, Hazard made the switch at the start of the 2012/13 season.
Success came quickly as he won the Europa League in his first season. It took another two years for him to win the English league at Chelsea, a feat he would replicate two years later in 2017.
After an FA Cup triumph in the 2017/18 season, Hazard won the Europa League again, netting two goals in a 4-0 final win against Arsenal that proved to be his final game for the club.
Spain
Despite an eye watering fee, as well as great expectations, injury has stunted hazard's time at Real Madrid. Even with his limited game time, he has won two more trophies at the club.
He won the Supercopa in the 2019/20 season and also lifted the La Liga trophy in the same season, gaining a winner's medal by playing 16 matches. Most appearances were from the bench and he only scored one goal.